Slaughter wrote:
...The wife then has to sit in the back
Well, I didn't make her sit in the back but this was her view of me for about 900 miles of the 1,500 mile trip
.. at one point when things got a touch pissy between us, I reached back and took my old-man Lumbar pillow from behind my back and wedged it in the crack blocking her view of me - 10 seconds later we both had a good laugh, tension relieved and she snapped this shot
Quote:
the roof rack centres are under spec. but apart from this trip to Tasmania, I've never had a problem.
As edited in my above post, center to center measurment of the bars is
49.5"
We didn't sail the first 4 days of the trip we did cover about 600 miles .. temps were only in the 50's but the AI's stayed Hullivated and there was no issues. Including this trip, I've probably gone well over 3,000 miles with at least one AI up there - never an issue at speed. I'm always checking and tightening the straps/ropes just about everytime I get back in the truck .. old habit from dragging my cars around on trailers.
Here's a shot I took this morning whilst measuring the span of the rack - hope it gives you a better idea of how I solved the problem of no Thule/Yakima rack system for my truck - there were only a total of about 8,000 GMC Envoy XUV's made in the two years it was offered. Its rack mounting design is totally different then any of the other hundreds of thousands Trailblazer/Envoy etc. variants so I had to get creative with much thanks to my friend with a welder.
The only Thule bits are the cross rails and the mounts for the hullivators, which I love, but are pricey - I had an inside deal from a Thule worker when I got them @ 60% off list. If not for that I probably wouldn't have got them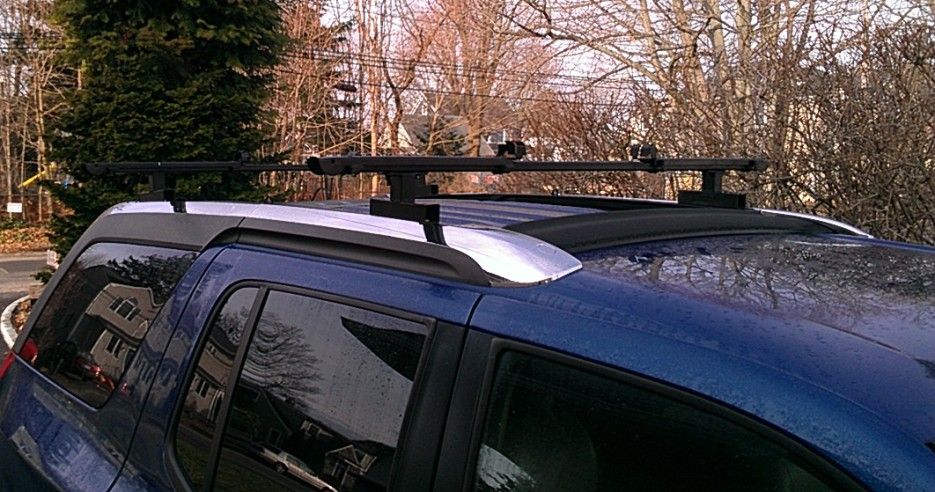 Sorry for the hijack - things were kinda slow here anyways so at least its kept it up top
Hope this helps .. always glad to try