xavier asked:
Quote:
If the diameter and the length between furler and base are reasonably close, I would swap the cup at the base of the Bravo mast with the pin base insert from the AI, and be done. Wouldn't that be cool!
Right on xavier. Hard to get the actual measuements though from either the Hobie Web site or the catalog, but here is what I could come up with. In reference to your question about the Bravo mast diameter, it depends on which part of the mast you are referring to it seems. Note in the below diagram of the Bravo mast step that the lower pin is about 3/8 inch in diameter, while the main part of the mast is around 1 ½ inches in diameter from what I can gather in reading over the info on the Hobie Web site, or in the Bravo catalog.
http://static.hobiecat.com/2010_archive/support/pdfs/PARTS_Bravo.pdf
I don't really know if the above are the actual measurements or not—but they seem to fit the diagram and the closeup pic that I found. Here is the pic of the base of the Bravo mast.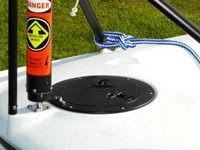 Perhaps Matt Miller or someone else on the Hobie site can give you an actual measurement, but it would not surprise me if the Bravo mast could fit the BigA or AI. Good luck!