Hey Tao,
Welcome to the Hobie site and the world of the Mirage Drive! How about four on the roof? But just "regular" kayaks, not AIs! Here are some pics of an FJ showing how one person (not me) pretty ingeniously rigged the FJ rack to carry yaks. Might be some ideas here for you.
However, you might start thinking about a trailer which is what I finally went with for my two Hobies. With two rotator cuffs and a bad back myself, I finally gave in to the reality of the situation. Now that Hobie is selling kayak trailers, they should have some suggestions about what trailer design would work best for AIs. Good luck.
Here is my Trailex 250 for carrying up to 4 yaks (not AIs), but I think you could probably rig one like this to carry the hull on one side and the amas on the other for at least one AI, and maybe two.
Here's a rear view of the FJ:
Front view of the FJ: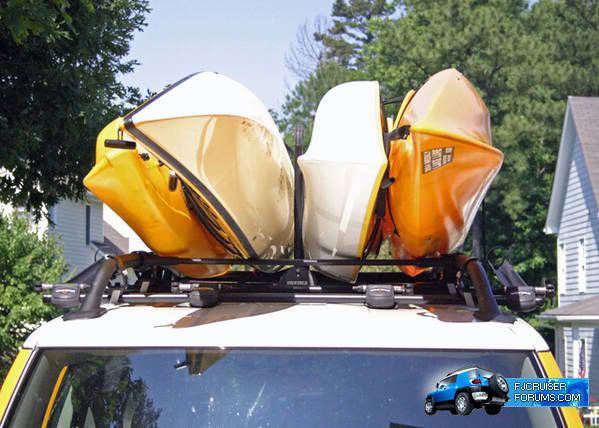 And a close up of a way to rig a cross bar below the side rails to help support the weight.