TJ,
Yep--I'm a strong believer in thru-bolting with SS machine screws and nuts along with some sort of firm backing plate (either aluminum, SS, or even a piece of teflon or plastic cutting board) for these kinds of installs. The problem arises when you don't have in-the-hull access available to attach the backing plate and nuts. I'm assuming that is the reason Hobie went with well nuts since they were probably the simplest (and cheapest) solution, but perhaps not the best solution to the problem. We shall see.
But, if you do have a problem you might want to try some Klamptite rivets before cutting any large holes iin your deck. These are only anodized aluminum (I believe) so they are not super strong. But in the little demo that I did in the pics below you will note that there are three expandable flanges or arms on the Klamptite that are metal, and might provide better resistance to pulling thru the screw hole under pressure than do the well nuts. On the left is an ordinary pop rivet--the Klampite (partially expanded) is on the right. These are sold at various kayak specialty shops like Captain Dick Enterprises.
The above pic shows the degree of expansion with only the second pull of the rivet gun. Below is a second view (as if you were looking up from inside the hull) showing the complete three-pronged expansion of the rivet when fully installed. I don't know of anyone who has tried these on the Hobie Sidekick install after the well nuts have pulled out, so I can't provide any real world info regarding this (yet!).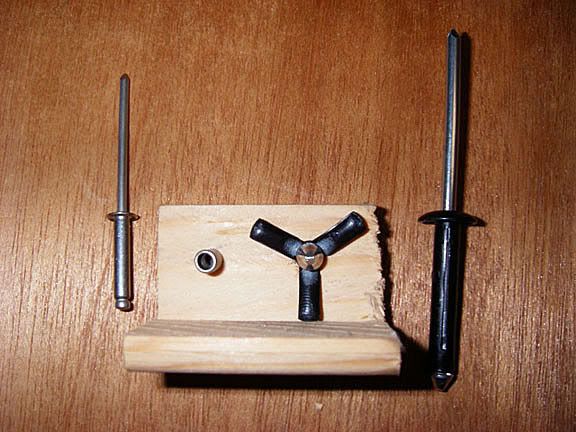 With regard to your second question about the fins (sails, blades, etc.) being adequate as a centerboard, try sailing without them, or with them folded up against the hull. You will quickly find that with them folded, or without them, you are side-slipping all over the place. So the stock, original fins are adequate, but not great as a centerboard. The newer ST and turbo fins I would expect to be much better in this regard, but I have yet to try them while sailing.
Although I like your wooden centerboard idea, you lose the advantage of being able to pedal a few strokes while you are coming about to get out of irons and back to sailing. Also, along the Gulf Coast where I am, the bays and inlets are often so shallow or littered wth oyster reefs that you would stand a good chance of running aground or getting high-centered (literally!) when you least expect it with a large centerboard. So--I am a big fan of using the Mirage Drive while sailing since it gives you much more control over the whole situation. Best of luck and keep us posted on your adventures (or misadventures
).
Dick