Here is how I solved the problem. I had originally built a trailer to carry both my kayaks and my Zodiac, but I still had to disassemble the kayaks to store them on the trailer, and when I didn't have the Zodiac on the trailer, the whole thing was too top heavy and dangerous to drive (see
http://www.hobiecat.com/community/viewt ... 2f85dc0aac
post).
Next I found someone who was selling a 20' x 8' trailer that was used to carry an ultra-light airplane. It's wide enough for two AI side by side, I just has to figure out how to support the kayaks so that the braces wouldn't dent the bottom. The following pictures how the result.
First the whole trailer from the side and from above: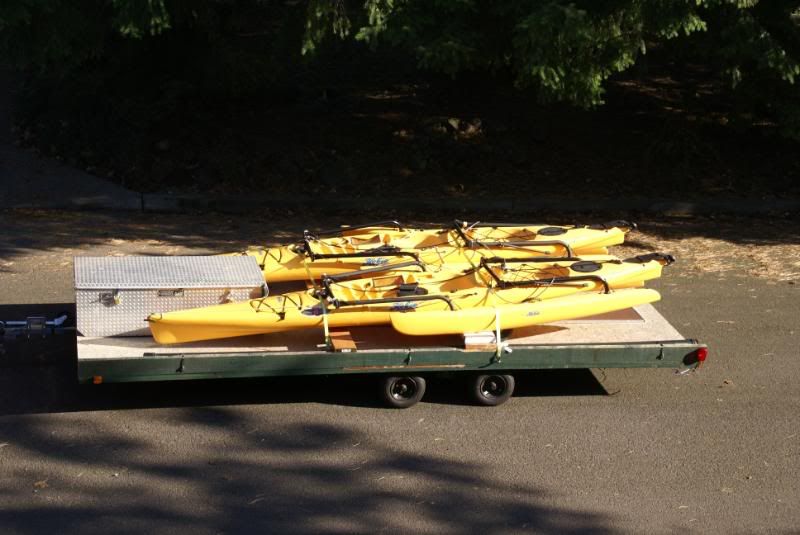 I included a big diamond-plate truck box to store all the gear (mirage drives, center boards, drysuit, etc.).
To support the kayaks I added two wood braces across the whole trailer: one immediately in front of the plugin cart wheels, and the other about when the mast support is. The rear braces were the hard ones because the main hull and the two amas are at different hight. I use foam blocks to prevent denting of the hulls, and I mounted the center support on a hinged frame so that it conforms to the hull when I roll the kayaks on. Here are the three supports and a detail of the hinge.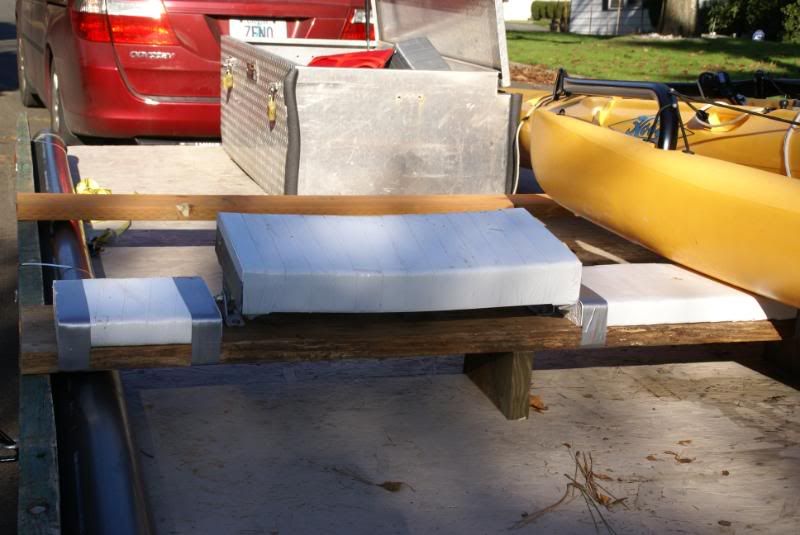 The black tube on the size is a 4" ABS tube to store the mast with the sail rolled around it.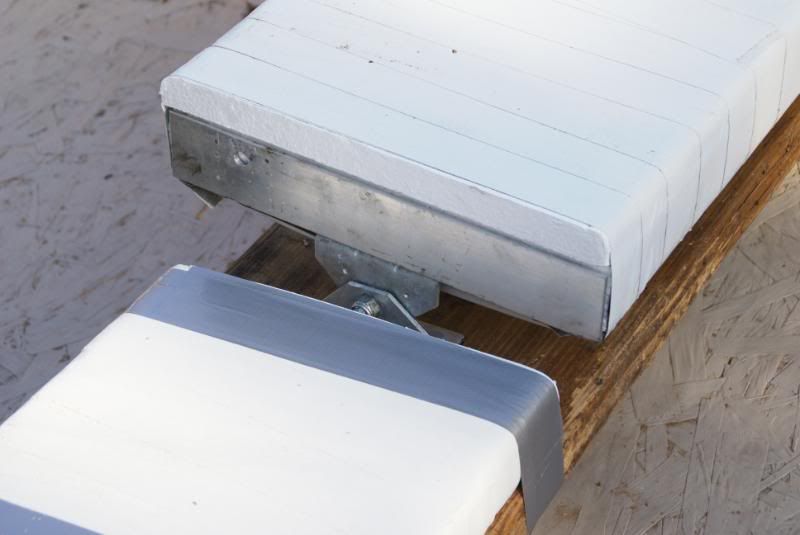 Once I roll the kayak on, and lower the nose to the forward support, the support is high enough that the plugin cart no longer support the kayak (this prevent denting while allowing me to leave the cart in place for faster launching and storage).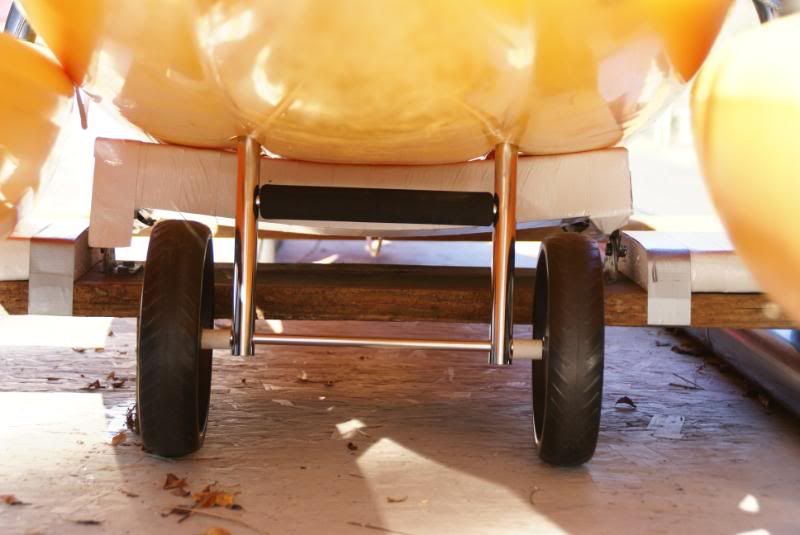 I also built a ramp to get the kayaks on and off easily. I had to make it 10' long in order for the slope to be gentle enough that the stern of the amas would drag on the ground when starting the kayaks on the ramp.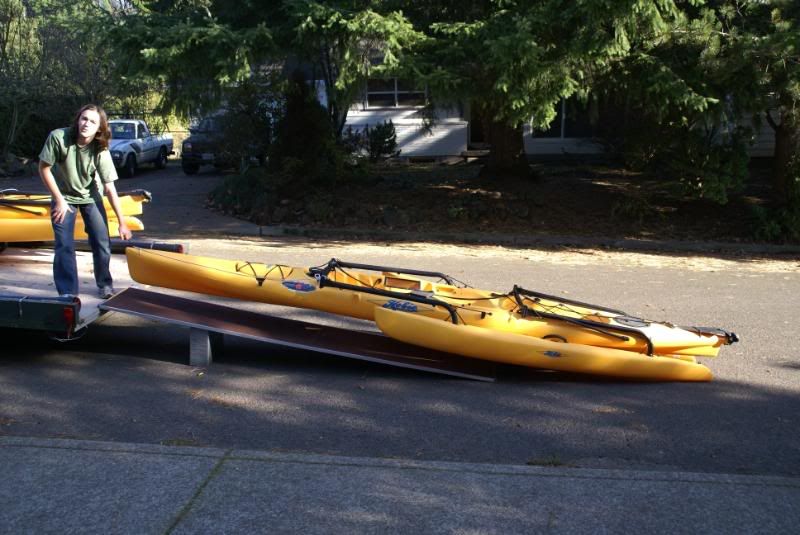 As my son demonstrates, you really have the keep the nose low in order to not drag the stern. And I need to add a brace at the middle of the ramp!
The first time I put all this together, I used regular trailer lights, but I promptly backed the trailer into a post smashing one of the light and shorting the trailer light control box. As I didn't want this to happen again, I ended up mounting new round lights in the end caps of the two sail tubes that are on each side of the trailer (protected by the deck). Here are the details.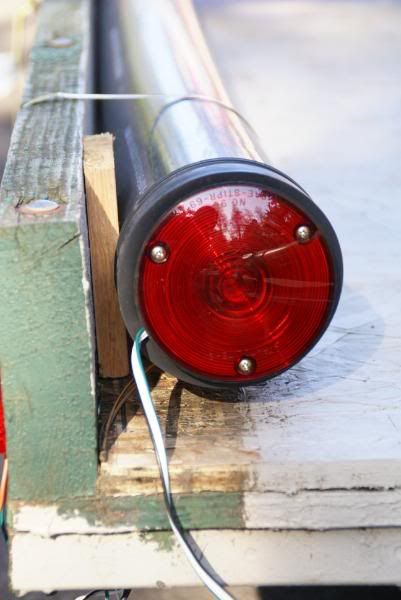 And with the cap removed to access the mast: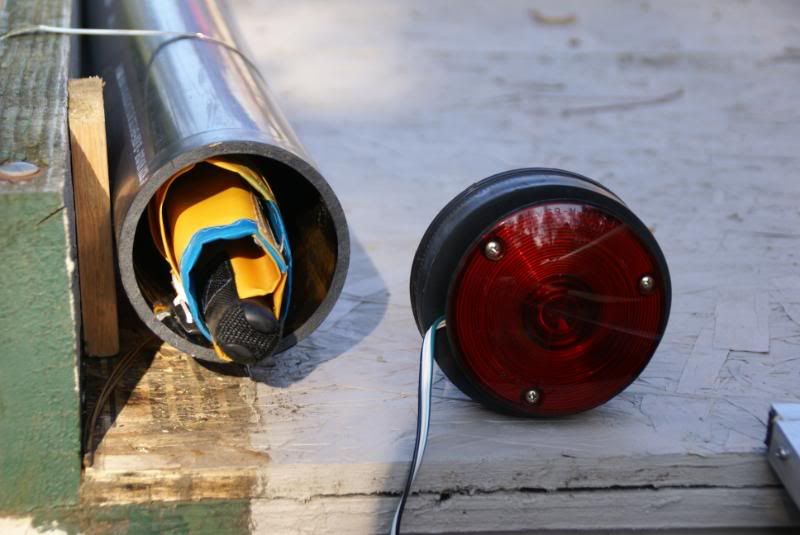 Getting the kayaks to the water is now a snap. All I have to do is roll them off the trailer, step in the mast, put in the mirage drives and center board and off I go. Less time on the parking lot = more time on the water!