How Ya Going Stringy !
I like your idea to improve or make a bigger/double sail for the tandem model.
The standard sail might work well enough for the single kayak models but with the weight of two adults and gear in our tandem oasis the sail does not always seem to move the boat very much unless the winds are on the verge of hurricane speeds. At this point our mast and rigging is just about to break when the wind and standard sail finally start to move the boat along a bit.
Any way I had a half baked idea after seeing your post about using two sails that I thought Id throw out for the heck of it and it might look something like this instead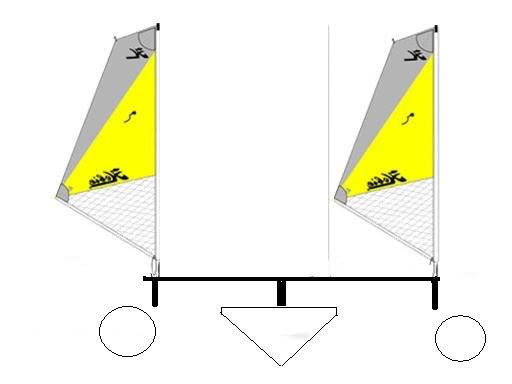 By using pvc maybe the hull would not have to be modified with a forward mast tube at all.
The main mast tube could hold two side by side sails mounted onto a horizontal pvc tube with another pvc mast tube placed on either end to hold each sail.
I havent figured out any rigging or structural analysis but the sails could be spread apart a bit and perhaps controlled in tandem by the same sheet similar to a hobie tri foiler design.
The two sails would then be placed outboard of the hull and have some type of float/ama/aka setup attached to the ends to reduce any heeling/ tipping. The front passenger could then still pedal and paddle with both sails out to the side etc. etc.
Anyway just a half baked idea to ponder.
Have fun down under
Kepnutz