Just completed mine.
If your even thinking about converting go bust loose the existing short bolts inserted in the female receptacles for cross members bolts. I had to use both a phillips and vice grips around the bolt edge due to slight corrosion. Flush out any salt, grease with corrosion block, and re-insert dummy bolts until you start the actual conversion. Will save gnashing latter on.
Hardest part was the mast receiver and yoke.
Tip. When drilling or using a dremel to cut the hole, first leave the cap for the small mast holder in place. That makes it easier to scribe a circle around the center. I used a carpenter's scribe essentially two points mounted on slide clamps that move up and down a straight stick. Carpenter's version of a compass. Once you have the circle drawn, follow instructions for removing small mast holder.
I then cut out the circle with a dremel using the small sander drum to get the last part out.
Try a smaller circle then the one recommended. That presumes you get the new receiver with the kit ( I did).3.5 inches should work. Check your measurements. You'll need the hole slightly larger than the receiver diameter due to the plastic fillet between the receiver and it's top end ring (hope that's clear)
The mast release mechanism looks like this BTW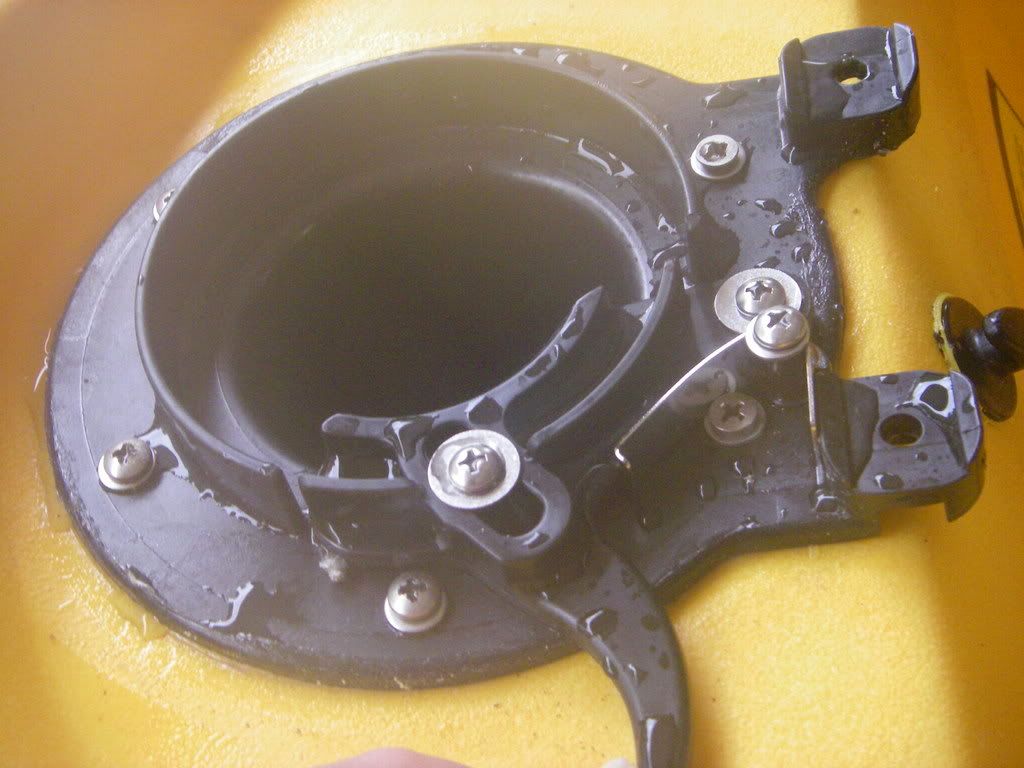 Be prepared when your kit comes in to make sure you get ALL parts. Pour over instructions and part catalogs. Go over the list with the dealer. These problems may have been cleared up by Matt working on my delivery, but you can't be too cautious.
One item worth mentioning are the bolts for the cheek block up front for the main sheet.
They are too short! Why one says you can easily mount it. Reason is the up down line conversion kit which you should do also install if your going to be doing some heavy duty sailing. Yeah, sure, why do you think I'm converting?
You will be mounting
another
cheek block on the inside of the hull using these bolts. They need to be longer. Furnished was 803150 10-32 X 1/2". I had to substitute 1" to get enough thread inside for both the inside cheek block and nylon lock nuts.
MATT - Hobie needs to fix this so it doesn't create an inconvenience, like missing a sail date.
The rest of the conversion will go quickly, except for the up/down control kit. See the thread on here. Most of those problem solved.
Note the furling cleat now comes with it's own fairlead so you do not need to order one to solve a problem Roadrunner discovered and solved by adding a wire fairlead to the cleat.. Guess Hobie listens to it's customers.
Also on the port yaku fwd is a paddle holder that fits the blade, and aft a holder to the paddle shaft handle.
I had to take my time and go slow, but I did it. I'm sure you can.
I want to thank all the guys & gals that wet nursed me through to this point with my endless questions, many on KFS. MAHALO NUI LOA!
Is it worth it? Been out twice, albeit in very light winds. I can tell you already YES!
On the prowl for white caps. Gotta plan my Maui channel crossing trip to go see Kayaking Bob.