Flamingo to Chokoloskee Trip, Feb 25-Mar 2, 2008
On Feb 25 Bill Waller and I started our 70-mile, 7-day Hobie Adventure Island (kayak-sail boat) trip. Weather permitting, we would start from Flamingo at the south end of the Everglades National Park sail 20 miles each on Days 1 and 2 to reach Highland Beach. We would stay 2 days at Highland fishing and relaxing, then sail another 20 miles to Pavilion Key. After 1 day at Pavilion, we would sail the last 10 miles into Chokoloskee. That was the plan.
The Google image shows the Gulf coastline of Everglades National Park.
We got a late start from Flamingo, had light headwinds, and made only 4 miles. We camped at East Clubhouse Beach. I should not have been surprised. This was a typical starting day for my AI trips. The good news: we were underway. More bad news was that I had started the trip dehydrated—yeah, I had not been drinking enough the previous couple days. I had thigh cramps every hour on the hour from 6:30 pm to 1:30 am. I understood the problem and got re-hydrated the next 24 hrs. No more cramps the rest of the trip.
Sunrise on East Clubhouse.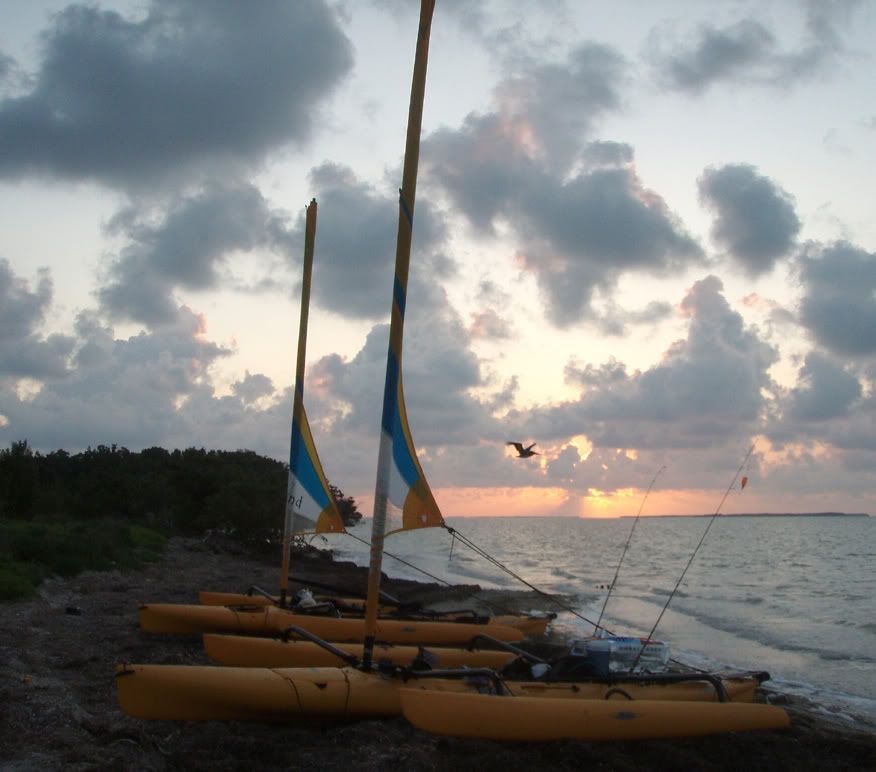 After a restless night worrying about whether we could make 34 miles the next day, we launched at 8:30 am in nice winds from the SSW—much better than the first day. Throughout the day the winds strengthened and changed to the SW. We made the 10 mi to Mid-Cape by 11 am. During the next 24 mi, we averaged better than 5 mi an hour and arrived at Highland Beach about 3 pm. We had been sailing 7 hrs. During that time the only thing handy to eat was an orange—another oversight on my part. I had plenty to drink. Making Highland Beach was important, since a powerful front was coming through south Florida on Day 3 of our trip.
Highland Beach at 7 am on Day 3—View to the West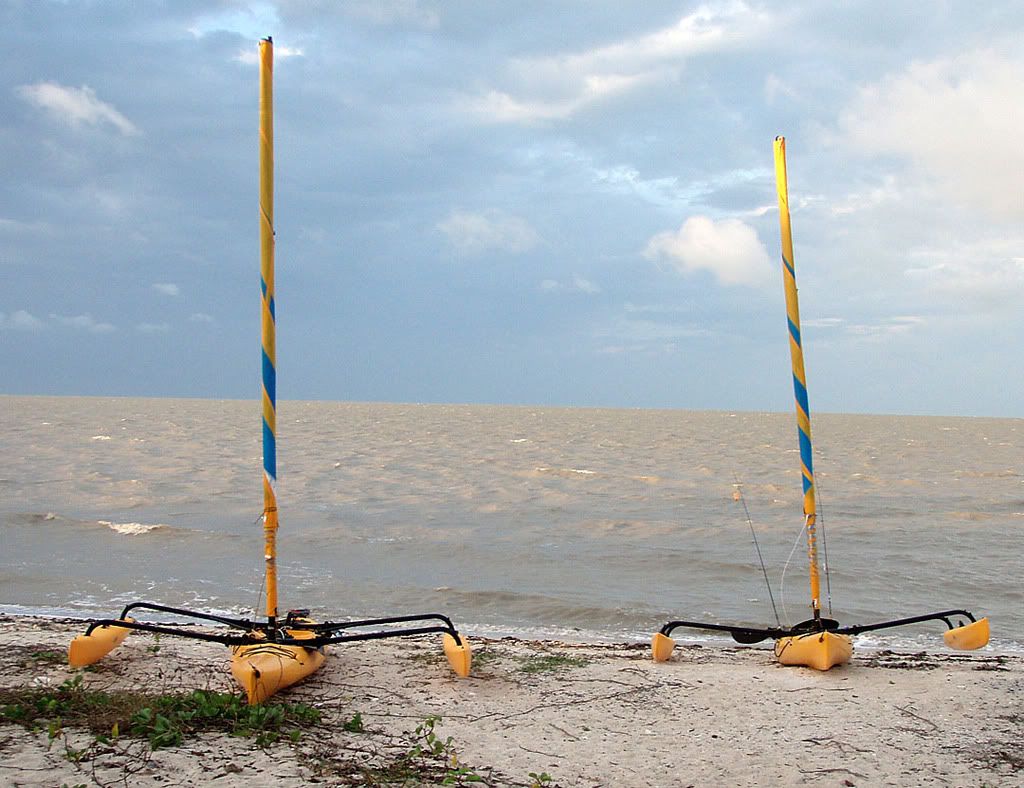 Gulf waters are heavily muddied due to strong NW winds. A powerful cold front will pass through the area within a couple hours. Squall lines came through at 3 am and again at 6:30 am with winds gusting to 35-40 mph.
By 6 pm, winds have diminished and shifted to the N and NE.
Day 4: Pleasant surprise. Highland Beach at low tide. It is a rare treat to see deer anywhere in the Everglades. To see them on Highland Beach makes the whole trip special.
The deer walk by Bill and AIs. I now realized these deer had no fear of humans. How many generations of deer, which are not threatened by humans, does it take to breed that fear out. Whatever the number, it is a wonderful thing.
Camp at Highland Beach. Many years ago, Highland Beach had been a palm farm.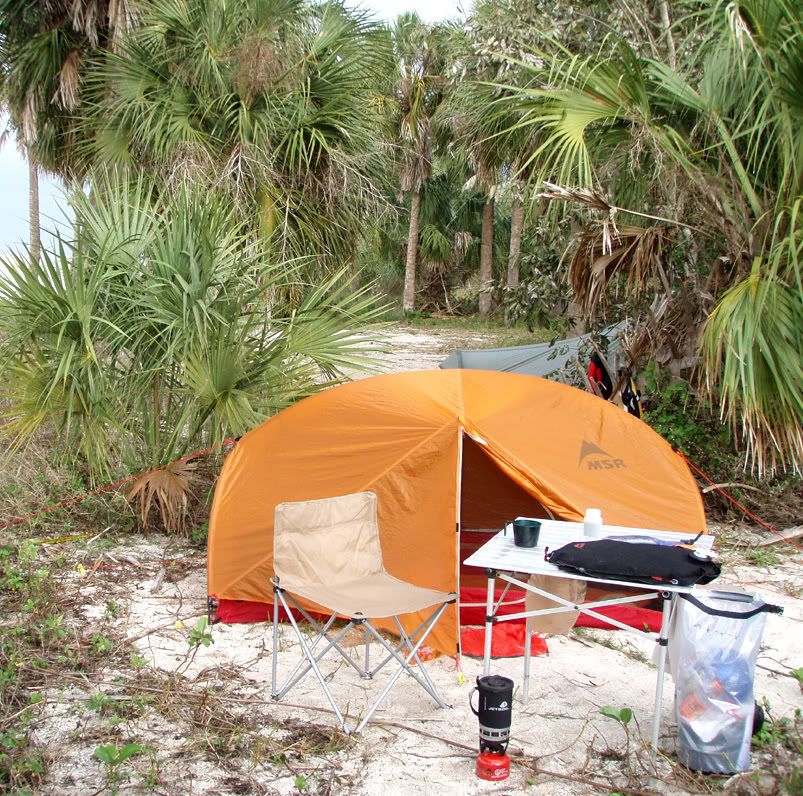 Tide considerations forced us to leave Highland Beach a day early. The afternoon of Day 4, we sailed to Hog Key, 7 mi north.
Hog Key Vulture Welcoming Committee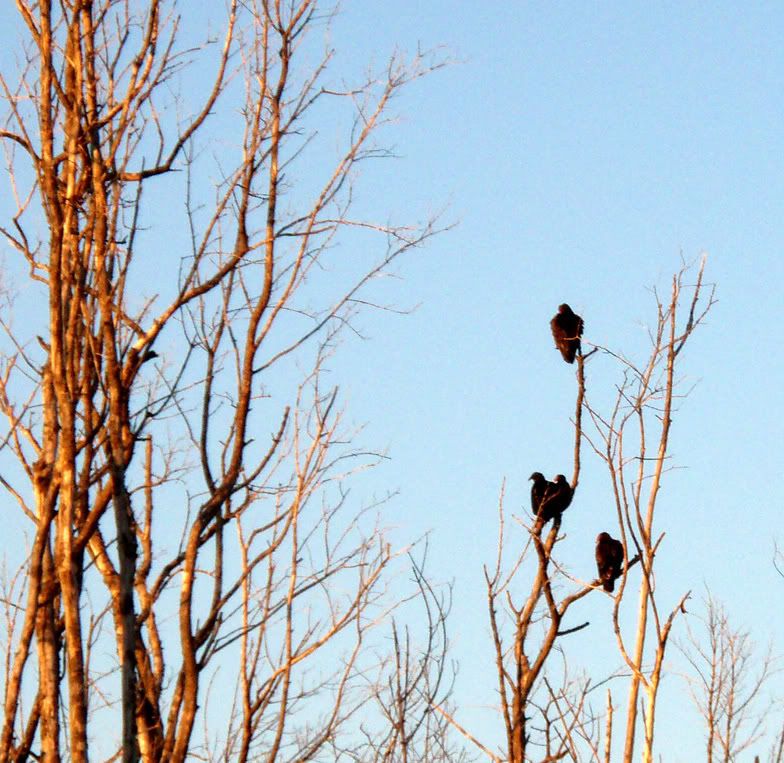 This coastline was hit pretty hard by hurricanes a few years ago. It is just recovering.
Ready to launch from Hog Key on Day 5.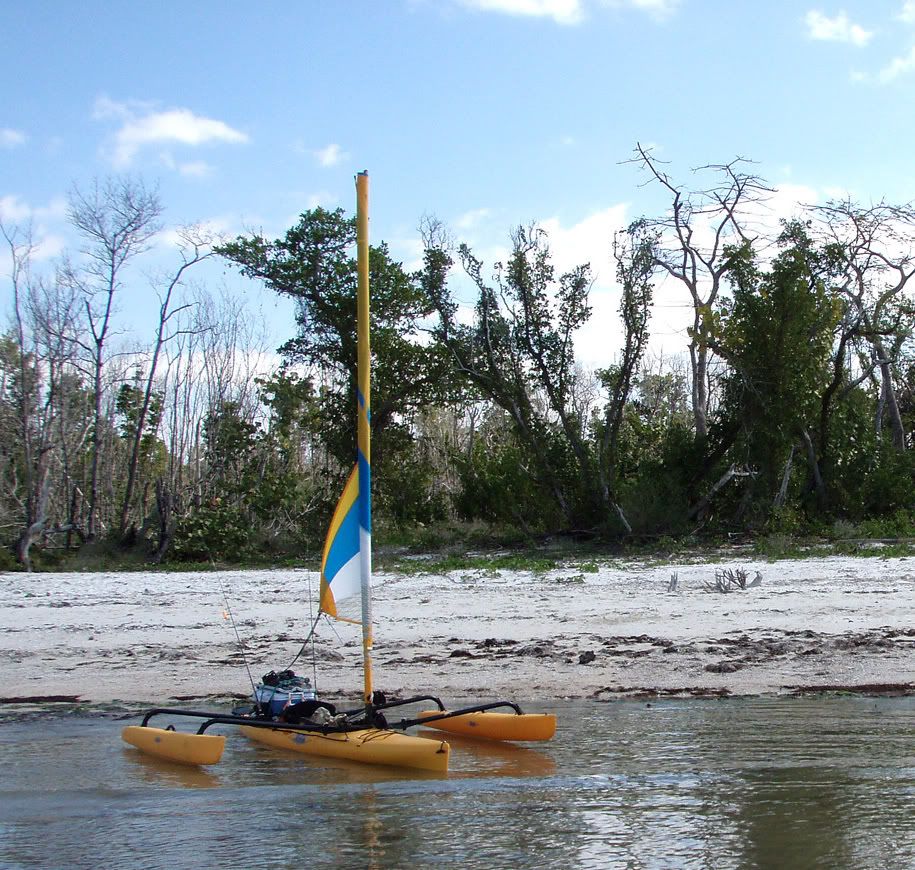 I showed Bill how to use his GPS and put in a few key waypoints while we were on Highland Beach. Now, during the 12-mile open water crossing to Pavilion Key, he has developed a ½ mile lead. Moral of the story: teach a guy how to navigate in the Everglades and you may never see him again. My ego was assuaged a bit when I caught up with him near Pavilion.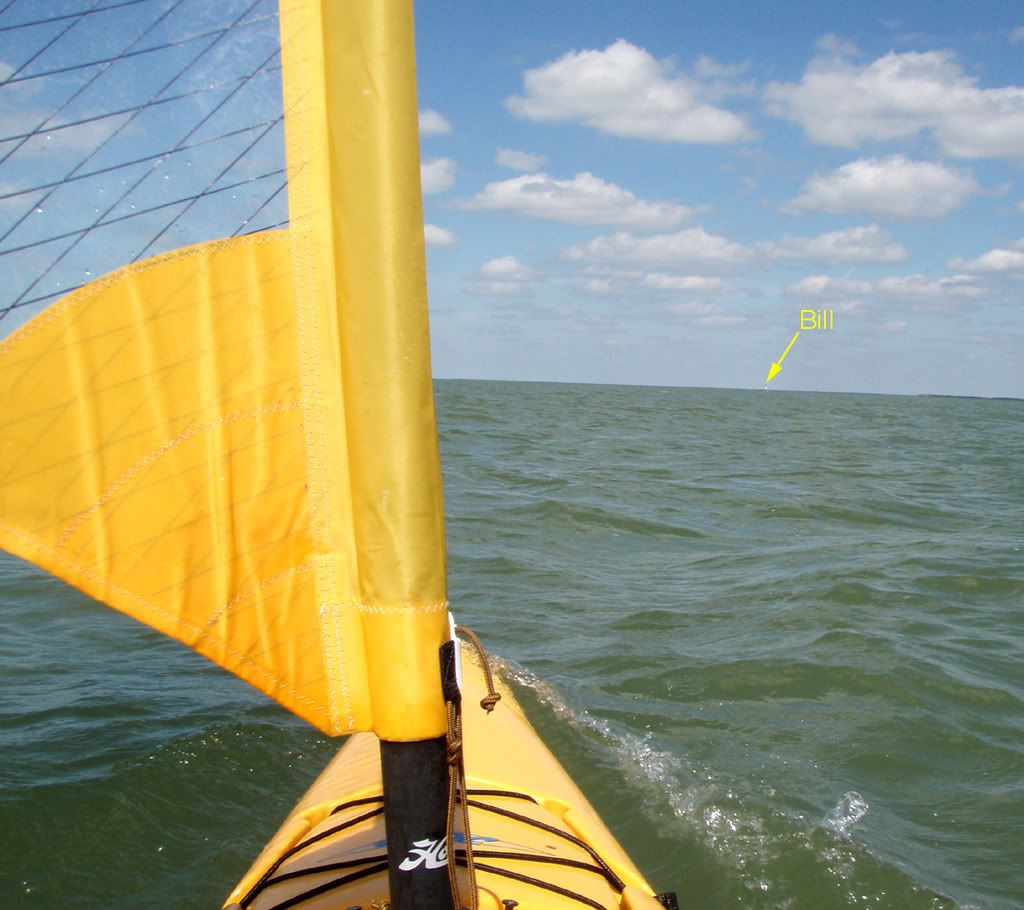 Arriving at Pavilion Key. We are now 10 mi from Chokoloskee and Dave, Alex, and Don have come out to greet us. More will arrive later.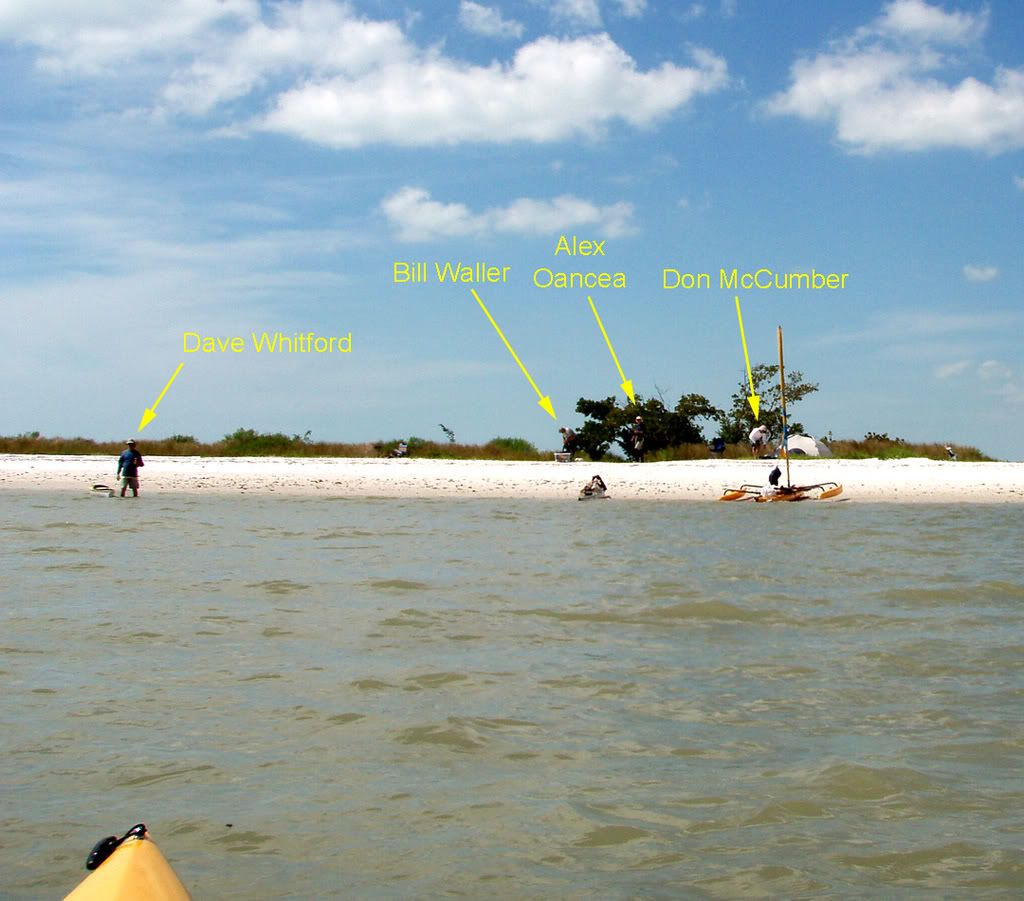 Now it is time to relax.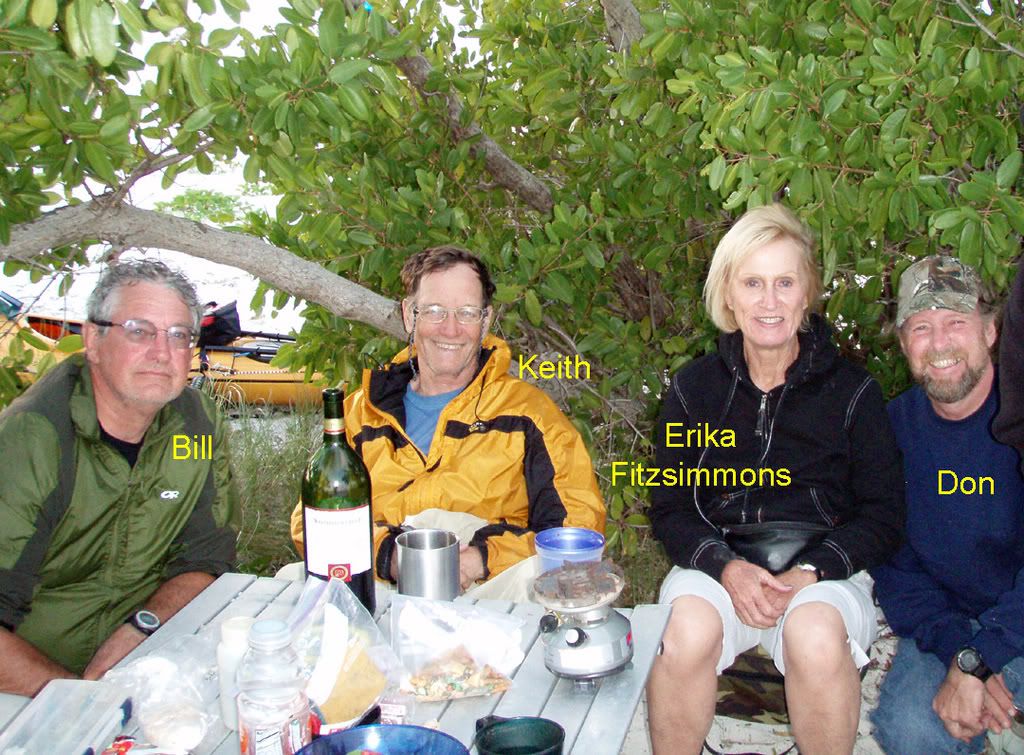 Don and his saran-wrap boat. Don is a professional wood worker and built this boat in 4 days. It seems to work, since it got him to Pavilion and back to Chokoloskee. He even caught some fish along the way. Note: Don does not use Saran Wrap. He uses a heavy clear plastic available at Home Depot.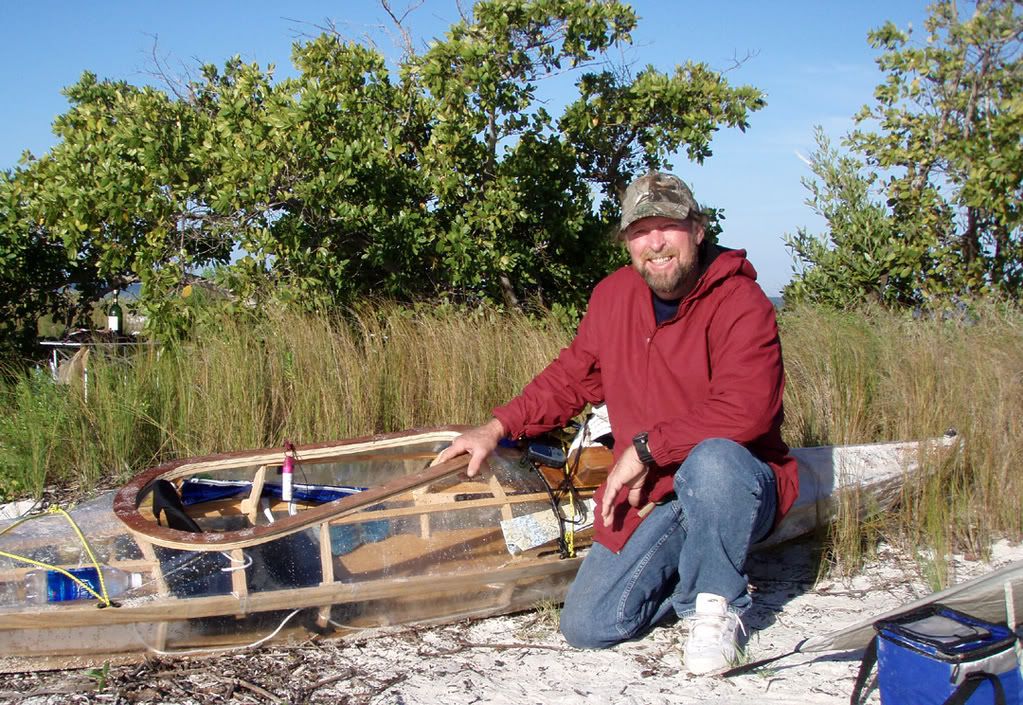 Day 7: As we approached Chokoloskee Island, Lou used his ultra zoom to get this picture of white pelicans and cormorants perched on an exposed oyster bar located about 0.6 mi to the SSW of the Island. These migrant pelicans are a fixture on this oyster bar every winter. Usually white pelicans are very shy of humans, but these apparently have seen so many kayakers and canoeists, that they are comfortable with the tourists.
Day 7: Chokoloskee landing.
A good place to end a trip to Chokoloskee is City Seafood Restaurant in Everglades City. Lou, Bill, Stevie (my Grandson), his Mother Marilyn, his Father Scott (my son).
Lou's comment about his grouper sandwich: "Can you believe this?"
Keith