Correct. Aka frame wear has never prevented use of the boat nor caused any real issue; other than the rattle - and that only in chop.
Padding is easy, cheap and very effective.
Looks like: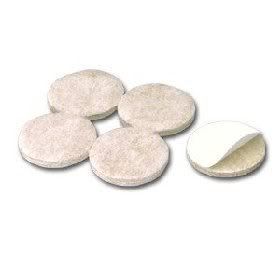 http://www.amazon.com/Heavy-Duty-Felt-L ... B000A3C7U8
Just stick them to the flat face on the aka arm (where the 2 holes are)

You can trim the round pad into a rectangle or buy the self-ad. padding in small sheets. If after attaching the pad you can't pin the arm on - the padding is slightly too thick. Just compress the felt it a little with a few ginger taps of a hammer on the felt - either before or after applying.
Replace worn padding with new as needed - about every 10 trips for me YMMV.
I believe every aka arm has these 2 small holes - as seen in the pic above. A real clever Hobie engineer could thread/tap those 2 holes - so that a rubber pad could be screwed/bolted to the face of the aka arm. I'm thinking a rubber bumper of the same durability and 'hardness' as auto tires or rubber auto shock absorber bushing.
The rubber part could be molded to perfectly fit the aka arm face and have a concave top where it contacts the x bar hinge. It would not interfere with any current function of the aka arm (attach, fold ect.) Plus, it could be replaced if worn. Plus it could be retrofitted to all existing boats via a tap kit, a self tapping bolt, or maybe a super adhesive for the rubber pad.
-----------
The best advice is pin on one aka arm to the boat without any ama and just move it up and down to check play.
If you have this (see movie):
http://s113.photobucket.com/albums/n212 ... I_2865.flv
The padding will remove nearly all that and the up/down travel & rattle will be eliminated.
I would go so far as to suggest that even new akas get 'padded' to keep them newer longer. You wouldn't drive your car without shocks would you?
Unless something better comes along - this works!
Yakaholic