Part 2
Next morning Bob met us on the beach with pinnaple and bananas. Here he is on right with Kelly.He had stored our gear for us overnight in his canoe shed. Lots of Hana aloha from everyone there.
That's me with Kelly stealing a granola bar.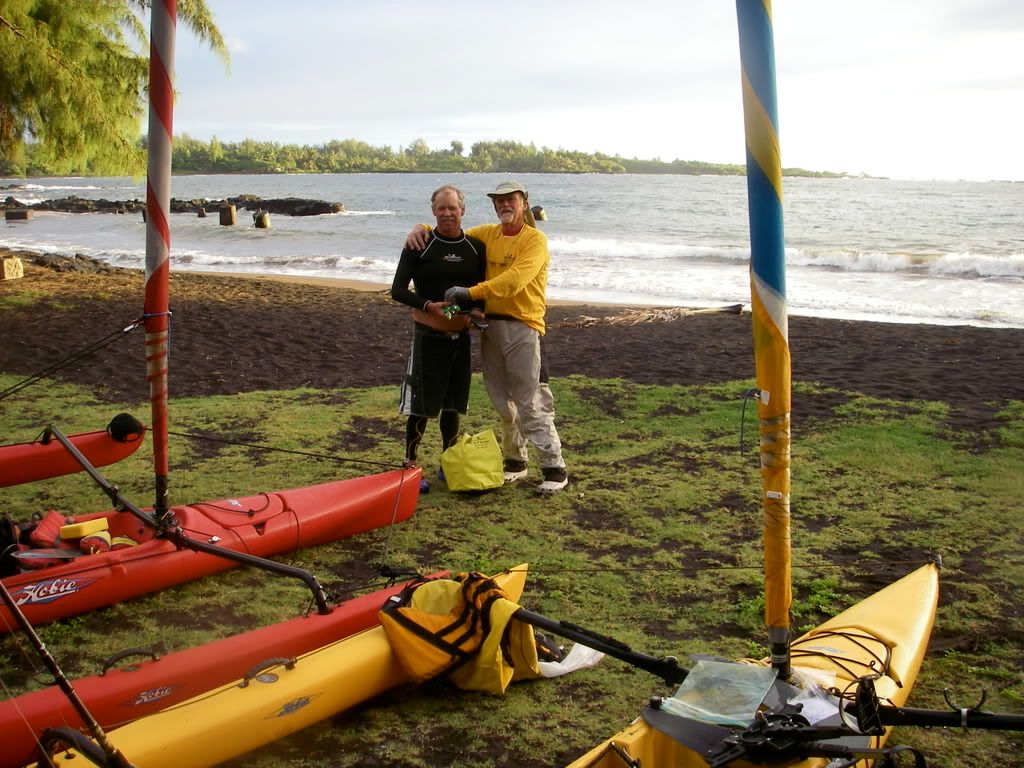 We got off at 0700 expecting some rising winds in the early afternoon. But outside of Hana it was a nice reaching breeze. Here's Kelly. Note no white caps.
Kayaking Bob the reason we went to Hana was precisely due these wind conditions. For the first three hours we had a nice reach instead of having to point up and risk getting pushed into the center of the channel.
We figured a straight shot from Hana to Upolu Point and then a following wind to Mahukona.We were able to fairly easily follow this course most of the way.
The rain showers stayed east in the center of the channel-fortunately with their gusty winds.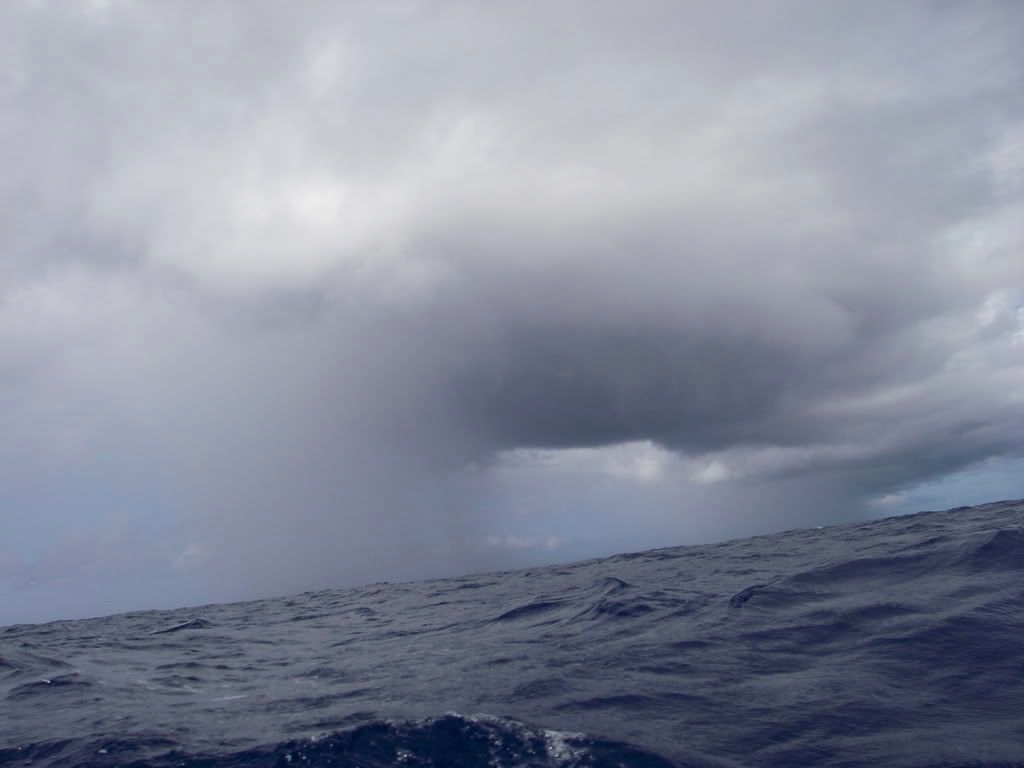 The above shot was about three hours out. We stopped to pump. These babies will leak under these conditions, and you better bring one.You have to stop when pumping. Otherwise incoming will flood through the hatch. A pump hole connection, maybe through the hatch should be designed in.
A sign of things to come.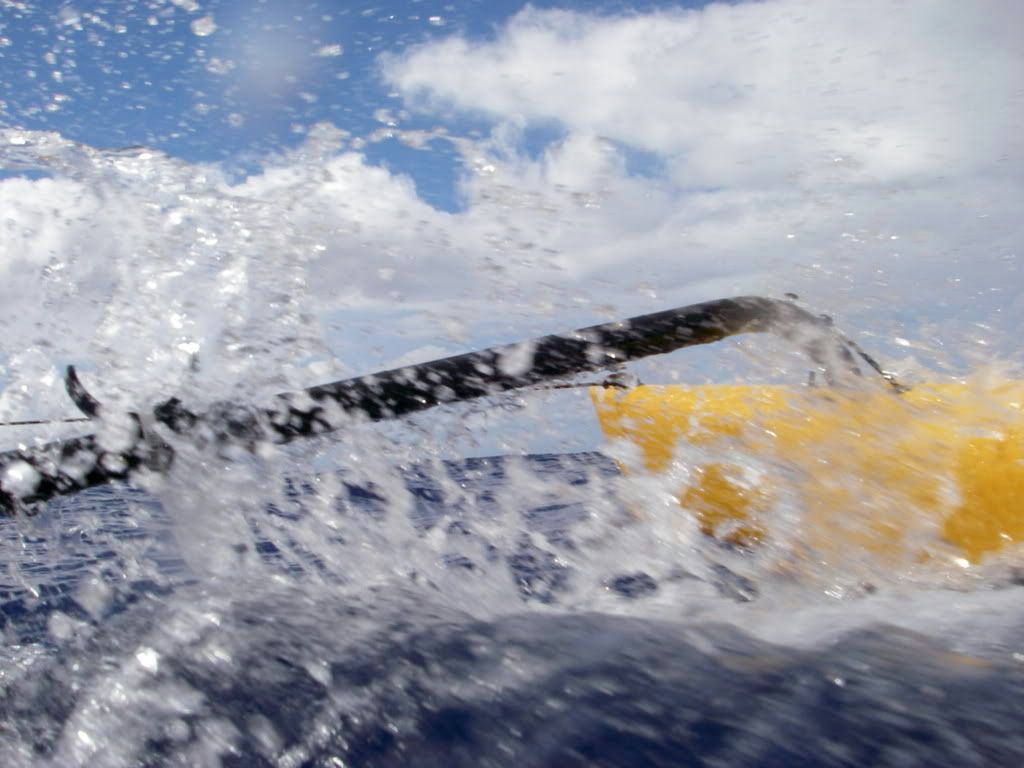 On the way over Kelly had removed his drive and put in the plug. He was at least a knot faster then me with a drive in. Not to mention a better sailer (I'm a fisherman that sails). Going back we reversed this. I was able to keep up and sometimes watching tell tails closely lead for a bit. But you have to be careful rigged that way. A couple of times a swell caught me I was temporarily in irons with no pedals, and I would quickly lose several hundred yards.
But the Big Island was now in sight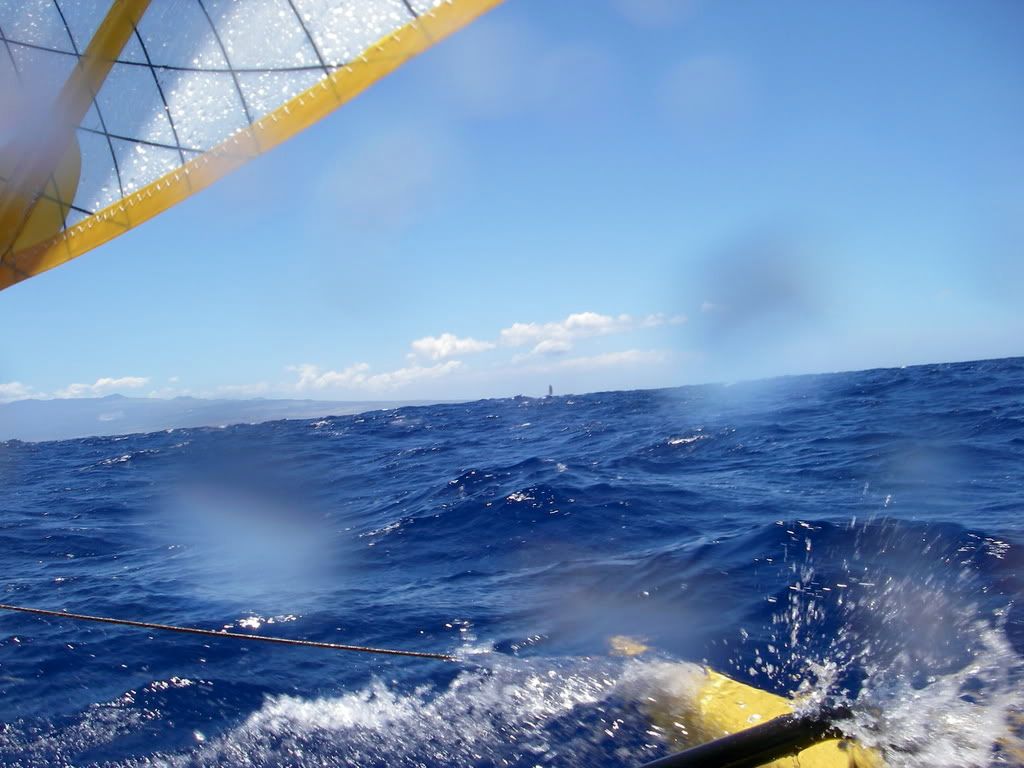 And the wind was picking up. Note rollers and furled sail.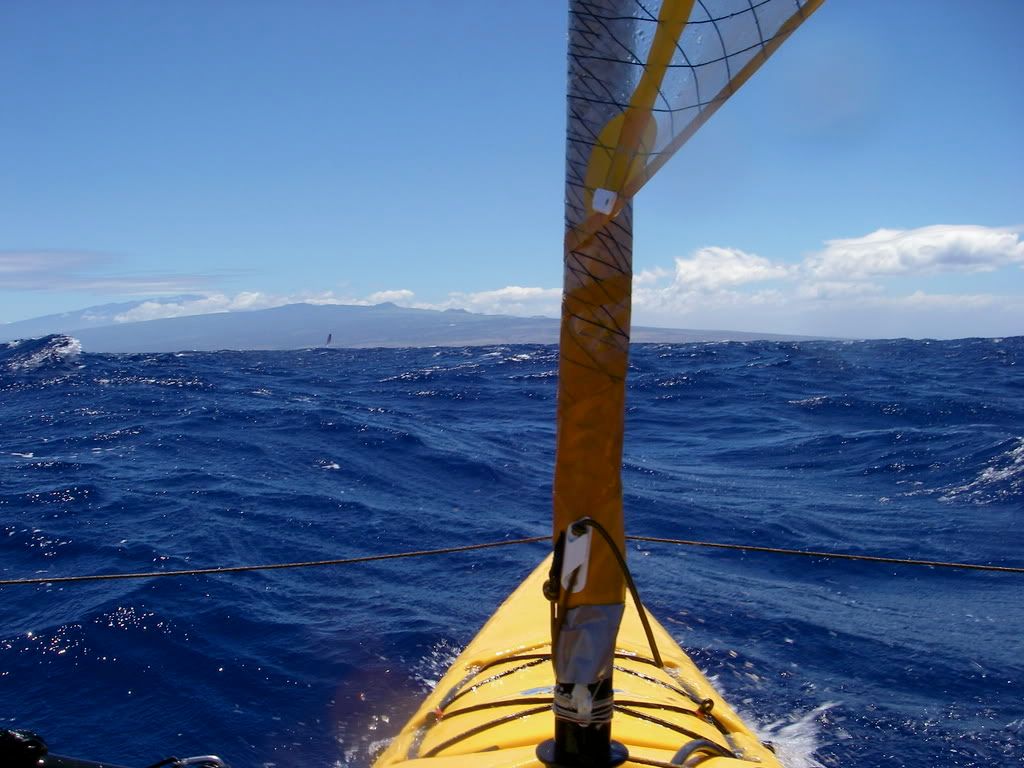 Note over last photos changing conditions as we got closer to Upulo Point. Once closer to there, about a mile or two we would turn right and run downwind to Mahukona.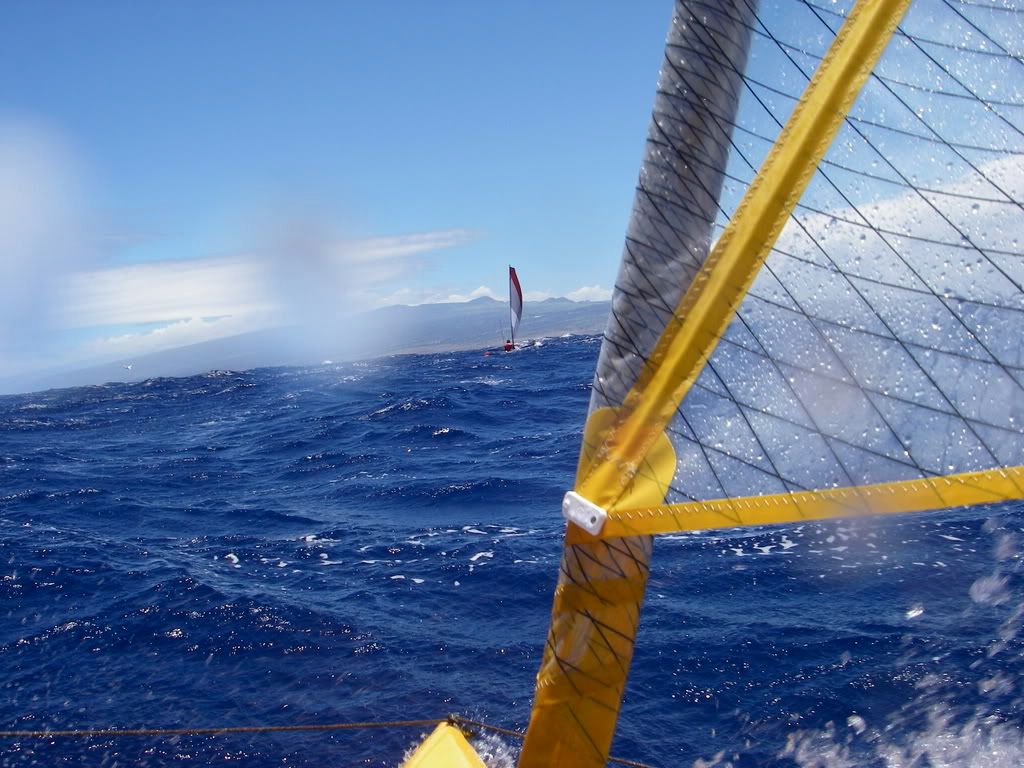 I put the drive back in. In the process I disconnected the Drive's safety leash. We stopped to pump and I thought somehow I didn't have enough furling line on the mast. Any instinct like that should be acted on right then. Don't hesitate.
More wind.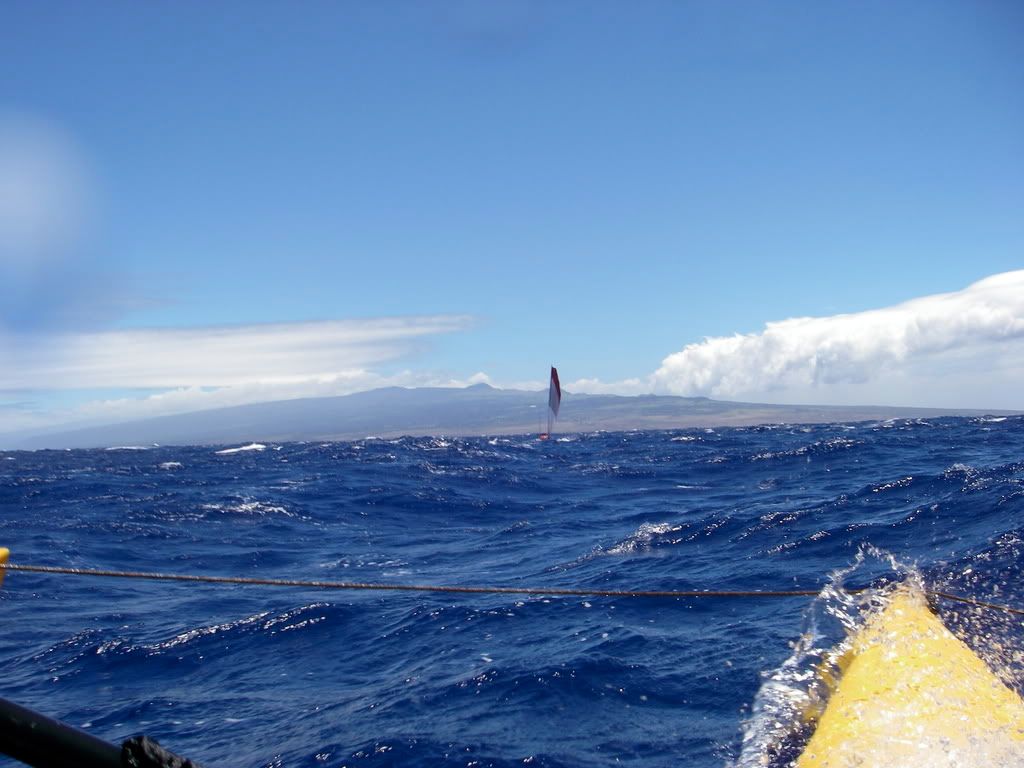 Soon it was getting to Beauford 6- 7 in gusts. I was fighting it so hard no time for pics, but checkout the scale by scrolling down to the 6-7 level.
http://en.wikipedia.org/wiki/File:Beaufort_scale_6.jpg
[Note 2010 edit of web page above from original post]
Both of us had sailed in the twenty+ knot wind range. Kelly running from Waipio Valley to Kawaehae, and myself at South Point Needless to say we wern't quite expecting this much of a blow . But Kelly had already started angling south east. About 10-15 minutes from getting in the lee of Upulo. All we had to do was reef in a bit more and it would be a piece of cake to hit Mahukona.
I couldn't do it. No more reef line.
Somehow I managed to get the sail wrapped around the mast, but between being slammed by a couple of swells things went arwy, and I ended up with sail wrapped up high with ~2 feet exposed. The mast the popped out and I was a dead duck,
The following is eating crow, and says something about what can happen in these conditions.Hopefully others will learn.
Kelly never straying too far (after all I had all the spare rudder pins now :>)) quickly seized up the situation. When I said I could pedal he replied towing would be faster. Connecting one tow line from his craft to him self he swam another tow over to my boat.
Alfonse and gaston act begin.The line fouled on the drive even though I had pushed the fins up against the hull. OK pull it. I did. About then the yaku cross piece popped up off it's button holder. Time for a full bath, the yak hullied.
Believe it or not I managed to catch the drive between my legs as I felt it slide down my waist. So there I am hullied in the water clutching life or $450 depending on your view point.
I quickly swam around to the collapsed ama side. The yak wasn't getting away from me as I was leashed to it. But with only one arm as I clutched the drive tightly in the other figuring if I could get back in, it would be my salvation, I was in no position to right the AI with one arm.So where is there a line I can tie it too.. Never fear Kelly was near, and dropped in to help me right it.Threw the drive in, followed it and secured the hold down nuts. Didn't lose anything as the rest of the gear had hold down lines.
Finally got the tow started. You can see from the photo how near we where to making this whole trip an easy one. Also how close we were to a Beauford 7.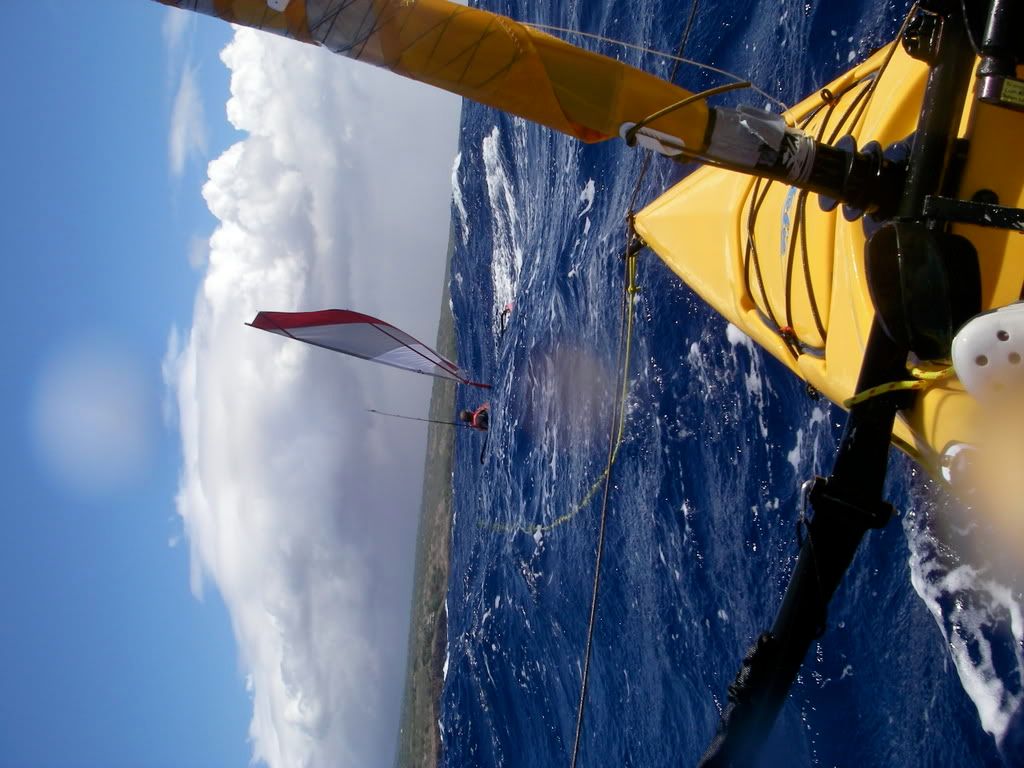 I'll spare the details of fighting the exposed two feet of sail. Couldn't pedal and turn, nor could Kelly tow across the wind. But he came by again. Figured two of us could get it out. Standing he was able to get enough leverage to pull the mast out, and I secured it in it's holders I had made on the yaku. Uneventful from there to Mahukona takeout.
I made too many errors on this trip. But got through it because I had an experienced partner, and had done a little homework myself. It was quite a expedition. I think it fulfilled it's objective of proving what a tough little craft the AI is.
One big problem is hypothermia from wind when your being continually soaked.. I had on a NRS hydro silk shirt, NRS splash pants, and jacket and was shaking like a leaf on the way to Hana. Somewhat better on the way back when I added a cotton long sleeve over the hydrosilk, but not much. Kelly suffered too. Can't remember what he had, but he thought a light surf suit would have been more appropriate. Could also have use Kayaking Bob's Darth Vader splash screen.
If you try this be sure you check, and recheck the weather. BTW some time it goes glassy and you could end up pedaling the 30+ miles
Aloha
Dan