Although a live well would be good for the Pacific Coast folks who have to deal with delicate plankton feeders for live bait, it would not be of much use for many of us on the Gulf and Southeast coasts. Our bait fishes down here are a lot tougher than those weenie Left Coast pelagics, and a simple bait bucket that you can drop in the water alongside your yak will work nicely. If you really want to get fancy, you can buy one of those inexpensive battery powered aerators to attach to your bait bucket.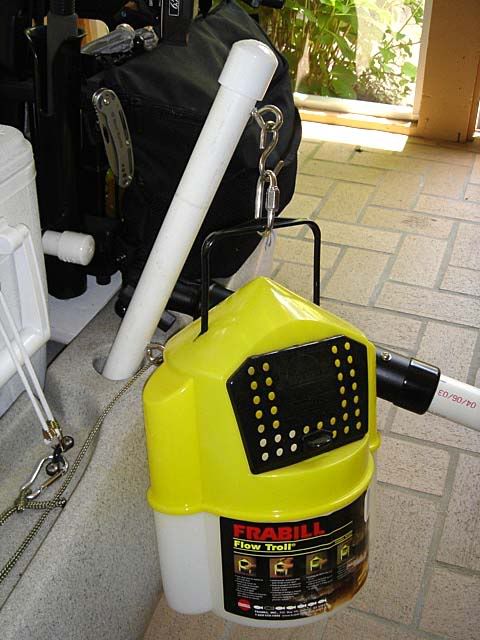 My favorite live bait is the good ole pinfish. Of course, we can't just run out to the commercial bait barge to buy our live baits back here (ain't no such things)--we have to go out and catch our own livies before actually going "fishng". But a small hook and a tiny piece of squid will allow you to catch a good supply of pins and/or grunts (less desirable since they are not nearly as hardy as are the pins) in about 30-40 minutes over the grass flats or in the canals. And, as an added benefit, pinfish on light tackle are fun to catch--especially those "bull" pinfish that are actually big enough to eat! They make great shark and cobia baits, not to mention Spanish mackerel, grouper, and amberjack, should you ever get that far out. Or you can use a cast net to catch a variety of other smaller bait fishes in the shallows or in the canals before heading out. These often smaller fishes, however, do need a bit more TLC and aeration than the pins. Whatever works...
However, just about everyone's favorite inshore bait (other than artificials) is live or fresh-dead shrimp. This is the go-to bait for trout and red-fishing. Now, you can buy the live shrimp from local bait shops. But, to keep it simple, some folks simply buy the live shrimp, put them in a sealed Zip-Loc (with no water, other than what the shrimp bring with them), and then lay the bag on a bed of ice in a small picnic or lunch carrier (from Wal-Mart). The ones with the plastic "box" insert work very nicely and keep your post-trip cleaning to a minimum.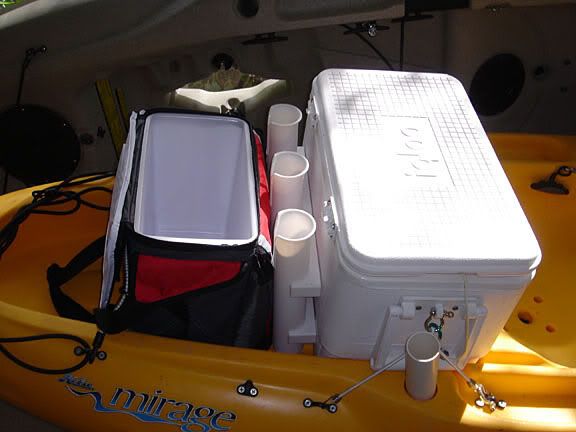 Some folks just buy the frozen dead shrimp, whereas there is a strong contingent that feel that the live or fresh-dead (cooled on ice) works the best. Here is a pic of the set-up I have been using as of late in the Sport. My Igloo 25 quarter is now my "crate", and I just put the lunch carrier with ice behind that. Works well and is fairly accessible, with no water sloshing around in the yak.