Well the anticipation of another day out at 3 Mile Reef was intense as we all met up at the crack of dawn to rig up, and head out. The conditions were light SW already on the blow, and it looked daunting, but safety in numbers, an away we went.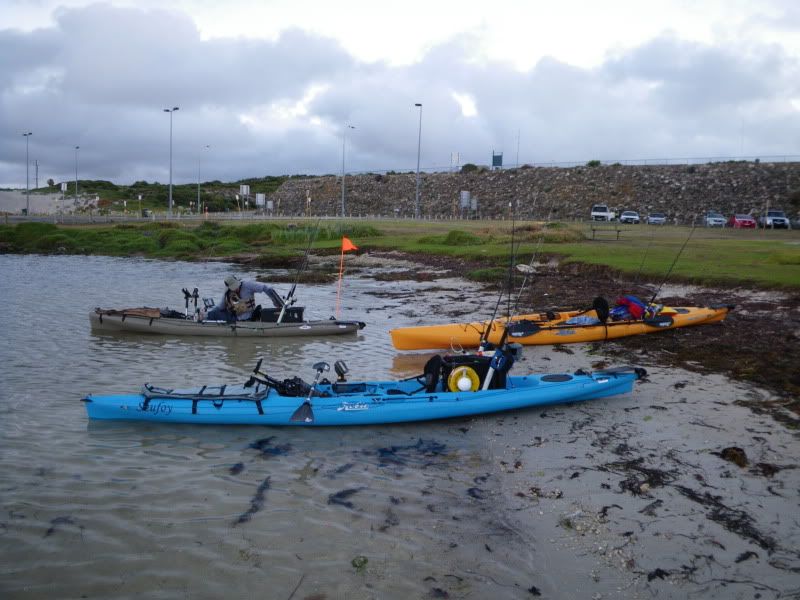 The Hobie Brigade assembled at the launch.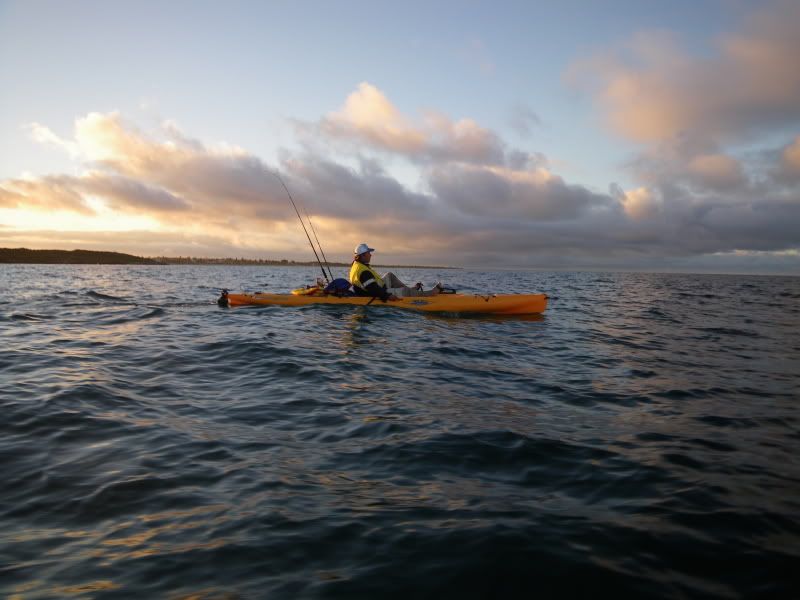 Shorty on his big banana, the bright yellow Adventure!
The trip took us just over an hour which was great time considering we had a SW headwind, and a decent chop to punch through. We all moved out past the reef, and onto similar ground as last week, anchored up, and proceeded to get lines in the water.
Ian continued on his quest to catch the whole Jackson 5 with a new member boated, a chunky Port Jackson of quite reasonable proportions! I persisted with big baits, and heavy rods most of the day, and was rewarded early afte our arrival with a solid hookup on my BanaxGT. This thing had BALLS!!!!!!!!!! Ran hard, so i thought, time to play tough, and tightened the drag up hard. The fish responded equally, and this resulted in me being swung around like a rag doll, whilst giving only as much line as i dared. The fish played relatively fair and headed out to sea, so i swung the anchor to the rear and hung of the rope, no it started to get nasty. Despite enough drag pressure to pull a small Toyota, this thing continued to run!! Came close to the surface once or twice during the fight, but then headed west, and in a solid surge, managed to ping my 60lb shock leader of on some reef! No idea what it was, but Rnd 2 goes to our piscatorial friend, of whom i WILL eventually meet in person....
My fugly mug, with Jimmy in the background.
The day wore on, and in a spite of action, i landed a nice little Breaksea Cod of around the 40cm mark, which is joining me for dinner, and shortly after, a decent hook up resulting in an impressivley coloured Harlequin fish! A first for me, and at just over 60cm, great table size. The colours and teeth on these fish are impressive, and apparently they are superb eating.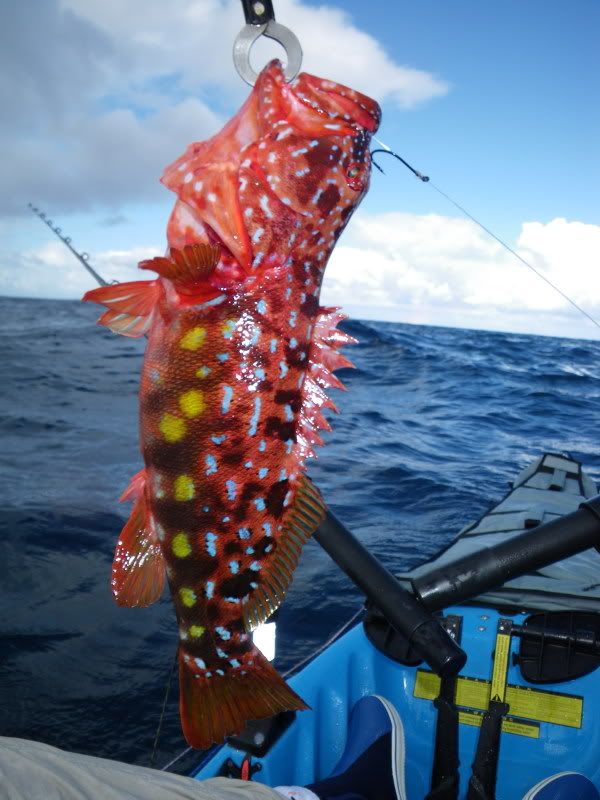 Hope it tastes as good as it looks!!
During the morning, my skills with the birds became apparent when i befriended this Mutton Bird that was hanign around. In hindsight, giving it a fat, juicy Mulie was probably a bad idea, as he insisted on mooching around my kayak, sometimes merely inches away, as it seemed he was thinking that the mulies were coming from that esky on the back that he could just about help himself too... I was certainly relieved, when Jimmy threw him some fish, and he became his best mate for the rest of the day, closely testing his bait before we dare subject it to the tastebuds of the resident fish.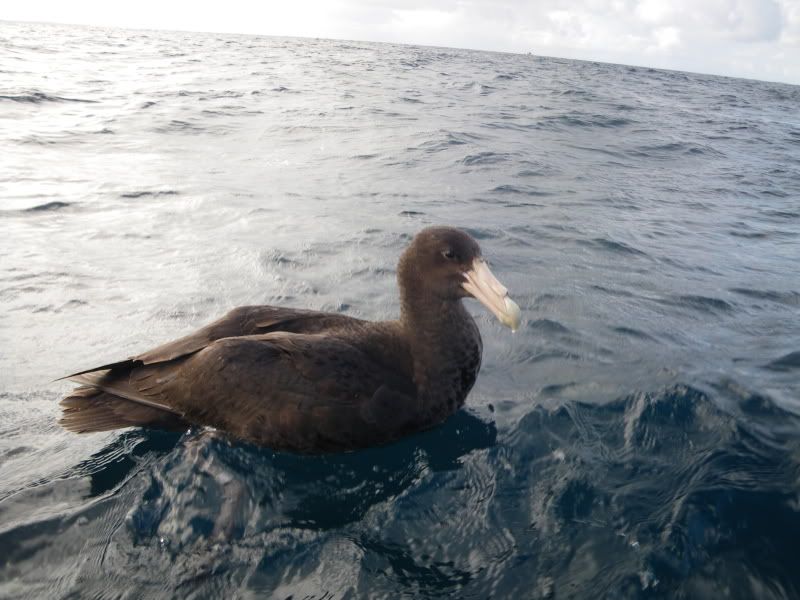 Not the kind of bird i usually like to hang around with...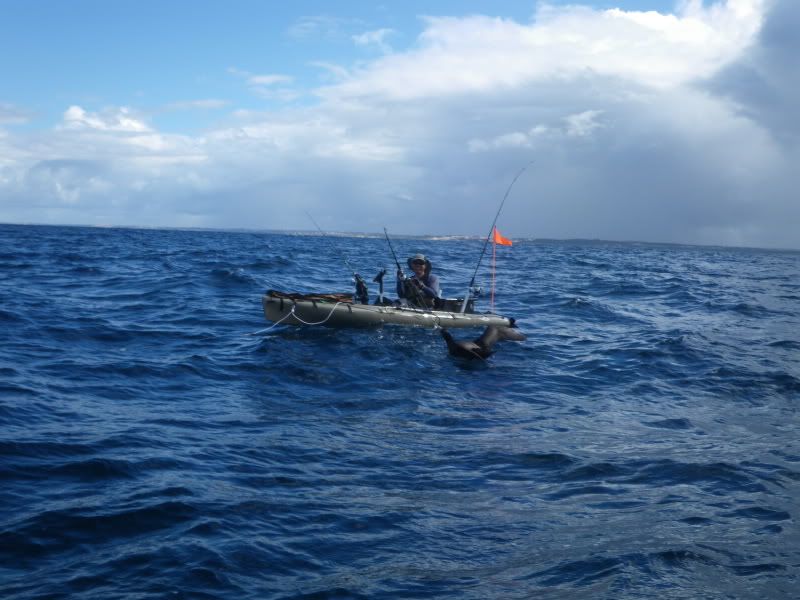 Jimmy playing tug-of-war with the birds!!
As the morning passed a ripper squall passed through, whipping up some decent rain, and gusty winds, but that didnt put a dampner on things, as with a few fish in the bag, it turned out to be a ripper day. The weather was certainly a test, and we all passed with flying colours.
Thanks to all those who came along for the day, hope to do it again soon!