Flamingo to Chokoloskee, Feb 19-25, 2009
This full-paddle (no sailing) 7-day trip along the coastal Everglades had one of the more interesting first days ever. It began ominously at home when one partially loaded sea kayak fell off a trailer and broke its bow.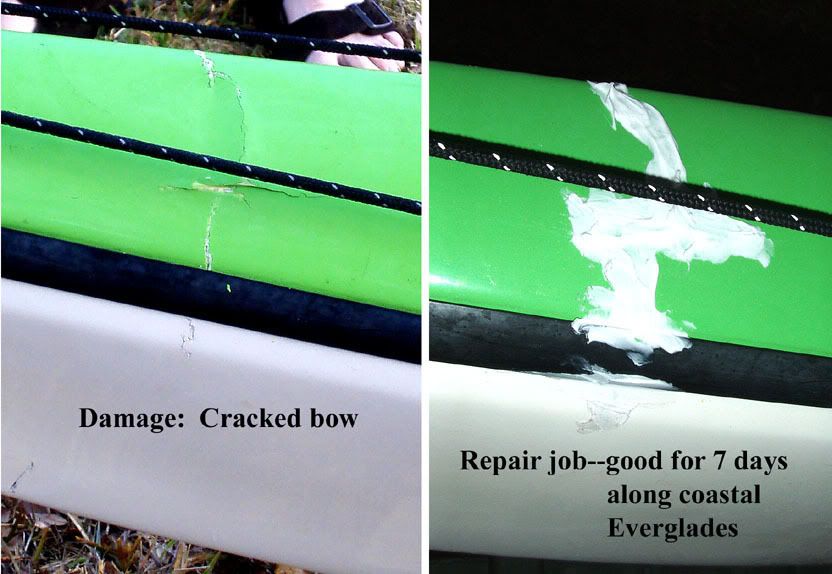 Getting all the boats, gear, and people loaded was an achievement.
But, everyone made it to the launch....
From left to right: Jon New, Erika Fitzsimmons, Pat Owen, Ivan Molton, Janet Lineback, Karl Bateman, Lou Greenwell, and Nancy Wellman. Jon, Janet, Lou, and Nancy have done this trip before. Ivan, previously a psychology grad student at U Miami, is now on the faculty at U Washington, Seattle. He was in FL for a meeting and fit in this trip. Karl is a snow bird from Canada. Pat is from Ft. Myers—west coast of FL. Erika has done several camp trips with us but this was her first "expedition."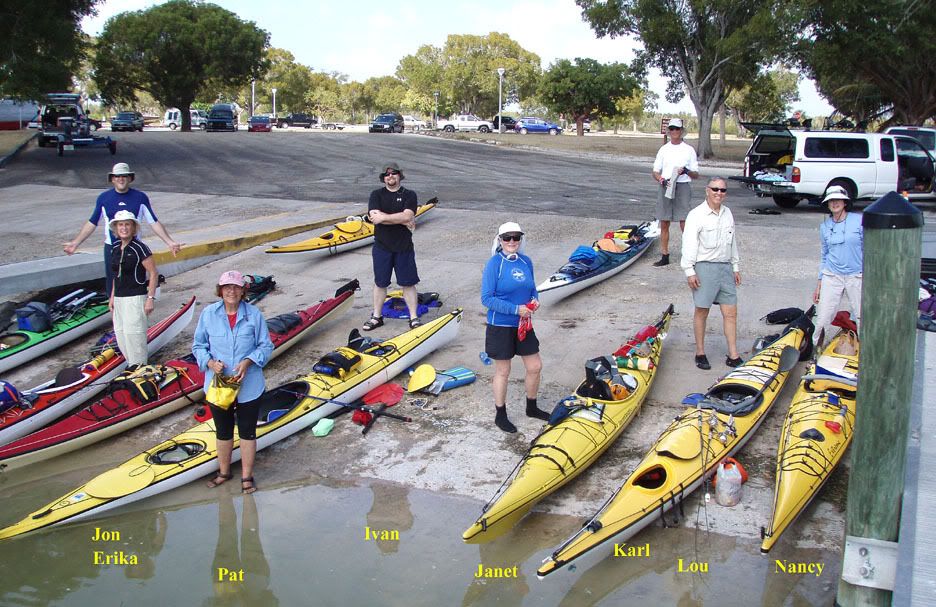 It seems we always meet incoming people as we leave Flamingo Marina. This year it was a group of canoeists who had been out for 2 weeks.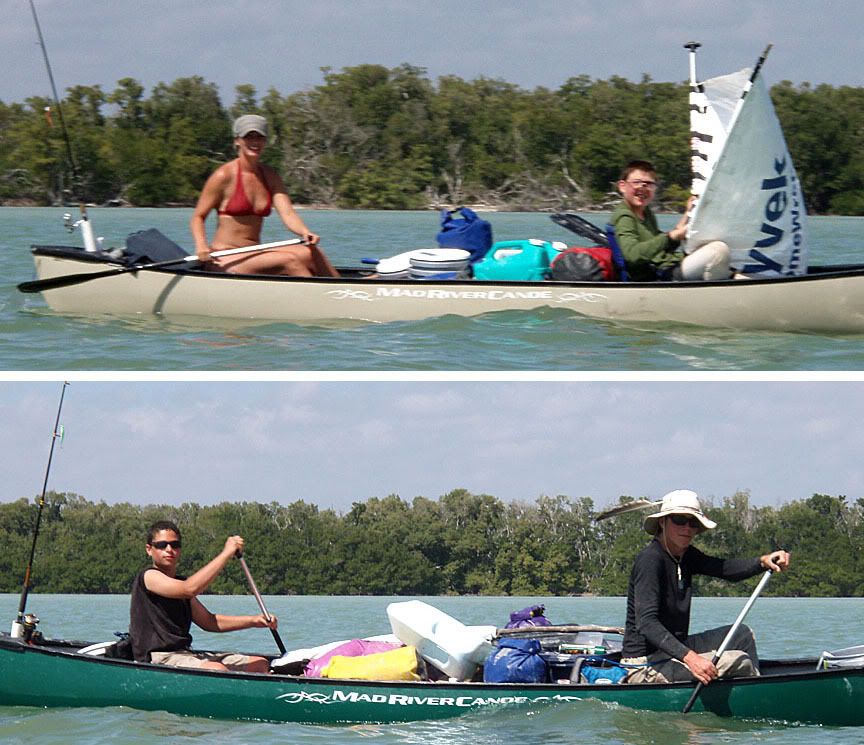 Google Earth image of our 70-mile coastal trip
Lunch break at East Clubhouse
—we once ran into a 6' Eastern Diamondback rattle snake in this area. It was a surprise, since snakes are
VERY, VERY RARE
on coastal Everglades' trips.
Arriving at East Cape Sable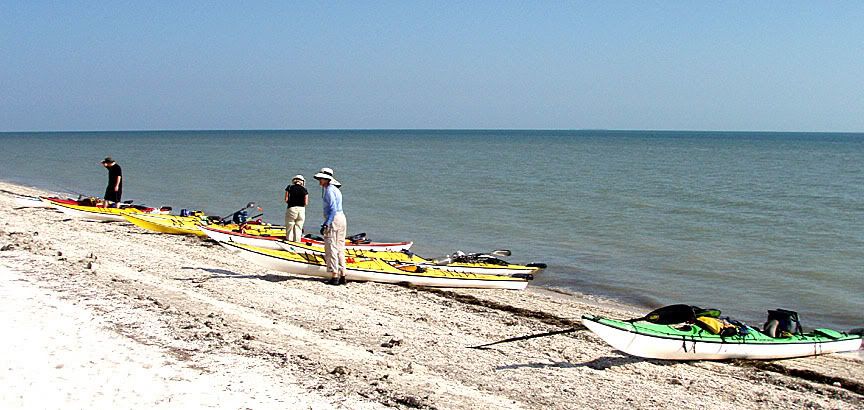 Camp at ECS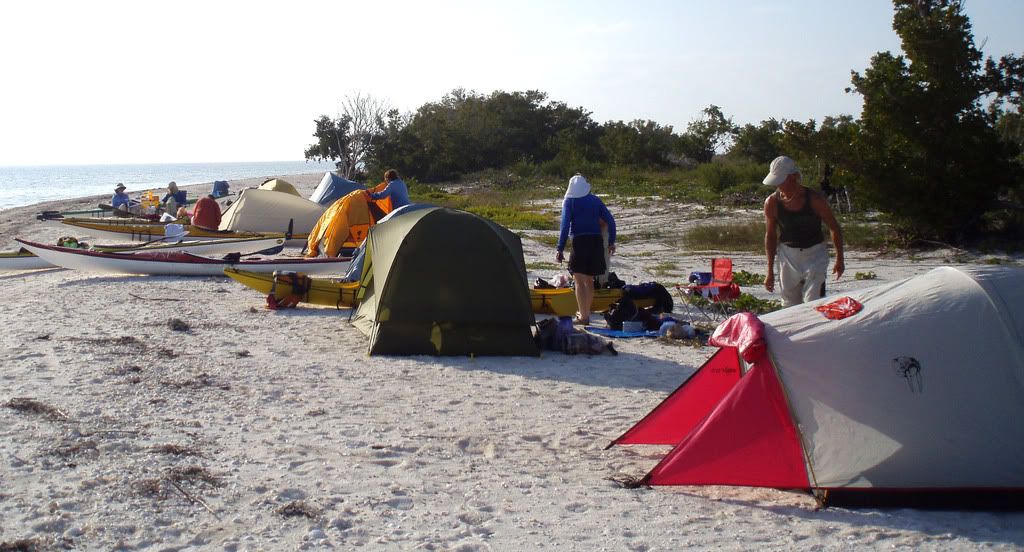 This first day we saw the usual assortment of birds, dolphin, and occasional turtles, but the sighting of the day was the
BOBCAT
.
While we were following the bobcat, we found this land turtle.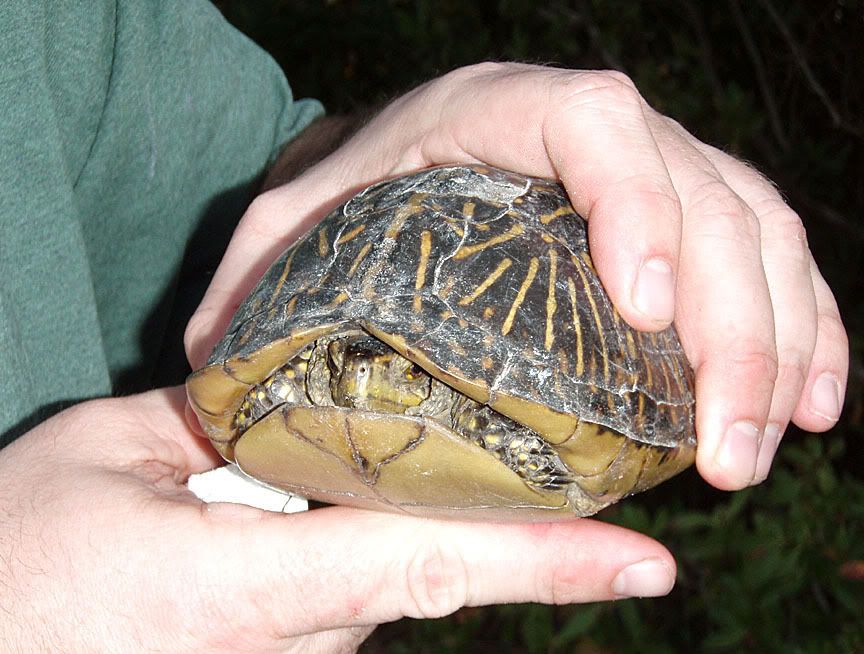 Dinner preparations—Pat, Erika, Nancy, and Lou.
Lou would return to Flamingo tomorrow.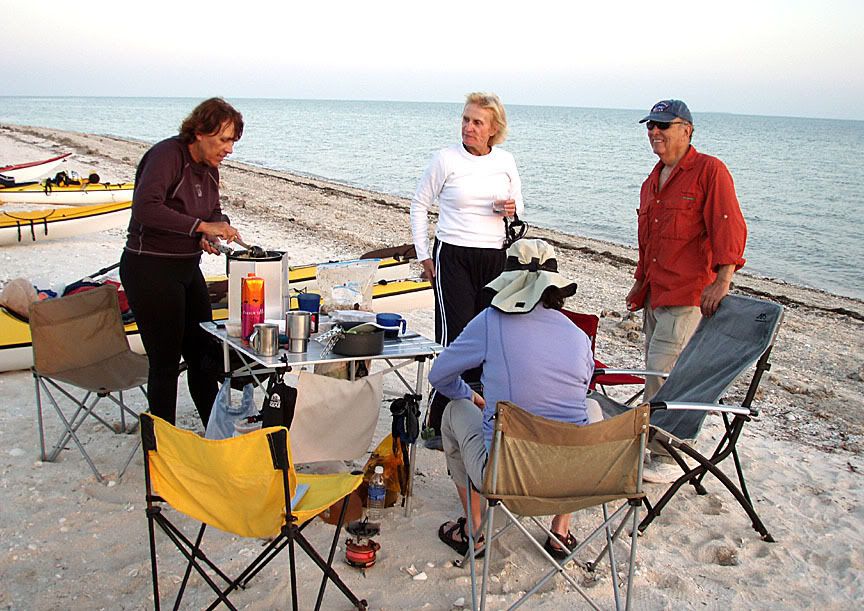 East Cape Sable can be as alone as you could ever want to be.
Overnight raccoon attack on a hatch destroyed rubber gasket.
The first 24 hrs were interesting indeed!
On day 2, we encountered tough headwinds from a cold front which passed during the night.
Seas off Middle Cape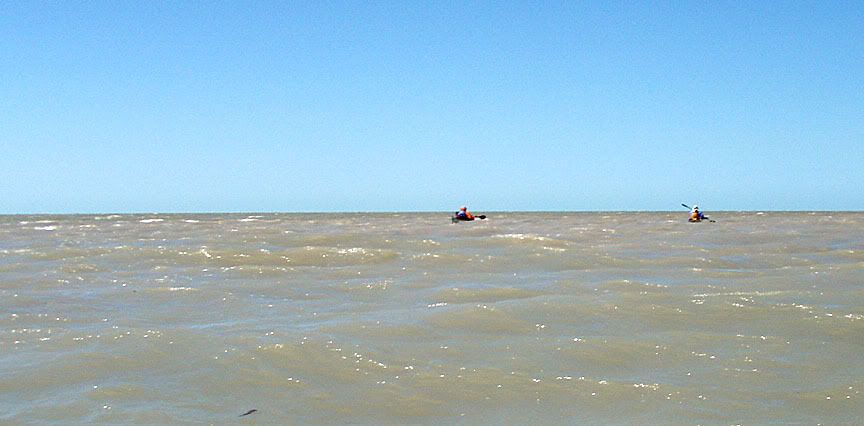 Relaxation at Northwest Cape after a tough paddle—Jon, Nancy, the author, Pat (standing) and Erika
Starting at NWC, the shoreline north suffered through a couple hurricanes a few years ago.

An illegal fish camp

--$75 fine if caught by Park Rangers, AND they may be asked to clear out, even in the middle of the night.
Lunch stop on way to Graveyard camp.
Karl cut himself badly on a can of sardines. Ivan is in attendance. We have landed on Everglades' muck as there are no beaches in this area.
Sundown at Graveyard▬birds, mostly ibis, poking in the muck.
On these trips, some like to flex their muscles,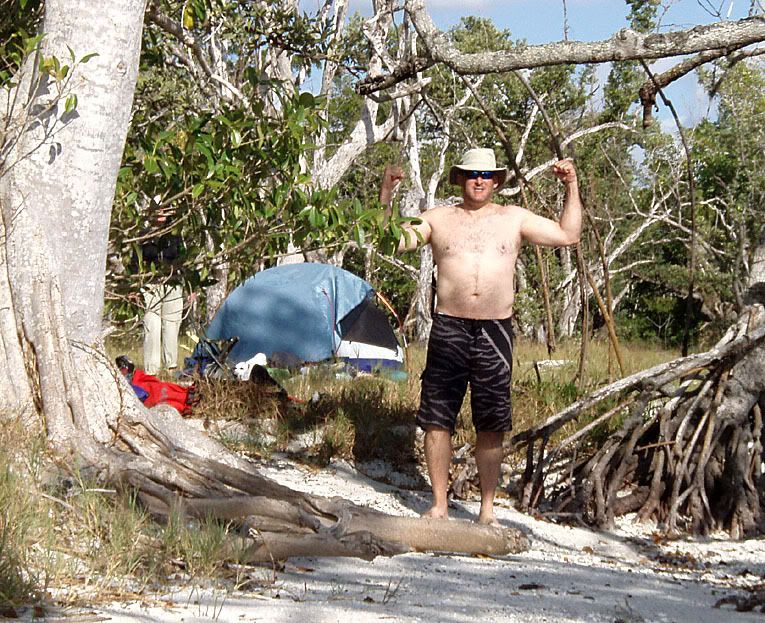 Those from Seattle, who have not seen the sun for months, like to relax and soak it up.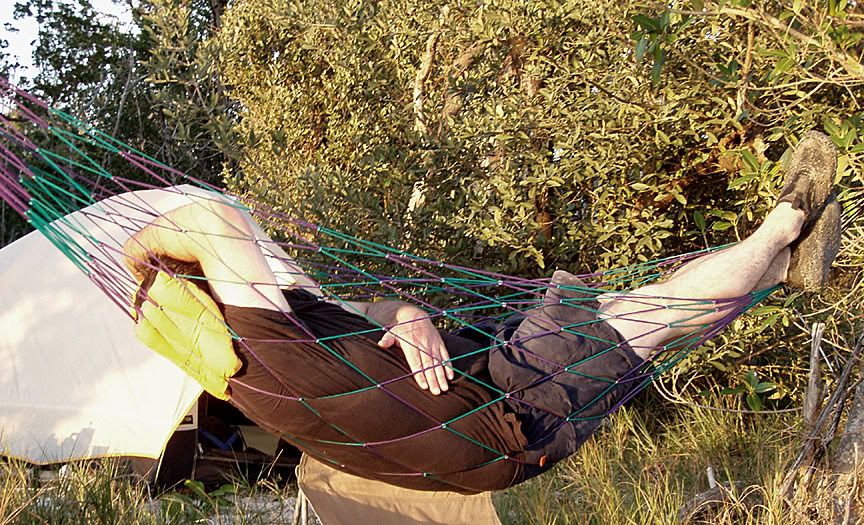 Red Shouldered Hawk
Ibis (Chokoloskee Chicken, Curlew)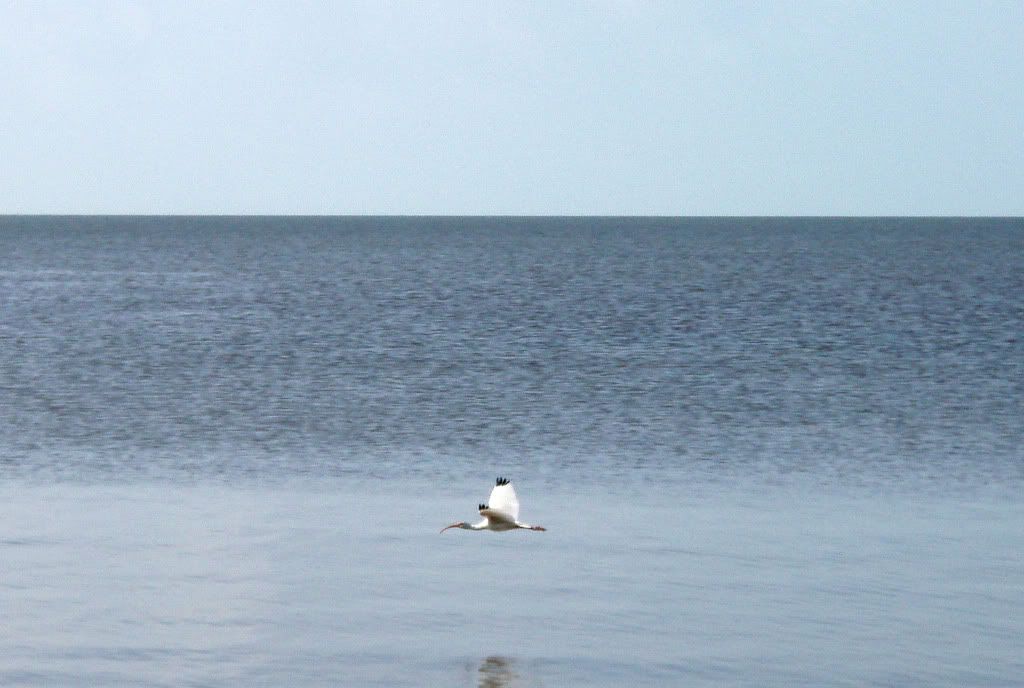 The Professor and the pupils

As we moved along this shoreline toward Highland Beach, we picked up a radio communication from paddle friends Alex Oancea and Natasha Pyle. They were doing a loop from Chokoloskee and planned to meet us today at Highland Beach.
The image shows Natasha's GPS track.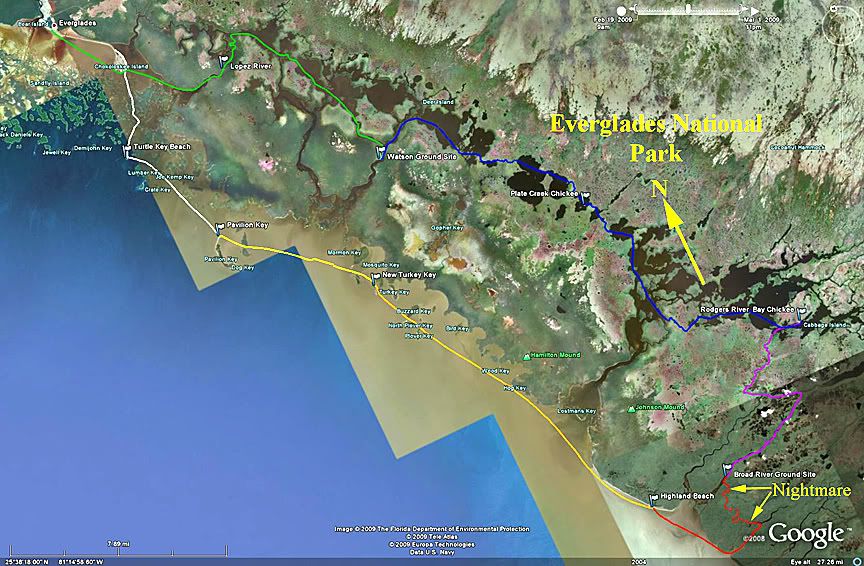 The inland part of this track follows the Wilderness Waterway—a "deep" water route that permits small powerboats to avoid coastal waters. There is a notorious section called "Nightmare" because it was very difficult for powerboats to navigate the shallow, root-lined, downed-tree passage. It is pretty much impassable by powerboats today, but kayakers and canoeists can do it without problem. It is frequented by large tarpon in March—they can give you a bit of a start when they "roll" next to your boat.
Alex took this picture as he and Natasha negotiate the route before linking up with us at Highland.
Sunset at Highland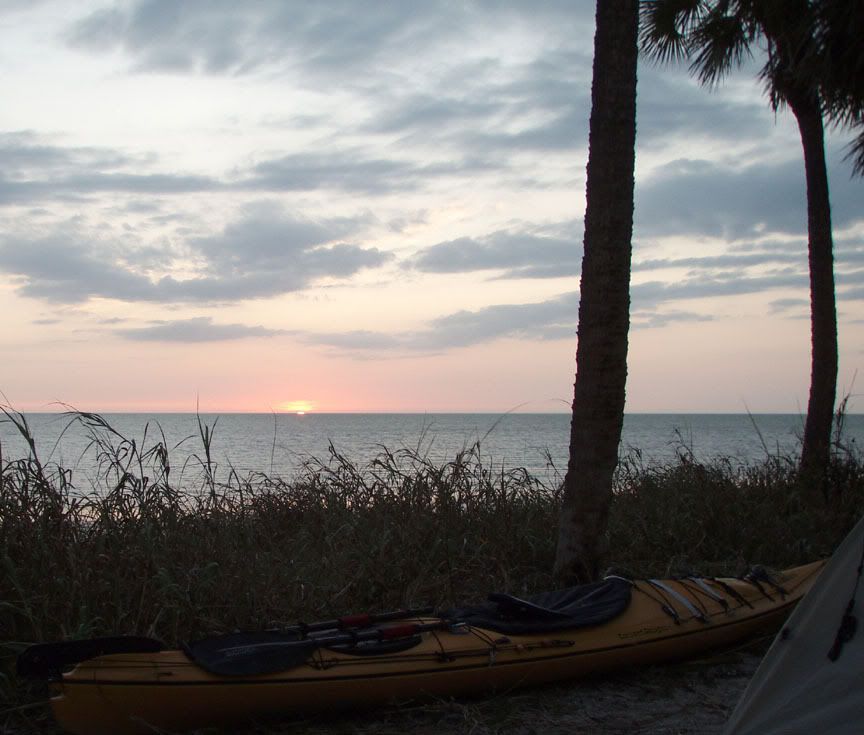 Leaving Highland Beach—our group is now 10 people.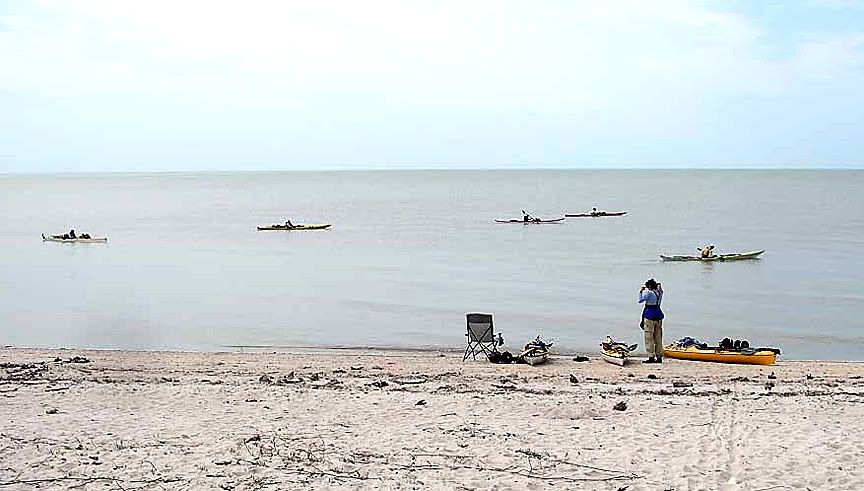 Alex demos the Rumanian Splash stroke
Janet, Alex, and Nancy enjoying a break on Hog Key.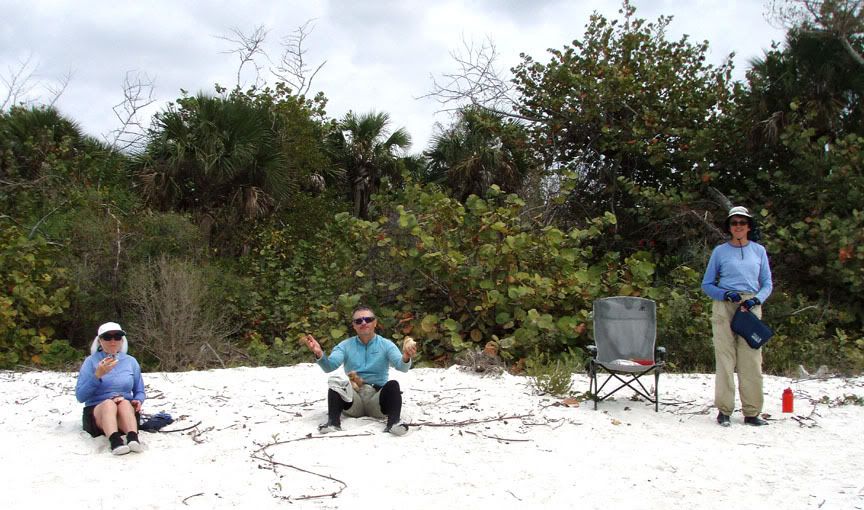 Within a few feet of where we sat on Hog, I found the following tracks (not to size): deer, raccoon, and bobcat.

New Turkey Key is beautiful.
Here are pictures showing its many facets.
Low tide at New Turkey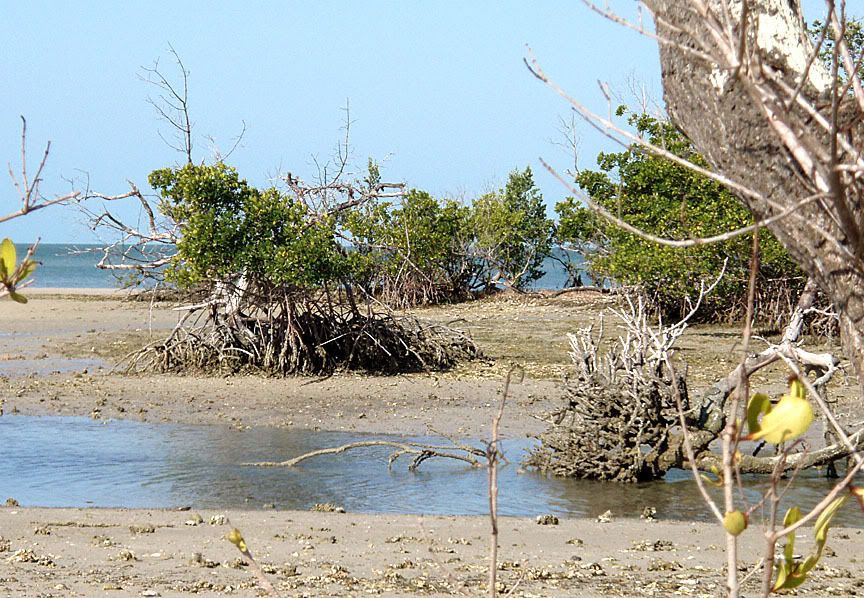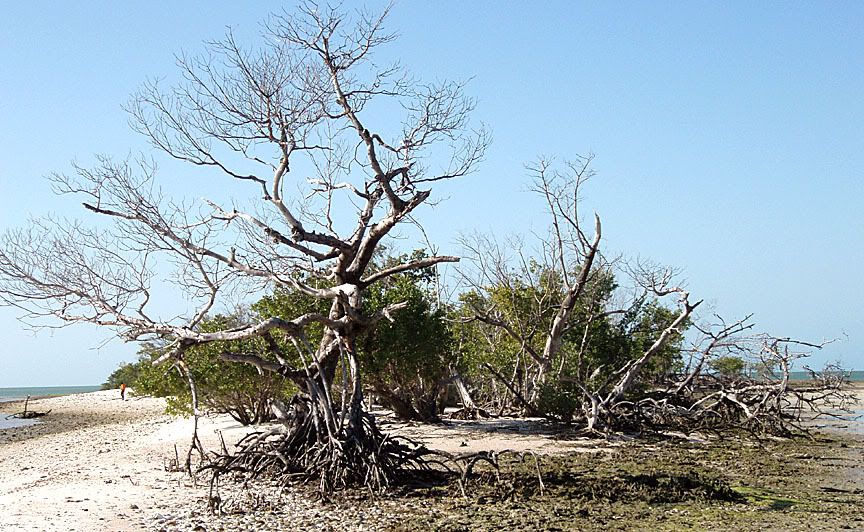 An osprey nest on New Turkey
Sundown on New Turkey Key
A lone bald eagle lives on a small island near Pavilion Key.
A dolphin near Pavilion Key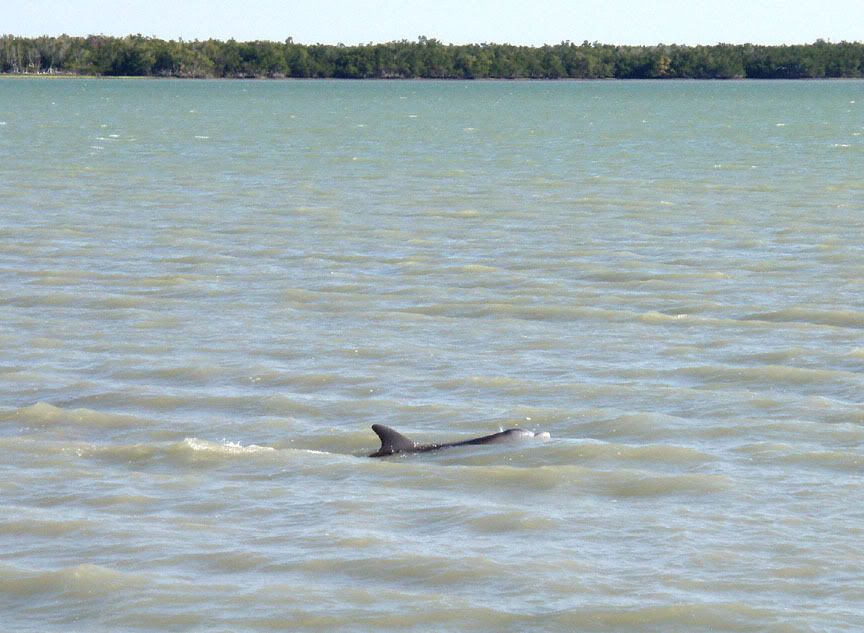 Pavilion Key is traditionally a fish-fry night.
Dinner preparations are under way
—Nancy fries fish, Erika prepares an Alaska salad, and Jon handles 2 Jet Boils for mashed potatoes. Cookies/chocolate covered cherries for dessert. This is our last evening and all the bag wine will go tonight.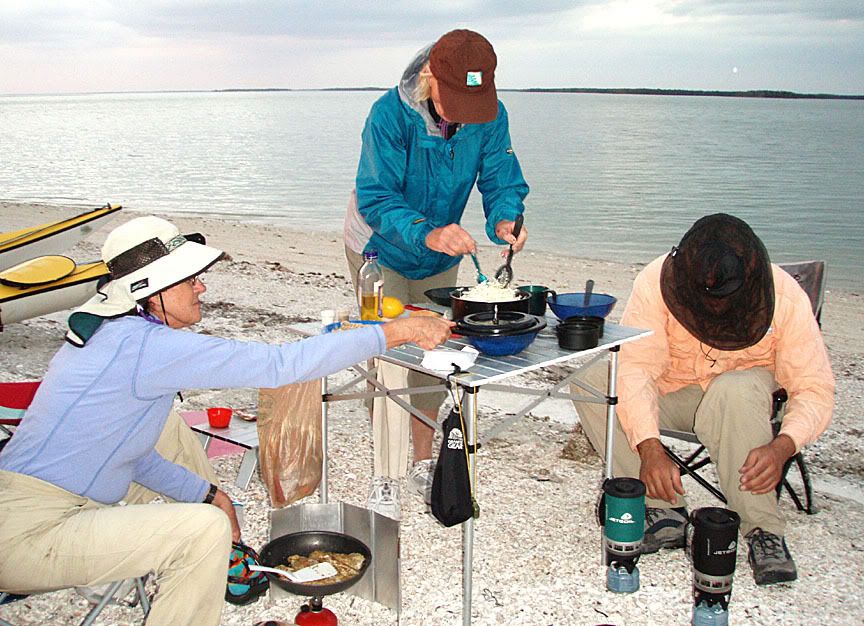 Chokoloskee Bay
Ivan contemplates an oyster bar—and reverses direction.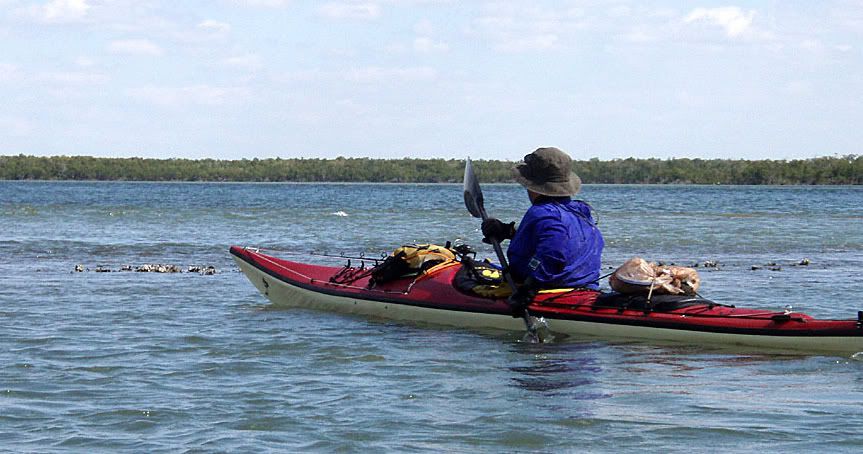 The Landing—after high-fiving all around, we load up.
The finale—A stop at City Seafood Restaurant in Everglades City
Conclusions:
No leaks in the hatches!
Only 1 serious raccoon attack; only 1 accident—Karl's cut fingers; only 1 tough day against strong headwinds. Perfect temperatures: 50s at night, 70s daytime. (i.e., about 13oC, 22oC) Fish sandwiches 1 night, fish fry another. All the usual sightings: dolphin regularly, many birds, turtles, occasional shark, one 100-lb tarpon at the end of my fishing line (that was exciting—for a few seconds), and the bobcat.
Comparison of this paddle trip with last year's AI trip:
A paddle trip is harder
—break camp every day, make camp every day, paddle 8-14 mi every day. With the AI, we had 2 fishing rest days during last year's 7-day trip.
Because of the AI's ability to put on many miles in a day, it allows a more relaxed trip
provided the winds cooperate. On the other hand,
you see more when paddling a kayak.
You camp in a different spot every night. When paddling, you are often near shore or within 1 mile. On the AI, you may be 2-3 miles off shore. From a kayak you can fish the shoreline easily.
This Google Earth image and my track (yellow) show how I fished the shoreline of the confluence of the Harney River with the Gulf of Mexico. I and my fishing partners had success only in the area indicated. This type of shoreline fishing would be inconvenient (but not impossible) in an AI. Of particular note was, while trying to catch dinner, I hooked into a 75-100# tarpon. It only lasted a few seconds, but it was exciting. The tarpon picture is from the internet, but it gives you an idea of the acrobatics these fish perform.
Keith