Bob,
Here are my typical "Map Page" and "Trip Computer" pages: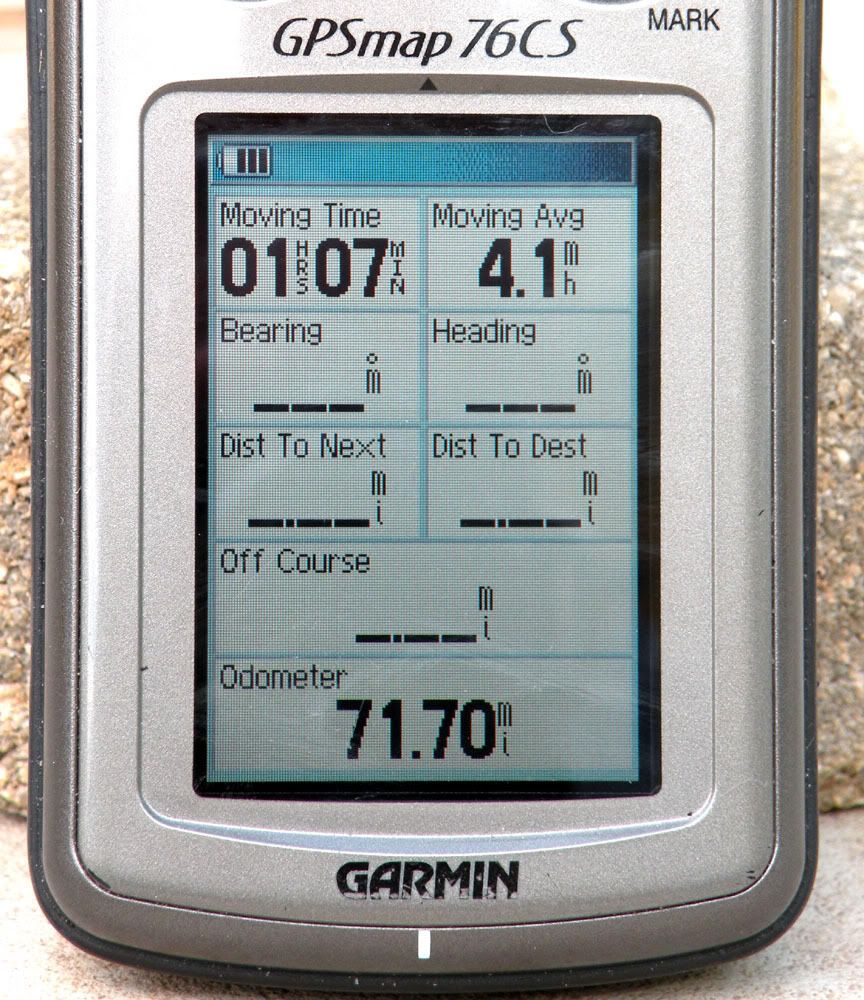 If, unlike Chris, you are heading to some destination, the VMG is a great tool. It can never be more than your "Speed" which is your current straight-ahead speed. When you are heading directly at your destination, the speed and VMG will be identical (+/- one or two tenths of a mph). More often, you will be forced, because of wind direction, to head off from the shortest line to your destination. The tack you choose will depend on which one gives you the best VMG--here is where VMG really shines. You stay on a tack until the VMG begins to drop off, then change to another tack which gives you a better VMG. It is a judgement call when to change your tack. Sometimes you must take a less desirable tack in order to get back on a good tack (i.e., one with your best VMG)
Your Bearing is always the direct line (direction) to your destination from your current position. Your Heading is the actual direction you are moving. These 2 items, Bearing and Heading, do not make a lot of difference as long as you have the best VMG possible. As you near your destination, you forget the GPS and simply make the necessary tacks to get you to shore.
I feel I need to explain the data on my Trip Computer page. It is from a recent 70-mile sea kayak trip.
http://www.hobiecat.com/community/viewtopic.php?p=65262#65262
The Average Speed of 4.1 mph is pretty good for a fully loaded (100-125 lbs of gear) kayak. I like to see the average speed because I can estimate how long it is going to take to reach my destination--the GPS ETA (estimated time of arrival) is pretty useless because it depends on your momentary speed, which can vary all over the place. I use routes frequently when paddling a sea kayak--then, I like to stay on course, the shortest distance to my next waypoint. I rarely use a GO TO when paddling. Again, I stay precisely on my route, so I like the OFF COURSE reading. You can also get a very good estimate of your course deviation (deviation from a route line) from the Map Page. Winds and tidal currents can push you all over the place when paddling or pedaling. Stay on course, use a route.
When sailing the AI, I do frequently use a GO TO, since it always tells you how far to your destinating and gives you a Bearing, Heading, and VMG. Staying precisely on a route is a near impossibility when sailing. Still, there is nothing wrong w/ having a route even when sailing. If, when becalmed, you may have to pedal. You will want to take the shortest, most direct route possible. In such a case, it is worth setting up a route "on-the-fly." That is, set a wpt at your current position, then go to the route page, start a "New Route". Your first point is your current position wpt, your next point is your destination. That is a simple route--a single leg, straight line. If pedaling you are going to precisely follow that line (all the while, praying for the wind to pick up.)
The Garmin 76 is a great GPS, and the more you use it, the more useful it gets. One bit of advice, especially if used in a salt water environment, keep it in a dry bag like an AquaPac. These devices are supposed to be waterproof; but, over 18-24 months, they will die if regularly exposed to salt water.
Keith