Couldn't believe it. I found $40 in the bowels of my wallet. Believe me this doesn't happen very often and for a very short period of time I had an ethical dilema. Do I buy my wife a suprise present, or buy some small items for the AI. Why not do both. Hommer's got noth'n on me.
This tape from Bunnings was about $3 and is a pretty close to the yellow. Hate scratches so plastered it on the contact points front and back. Doesn't have to look too pretty and 4 meters will last for ages. Would look a bit daggy on your RED AI's though. $37 to go.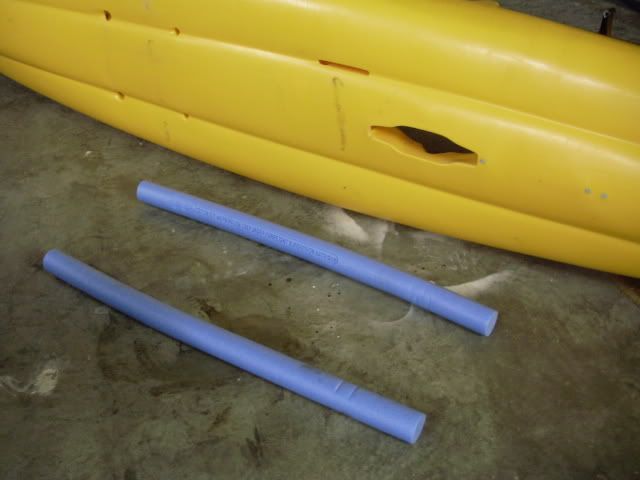 These pool noodles are brilliant. While you work on the AI in the garage they keep the hull up off the floor saving scratching. I also use them between the roof racks and hull for short car trips. If you get 3 and turn them cross ways you can roll the kayak forward and backwards on the driveway for short distances rather than stuff'n round with the trolley. Just like the ancient egyptians did with their AI's. Also if you cut off two 300mm lengths and drill a hole in the centre, it fits over the trolley spikes and keeps the centre of the hull up off the trolley cross bar. You can just see where my hull has already deformed slightly from the trolley crossbar. Bargin at $8 for 3. $29 to go.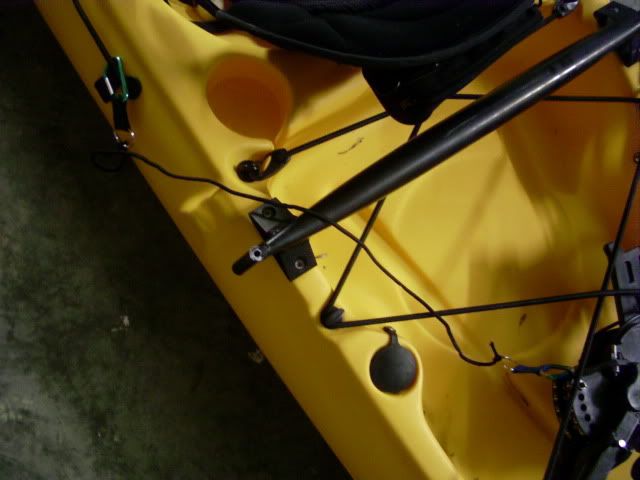 These aluminium snap clips were $1.50 each from Hot Dollar. Got 4 to teather drive, dagger, rods etc to the hull. Need more. Down to $23.
Saw this trailer cargo net in at Go-Lo for $6. There would have to be 50 meters of bungee in this birds nest but as I need some for teathering stuff to the yak I just undo a couple of knots and cut off a meter or so. Stuff, I only have $17 left.
I dunno about you blokes or whether or not I've just got girly fingers, but on the second trip down to the water my finger joints started to throb. I replaced the wheels of the trolley with skinney ball bearing wheels but i reckon I must be the first bloke to get RSI from his AI. I think I may have dislocated one finger by using the handle with the cord in between my 2 main fingers rather than using all 4. The water for me is 400m down hill and is easier to walk than car it. Down hill, not a problem. Coming back the fingers ache like mad. Not now with my 'you beaut comfy handle' which easily attaches to the 'T' handle. Bit dear at $15 from BFC but you can't grab it wrong and is a hell of a lot better.
Stuffed it all in a bag and quickly in the boot, and as we are driving out of the car park, called into Maccas and bought the wife a suprise strawberry sundae. How thoughtful is that ? What an old romantic.
How would you spend your $40 ?
_________________
Don't take life too seriously................it ain't permanent.