Ron Papworth wrote:
Thank you...I appreciate the you tube video. I did mine just a little different, but am happy with the install.
Now, I just need some help reading the output of the FF. On fish id, I see lots of fish, but when I change back to normal, I don't see any fish arches...only big blobs occasionally. Have any more video learning spots for using the ds 50?
Again, thanks for the help
1. Leave "Fish Id" off. It will read every bounce back as a fish.
2. I only get arches when I'm
a. - moving quickly over decent size fish (10-20 lbs)
b. - really big fish 30+ lbs
3. The blobs you see could be bait (although it usually shows up as a cloud) or plant-life.......or air bubbles in your epoxy/silicone etc..
Good luck
_________________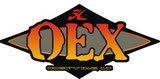 OEX Oceanside - Authorized Hobie Dealer
Kayak Fishing Specialists
www.oexoceanside.com