I'll be heading over to the island this weekend and will get pics for you. Here's one just showing the front area: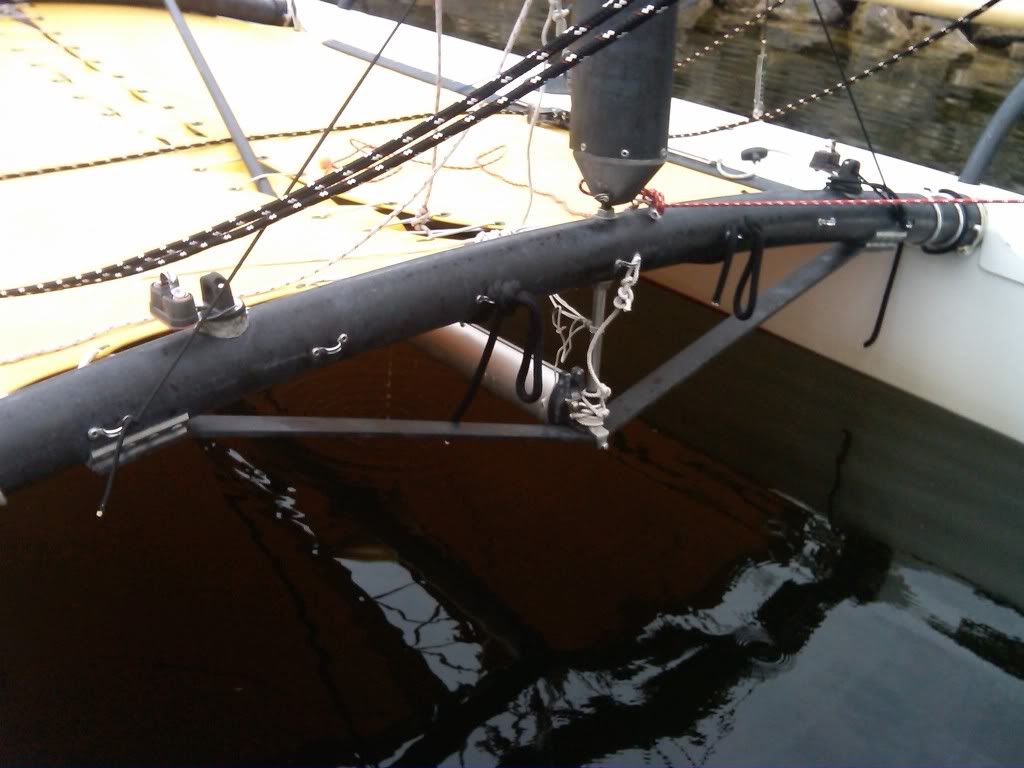 Its a little makeshift but it works. I keep saying that I have to go get some real fittings but it seems to work fine as it is.
What is the righting pole made of? Aluminum, fiberglass or carbon - Its an old aluminum boom (I'd love to get a spinnaker pole or something lighter)
How long is the pole? - From the dolphin striker to about a foot past the aft crossbar
How is it attached to the dolphin striker or the front crossbar? - A bunch of 3/16 braid interlaced around the bottom of the dolphin striker
How far out along the pole from the crossbar are the lines attached to the pole? How are these lines attached to the pole? - See description
Do you still use righting bag to assist? Haven't needed to
What angle up is the pole from 90 degrees or straight out? Seemed to be just upward of the line of the mast
1) The pole is attached to the dolphin striker by some braid and is supported aft by a shackle connecting to the center of the aft crossbar
2) I ran 2 lines (1/2" I think) from the very outsides of the front crossbar (by the pins), aft to the end of the pole under the tramp which has 2 turning blocks aft, each of which run the line back forward against the pole to 2 cam cleats mounted about a foot from the makeshift gooseneck. I then loosely tie off the tails to the crossbar.
To utilize:
1) Boat goes over, now standing on hull
2) Unhook shackle on aft crossbar
3) Swing pole out perpendicular to the tramp
4) Adjust the upper line to get a good angle (Too high and it tends to swing laterally)
5) Hang out for all she's worth
6) Once boat starts moving again, the pole surfaces aft of the tramp, snap it back in
I have a righting bucket that I have yet to put on the boat to make it easier but at 200lbs, I can right it on my own.