Flamingo to Chokoloskee, Jan 13-18, 2010
This was my second Adventure Island trip along coastal everglades from Flamingo to Chokoloskee. The first time my boat was new, and I was just getting a feel for AI camping on a 70-mile trip. Last year we did an all sea kayak trip, this year it was an all AI trip. On this 6-day outing, the plan was to do three 20-mile days to get to Pavilion, take a day off on Highland Beach and another on Pavilion Key before sailing into Chokoloskee. We intended to camp at Northwest Cape, Highland, and Pavilion. In reality it was four 15–mile days with no day off on Highland Beach.
This Google image shows the places we intended to camp (red underline) and the places we camped (red dots.)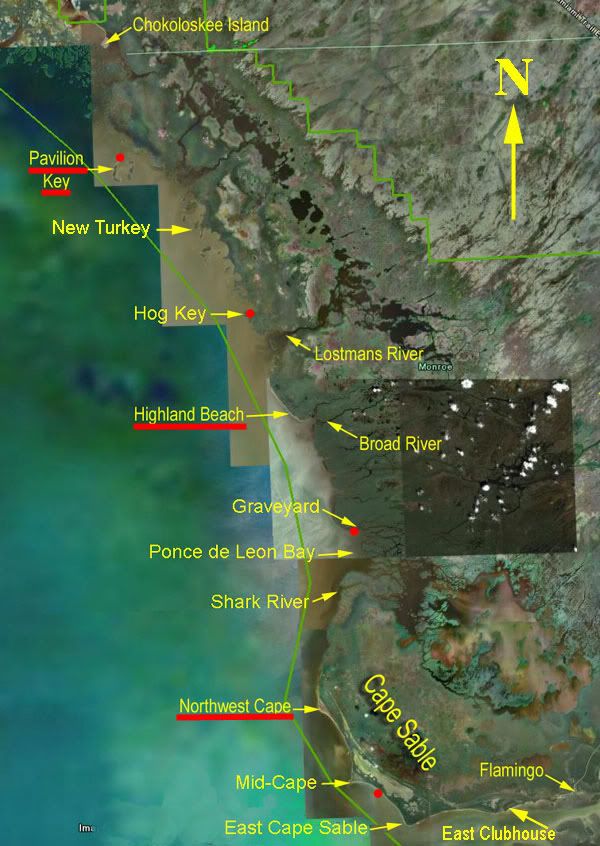 We had favorable winds every day. The main reason we did not get our 20-miles/day was because we were an hour late starting the first 2 days. I was also a bit conservative. The first 2 days were cool, dropping into the mid 40s (F deg, that is) at night, and only up to 65 deg F during the day—cool weather to be sailing an open kayak—so I wanted to stop at least an hour before sunset. Also, if you get in late, you may face a slog through thick muck.
Here Bill Waller pulls his boat up on Scorpion Beach about 3:30 pm on Day 2.
By 5:30 pm that water is gone—you are looking at serious deep muck—think, "quick sand."
You frequently can't get a jump on the day for the same reason.
This is Scorpion Beach as we break camp next morning at 10:45 am. The rising tide has barely covered the muck. We will be on the water in about 1 hour.
Hog Key morning view from the tent (that is my wife Nancy; she is doing her first-ever AI camping trip).
It is not the thick muck of Scorpion Beach, but it would be a slog to get to open water—so we will wait for the tide to come in. The tides frame the window which defines your sailing time.
Nancy, myself, and Bill (Polecat) constituted our AI group. Ready to launch from Flamingo Marina.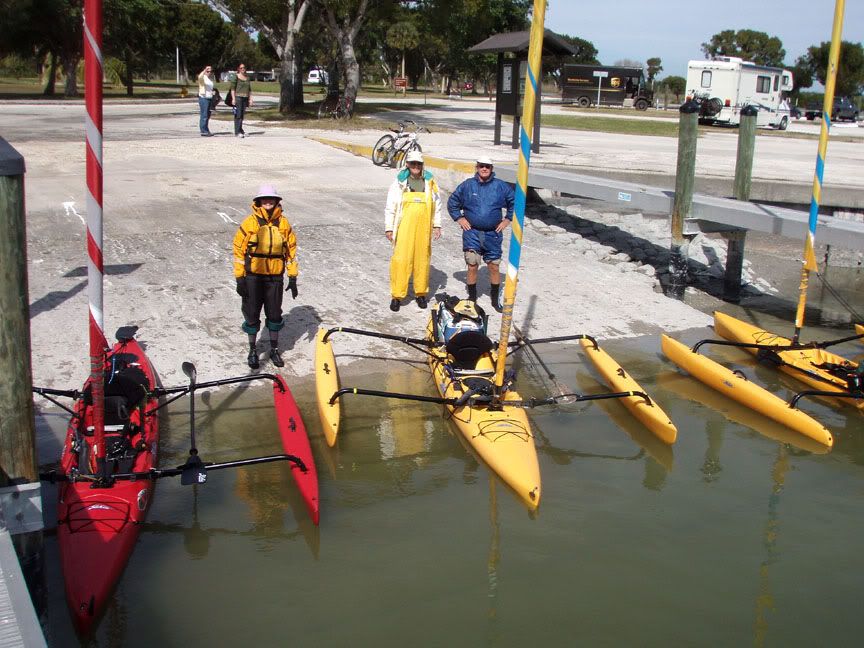 This was only the third time Nancy had sailed her boat—the first 2 times were little, hour-long get acquainted sails. Here she is as we leave Flamingo. Tourist dog watches excitedly.
Dressed for a chilly day.
Nancy sails out of Flamingo.
Nancy and Bill w/ the Oyster Keys as a backdrop.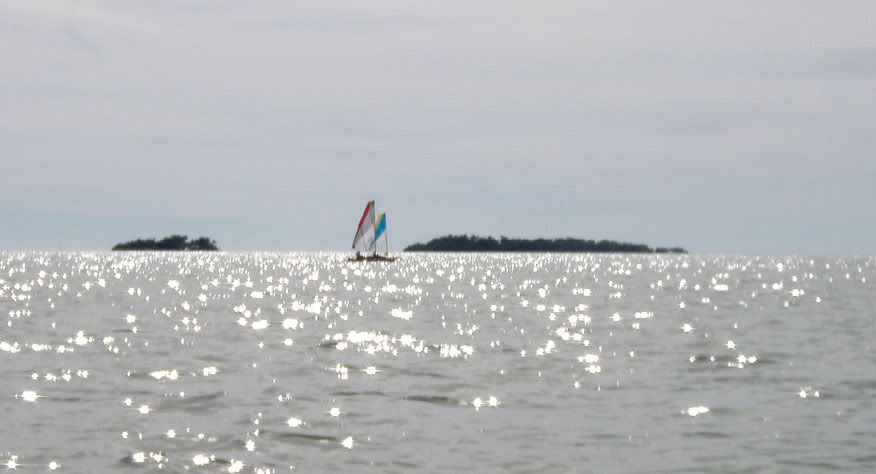 Late the first day, Nancy arrives at our camp, south of Middle Cape Sable.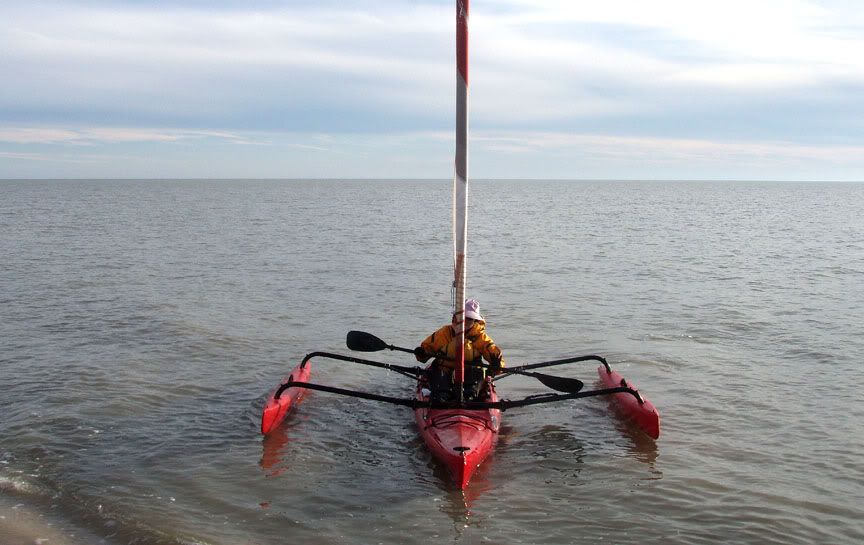 The morning of Day 2. Middle Cape is the point at the left horizon—about 1.5 miles away. The tide is just beginning to come in—still, if we had been ready, we could have been on the water an hour after this picture was taken.
Because of the extreme cold for south Florida—temperatures got down to freezing in this area—and because it was such an extended cold spell with strong northerly winds, water temperatures got into the low 50s. Temperatures like that kill many fish both large and small.
A snook and its prey. The cold was an equal-opportunity killer.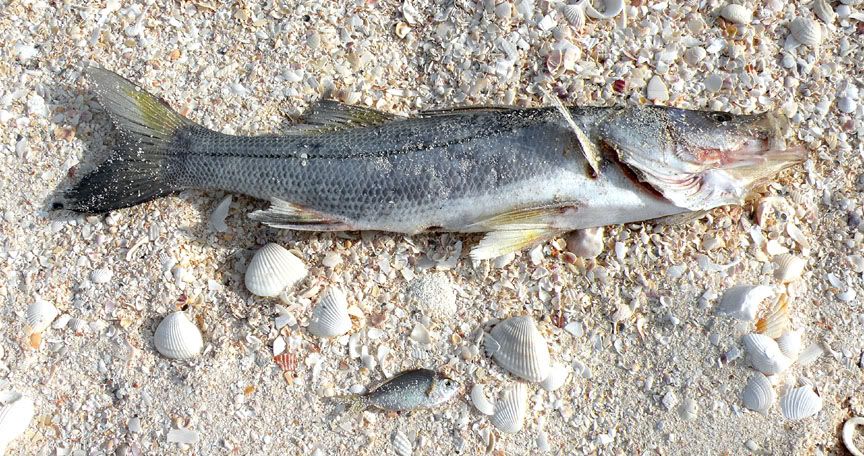 I wear neoprene dive booties. These are great in warm weather, but, on the AI, evaporation due to wind can make them very cold.
For the first 2 days, I wore garbage bags to keep my feet warm.
On Day 2 we perhaps could have made Highland Beach (a 23-mile day), but it would have been nearing sundown and the tide might have run out under us—meaning a real slog—so, we headed for Scorpion Beach near Graveyard.
Nancy arriving at Scorpion Beach.
Day 3: Nancy takes lead in rounding Graveyard Point. This area was struck by a series of hurricanes in 2004-2005.
That is the reason for the many dead trees along shore.
I don't want to dwell on the sad fish-kill event, but there were many dead fish in the water between Graveyard and Hog Key—more casualties of the cold weather.
On Day 3, it has warmed enough that I am not using garbage bag warmers.
Day 3: Approaching Hog Key.
Hog Key.
Nancy & Bill taking a break. We had wine and appetizers before setting up camp.
Each of us carried a separate dry bag with "après sail" warm clothes. That worked out very well, especially on days 1-2.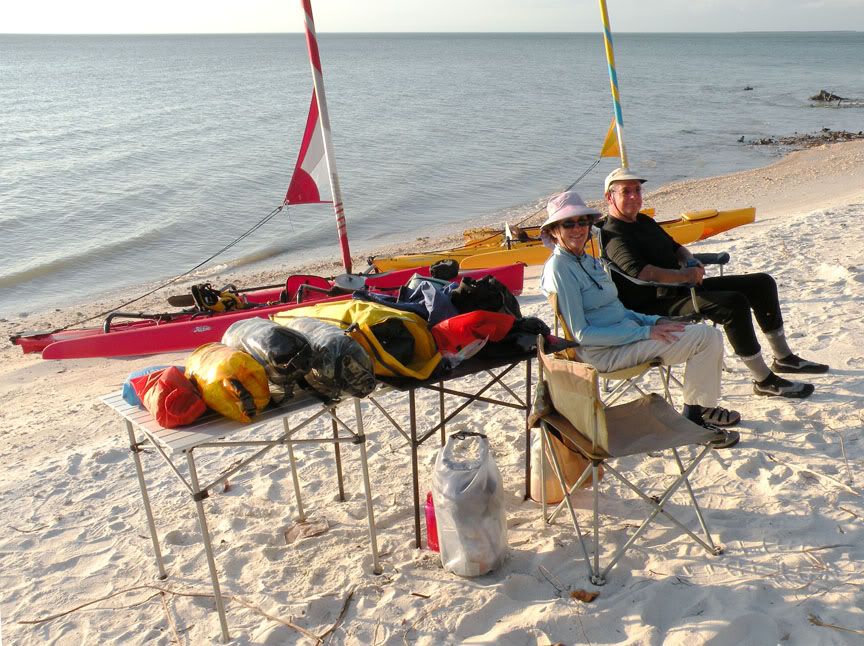 Nancy and I are camped under a "widow maker"—hopefully it is not in a malicious mood for this night.
Day 4: as I prepared to launch from Hog, Nancy radioed that it was too windy on the open water—we took her advice and sailed inside the outermost islands. There was still plenty of wind.
Day 3 we had powerful following winds—our GPS's registered over 9 mph (about 8 knots) for maximum speed.
Today, Day 4, we partially furled our sails and still registered over 9 mph.
Bow begins to dive under a wave.
On days like this you hope your front hatch is tight. If the front hatch seals (2 of them) are working OK,
the front hatch will not leak under these conditions.
I do have problems w/ the AI hull design. The AI is a diver. Let me explain what I mean.
Please check out these sea kayaks and my comments.
The bow of my white sea kayak would sometimes totally disappear under waves, but it always came back. The AI always comes back also—so far.
On both Days 3 and 4, as we traveled downwind, the winds occasionally overpowered our rudders and would send boat and rider careening at 90 degrees to spill out the wind. Each time, it was very exciting for a minute or so.
Nancy referred to Day 4 as a "white knuckle" day.
Frankly, she has had several similar days when traveling this coast in a sea kayak, so she handled it OK. I think she was quite proud of herself. I was too!
We pass on the inside of a small island as we sail to Pavilion.
Nancy enjoying Pavilion.
We had tailwinds of 17-24 mph today. It was a fast trip from Hog Key. We spent 2 days on Pavilion before heading to Chokoloskee.
To our surprise, NO ONE WAS ON PAVILION KEY!
This was a holiday weekend and normally Pavilion would be full of campers (a maximum of 24 people or 4 groups), but no one was here. It was beautiful.
It rained much of our first night on Pavilion, Saturday night. Sunday morning opened to fog.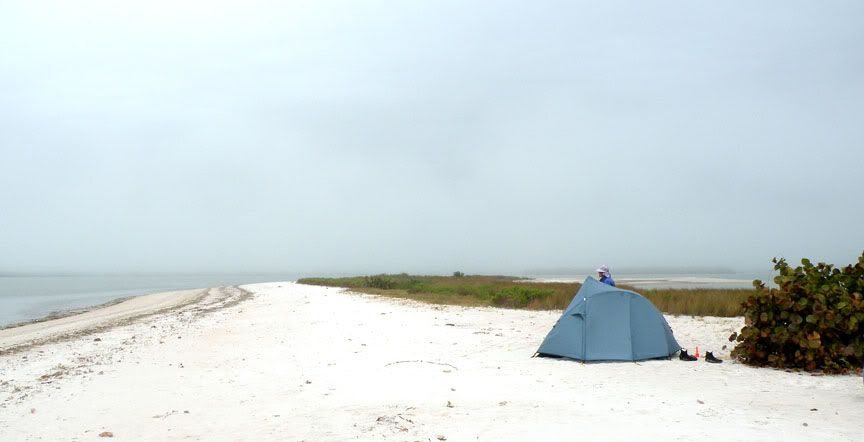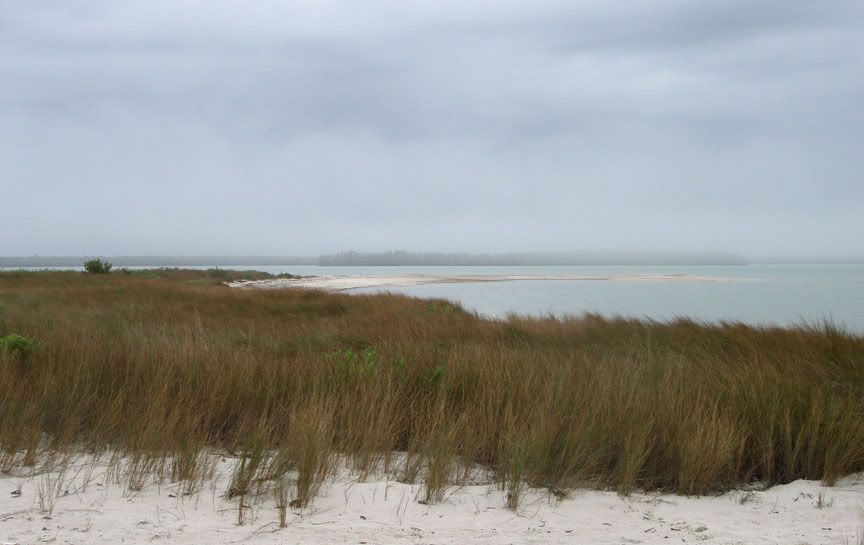 Fog obliterates everything to the east/SE of Pavilion.
The beauty of carrying a cooler, is that you can have fresh blackberries on Sunday morning, 5 days into your trip.
The beach manager is checking beach conditions.
Finding them to his liking, he then crows about it.
Day 6: Monday morning off Pavilion.
It is warmer and these are some of first birds we have seen. The cool weather even sent most of the birds to warmer places.
Nancy leaving Pavilion and headed for Chokoloskee.
A flock of white pelicans fly overhead.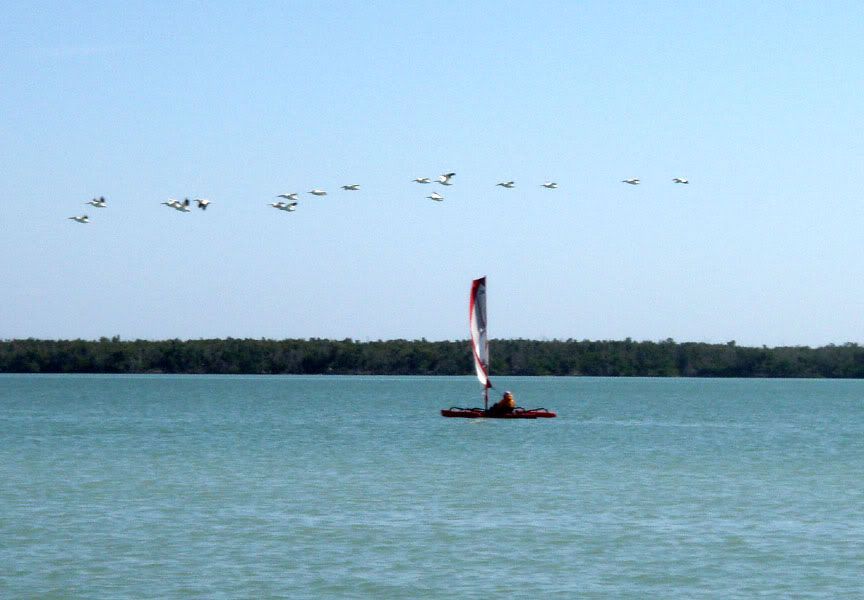 Day 6: This is our nicest sailing day, and the group has become quite independent of one another.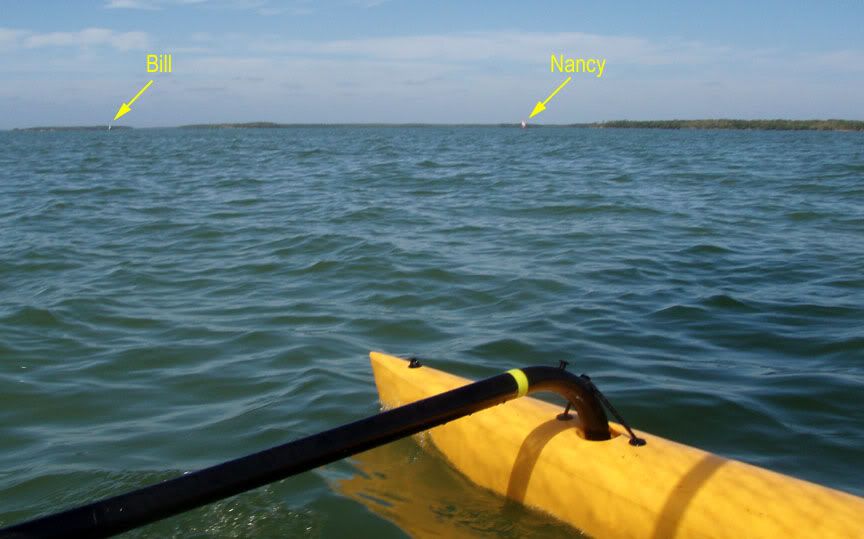 Chokoloskee in our sights.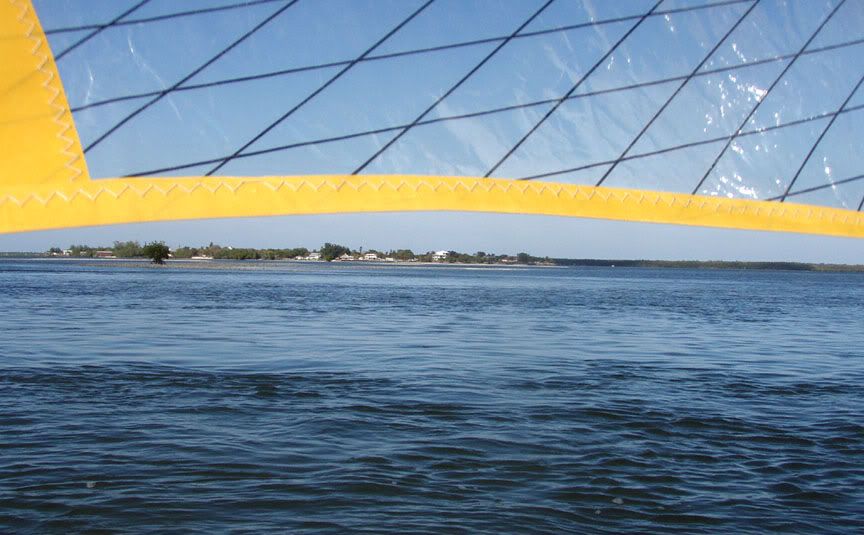 A pretty good looking crew after 6 days on the water.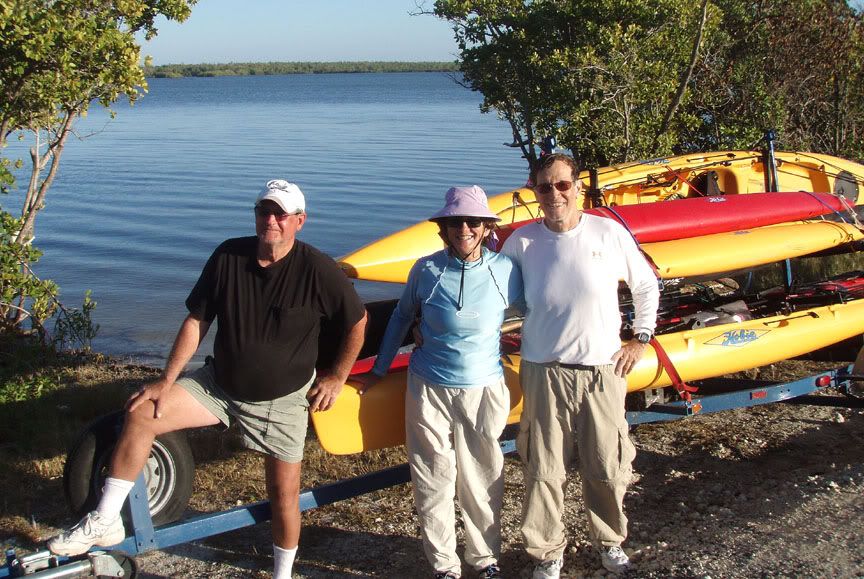 Concluding comments.
Our AIs worked very well
; however, the down-line on Nancy's new boat stopped deploying the rudder on Day 2. I would deploy it by hand as she left shore, then she could lock it down. It could be raised by the up-line. After we returned home, I found that it apparently was binding. All that was needed was to unscrew the main bolt in the center of the rudder housing—just a couple turns—and the down-line deployed the rudder fine.
The leakage problem.
Fortunately, Nancy's boat leaked very little. Before leaving home, I lubricated each of the "Twist-n-Seal" hatch rings w/ silicone grease (3 boats, 6 hatches). Each day on the trip, I cleaned Nancy's and my T-n-S hatch covers and reseated the sealing ring. Nancy's boat was "dry" the whole trip. My AI was fairly dry (a quart or so of water inside) except on Day 3. On Day 3, my bow was overloaded.
I had to push down on the hatch cover to get it to closed—bad move.
I had lots of water in the boat, and it undoubted came in the front hatch. Because I forced the front hatch cover down, the back pressure probably made for a poor seal. As the boat dove below the waves (remember, it is a diver), water poured in. Fortunately, I noticed the water when I opened the middle hatch and sponged it out during the day. After that, I made sure not have any back-pressure on the front hatch cover, and I only had the "normal" quart or less of water in my boat.
Compare to Sea Kayak Trips.
Tripping in a sea kayak is much more reliable in terms of daily mileage. In a kayak, you do your 8-15 miles/day come rain or shine. In an AI, you are always at the mercy of the wind and tides.
Best way to describe trip.
Given our moderate to strong winds most of the trip, we probably could have made our 20-mi/day if we had gotten an earlier start each day. All in all, it was an enjoyable trip—in a word it was
beautiful
. Nancy did great on her first AI camping trip.
Keith