Thanks guys!
CD,
Currently, I am leaning towards padding them with outdoor carpet glued to the upper cross pieces w/spray adhesive.
Hi Keven,
I lashed the rack to a couple of tie down cleats (orange line in closeup), just to keep the rack in the bed from sliding to and fro. The actual hold down force was the kayak being rachet strapped in the front to the truck frame and bumper in the rear, squeezing the rack to the bed. I do not want to rely on the screwed in tie down cleats (the round ones) to keep the whole thing in the bed as they are only attached w/3 small sheet metal screws to the bedside. Also not shown is the bow line to the front bumper.
ETA:
This was my first attempt at a kayak stand for my Revo, main goal here was to get it off the ground; the pipe insulation used for padding quickly crushed and has not rebounded.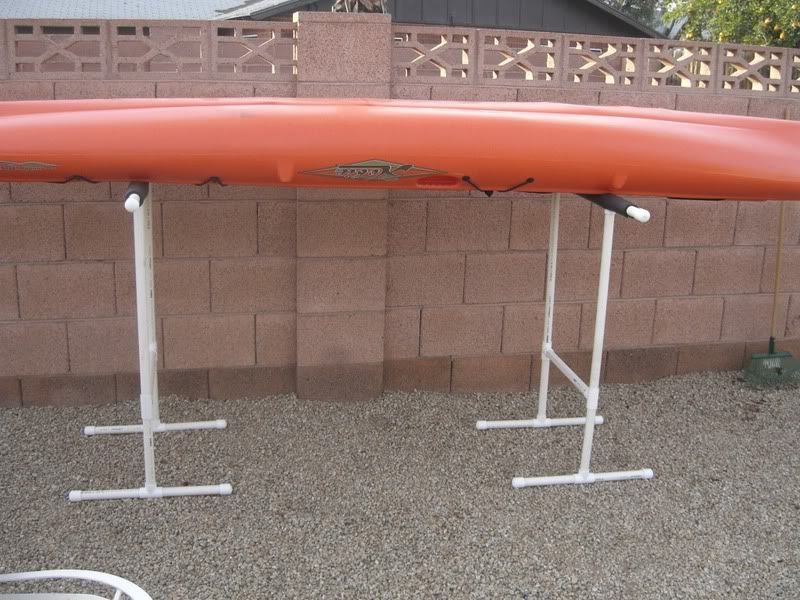 It could still be field mod'ed with the uprights cut and shortened, adding tee's and longitudinal supports for a light weight single yak transport rack similar to above.
Note: the 1" pipe used really shows too much flex for any sort of long distance transport.