timo wrote:
I'm beginning the process of building the jib. Forgive me please for what will doubtlessly be a lot of requests for minute information. I'm not much of a DIY person. Can you tell me what you used for the length and width of the pvc tube beneath the front hatch? When you say you epoxied the mast receiver into it, are you saying you simply fixed the receiver in place with a lot of glue? Anything vital about the kind of glue? I don't have the mast receiver in hand yet -- it's on order. Is it the same length as the pvc tube? If not, I would guess that it sits in the tube so that the excess pvc tube occurs under the mast receiver (that is, toward the bottom of the boat) rather than above it, right?

What tool did you use to cut the hole for the pvc pipe/receiver in the hatch cover? What is the size of the hole -- the width of the pvc pipe? Or the width of the mast receiver which sits within the pvc pipe?

Thanks!
don't worry about asking too many questions i'll be glad to answer them
The pvc is 1 and a half inches in diameter i think but when you go to buy your pvc take your mast base with you and make sure the pvc fits snuggly in the pvc. the section is 11 inches long.
basically the epoxy is to hold the pvc around the mast receiver.
I used Loctite Marine Epoxy the kind that sets in 50 minutes. i found it at my local lowes and it comes in a blue package. I used 4 packages worth of epoxy to hold the pvc tube around the mast. BUT BEFORE YOU EPOXY the mast tube to the pvc, mount the receiver to the hole you drill in your hatch, the i would be generous when applying the epoxy around the mast tube as you slide the pvc over it. once the pvc is around the mast receiver fill all the empty space around the mast receiver so that the only part of the receiver you see it the part flush with the hatch.
and exactly the pvc tube is longer than the mast receiver and there is about an 1 and a half inches between the end of the epoxy and the opening at the bottom.
i used a drill bit that is the same size as the mast receiver NOT the size of the pvc to drill the hole in the hatch. the hole in the hatch is the diameter of the mast receiver NOT the pvc.
hope this helps!!
_________________
Sterling
2008 Papaya Adventure Island with Roller Furler Jib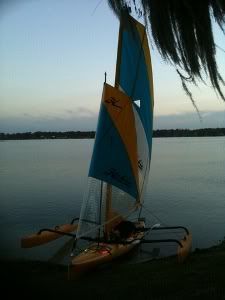 Post about my jib
viewtopic.php?f=69&t=20991