Ordered myself a bung RAM ball attachment from Scott Lovig after the Walpole ABT for this, and finally put it to use. I'll be making up another mount soon, but for now i'll use this. May collect a bit of weed, which will be an issue, but have another idea which i'll work on over the weekend.
As i have always used Humminbird sounders, i have power leads set up in both my yaks already, and a battery in the Hobie gear bucket i can put in any hobie, so i want the transducer set up to be portable so i can swap it to the Revo for river work easily.
The Transducer cable runs across the back deck, then follows the side rail with light able ties on the deck loops, to the sidepocket, where the excess cable is stored, then straight to the sounder. It seems out of the way, and we will see how much so soon enough.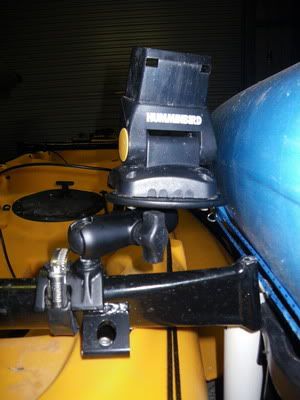 Transducer Mount MkII
I wasn't happy using the RAM mounts all the way to the Transducer as it was a very bulky setup, and as i have a heap of aluminium lying around, i made up this setup, MkII so to speak. Using 3mm Aluminium, i slotted one end into the RAM extender, which grips it super tight, and fitted the Transducer to the bottom. This way it's very streamlined, and still transferabe across the Adventure and Revo.
The cables run across the back deck, follow the eelets along the side rail, to the sidepocket where the excess cable will be stashed, then onto the sounder. It seems neat enough, and with a few cable ties here and there i think will be fine.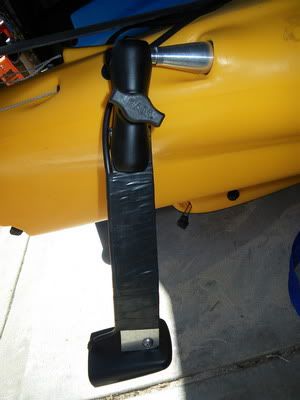 Two views of the bracket, showing the RAM extender and the Bung all, the cable is taped along the bracket, keeping it all neat.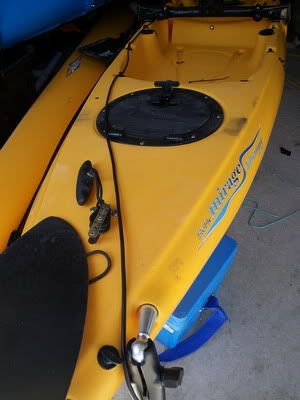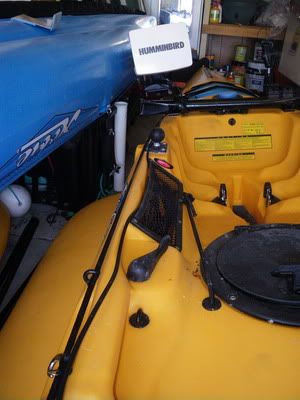 You can see the path of the cable hee, neat and seemingly out of the way, time will tell, and there are many alternatives, just none as simle or as easy to swap from yak to yak.