Well I finally got to take my Pro Angler out into the Gulf of Mexico and I was anxious as to how it would do, as I plan on using it 99% offshore.
I got to High Island beach area and found "ice cream" conditions..........windy and cold but no surf.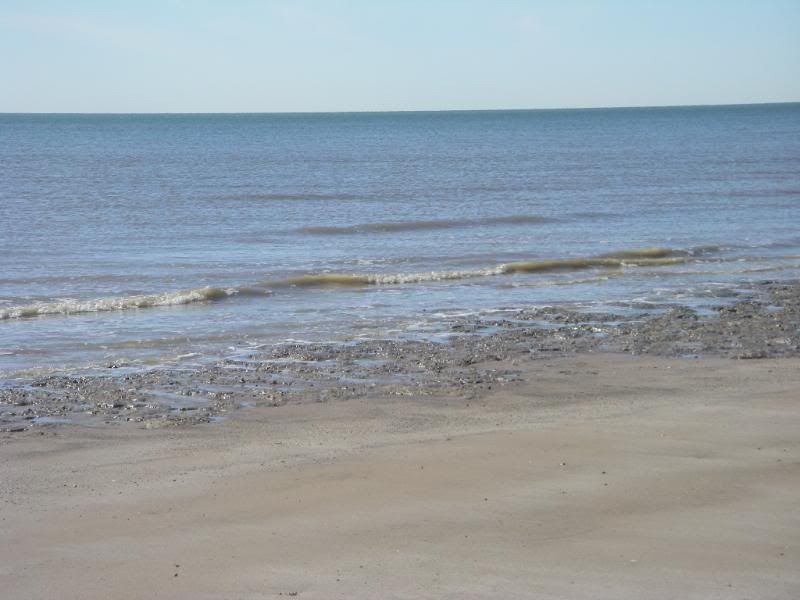 I was anxious to get the kayak off the trailer and on the water!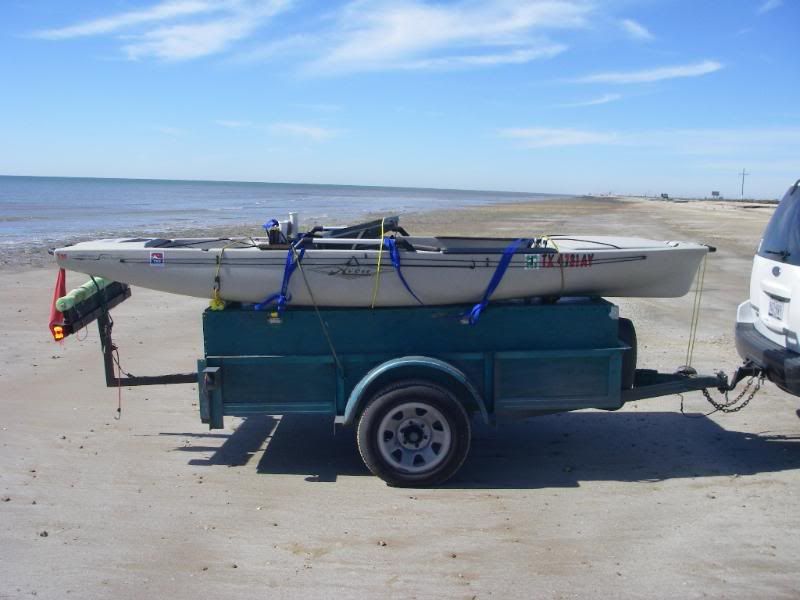 I was soon paddling out and then put my mirage drive in and started peddling (all new to me). Immediately, something was wrong. The yak kept turning to the right and trying to go back to the beach, just like a barn sour horse at a dude ranch. After several attempts, I finally pulled the drive out and found my problem. A brass screw nut on the left flipper had pulled through the rubber and I was peddling with one flipper. The yellow arrow points to the nut that had pulled through.
So I pulled the mirage drive out and paddled out to my fishing location.......nothing stops me from fishing!!!
Upon reaching 12' of water, I anchored up, put two lines out and then devoted my attention to fixing my mirage drive. I tried unscrewing the brass nut off but at the end of the threads it got too hard do do by hand, so I got a pair of fishing pliers and slowly but surely got the nut off. I inserted the threaded end through the flipper and thought to self, "man, this this was so tough to get off, I will never get it back on"..........wrong, it went back with much ease. I screwed the brass nut all the way up and it was fixed. It worked for the rest of the day.
After about 40 minutes, I had a run, hookup and caught my first bull red for 2010 and my first fish in my Pro Angler!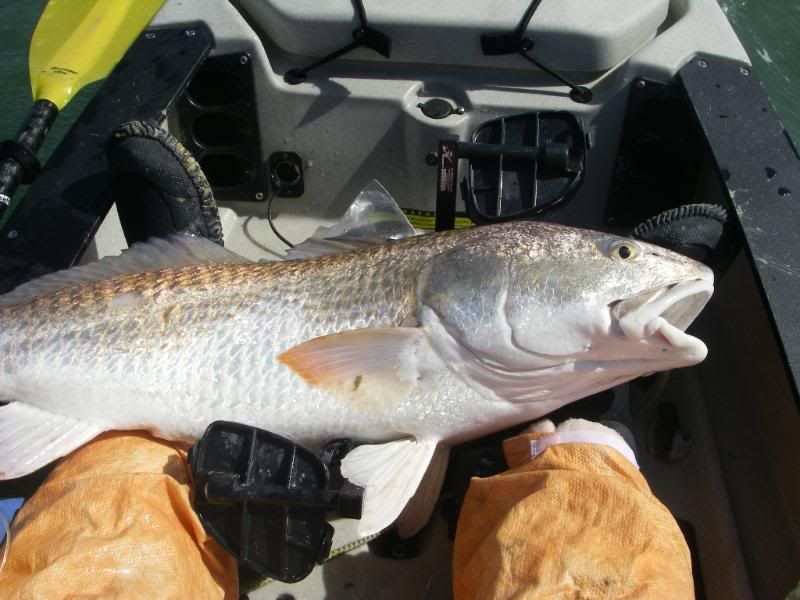 To condense a day of fishing I caught 8 bull reds for the day and got some experience in the PA. Here is just a few of the fish!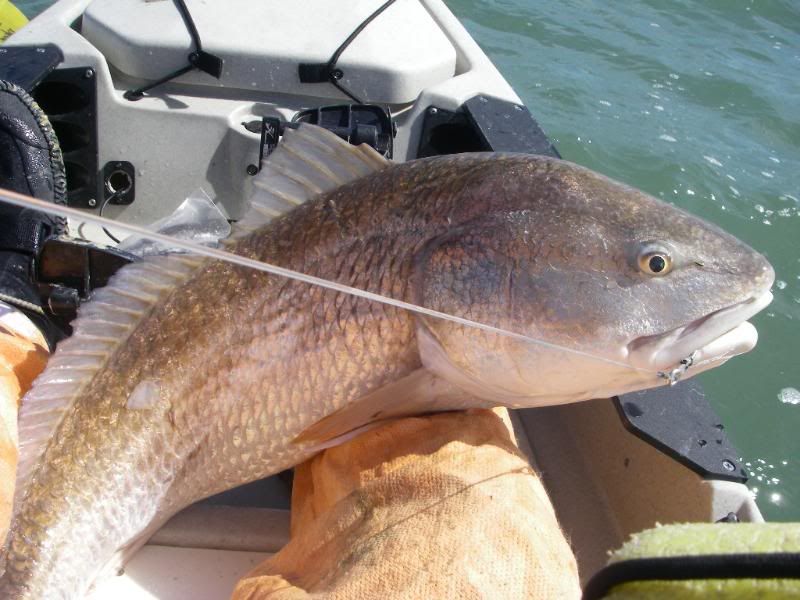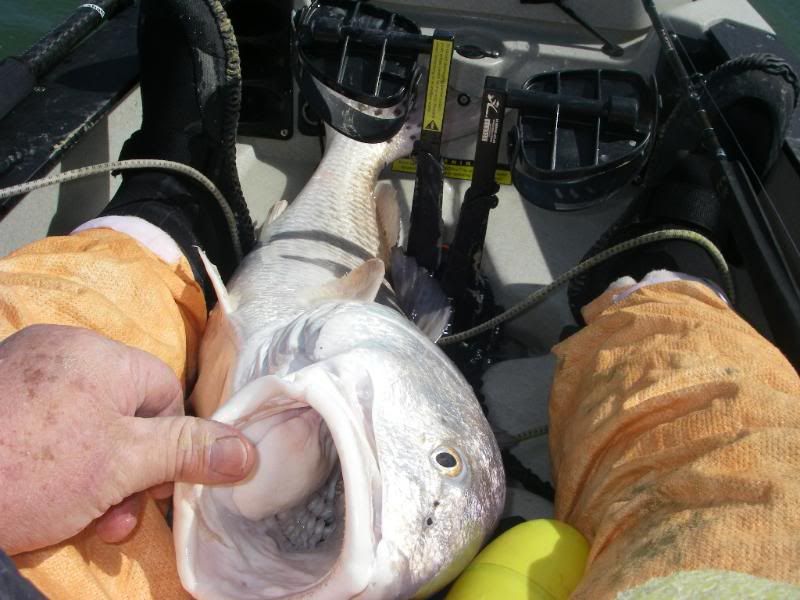 One strange thing, I had two fish flop and jump clear out of the Pro Angler......I had never had that happen and as you know the PA's not a shallow kayak. I caught one of them in the act.
At the end of the day, the peddle back to the beach was nice as I was peddling into a 12-16 mph wind. My cramping arms appreciate the mirage drive!!
Observations on my first trip:
1. Check mirage drive before each launch.
2. I had more wave slap noise from the stern then I am use to.........but no biggie.
3. I can catch big fish with the mirage drive still in but the flippers locked back.
4. I got a good idea where I can mount fish finder, gps and rod holders.
5. I have never been more comfortable or dry kayak fishing offshore......as a matter of fact, I wore the same clothes home I fished in and I have always had to put dry clothes on for the trip home, in the past.
6. As big and heavy as this boat is, I think it is going to be my number one craft!!