van lee wrote:
Hi Sterling,

I am new to the AI forum and found your feedback on installing a furling jib very refreshing, creative and innovative!

I live in San Diego where the winds most of the time are 5 to 8 knots so adding a jib would be exciting.

Will you have a parts list and step by step directions for novices?

All the best,

Van
Hi Van!
thank you for the positive feedback
as for a parts list ive been working on it for a few days now in between work and college work so here is what i have come up with (the store names at the top is where i got the parts at the request of timo)
West Marine
2 - harken micro block single pulleys
2 - fairleads
2 - v-cleats
2 - swivel snap hooks
4 -1½ inch shackles
Lowes
1 piece of ¾ inch pvc pipe 8 ft. long -------for furler mechanism
1 ¾ inch to 3 inch pvc adaptor ----------------for furler mechanism
1 piece of 1 inch pvc 11 inch long -------------for mast tube base reinforcement
5-6 tubes of Loctite 50 minute Marine epoxy
2 - 1inch hose clamps
3 – 7 to 9 inch turnbuckles
4 – 1½ wall hooks
2 – flush mount hose brackets
Screws and bolts for:
v-cleat, fairleads, wall hooks, flush mount hose brackets, chrome pad eyes
Kayak shop
2 -14ft sections of steel kayak rudder cable
30ft of 6-7mm accessory cord --------------for jib sheet
10ft of 6-7mm accessory cord --------------for jib reefing line
10ft of 6-7mm accessory cord---------------for jib halyard
2 double sided carabineers---to attach the steel kayak rudder cables as stays easily
Hobie
Small kayak sail kit (complete)
Mast base
2 - Chrome pad eyes
i did not include all the individual screws and bolts that i used to attach everything together because some of the parts you may get may take a different size screw or bolt or require a different number of them.
all the screws and bolts i used were stainless steel though
as for step by step instructions most of the steps are covered in this forum but if i have time in between school and work i will try to post a "guideline" to help you follow along with the steps
I hope this helps!!
_________________
Sterling
2008 Papaya Adventure Island with Roller Furler Jib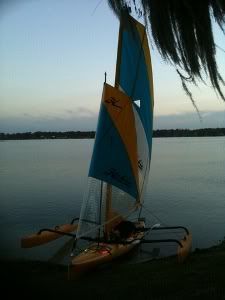 Post about my jib
viewtopic.php?f=69&t=20991