I recently posted about mounting DIY outriggers forward on a Sport over in the Fishing Forum.
http://www.hobiecat.com/community/viewtopic.php?t=2431
In that post, I commented that there was an assumption (at least on my part) that forward-mounted outriggers would interfere with the normal kayak double-bladed paddle stroke. Because of this, I thought I might need to use a canoe paddle instead of a standard kayak paddle with the outriggers. NOT!
I recently had an opportunity to test this hypothesis. Not only did the regular Hobie paddle work just fine, I found that using either a 4.5-foot or a 3-foot canoe paddle on a kayak turned out to be a real PINTA. Hard to get good power using the typical canoe J-stroke, plus it was very difficult to turn and/or maneuver the Sport using a single canoe paddle. In fact, I really wonder why people use a canoe paddle at all when sitting in the stern of a canoe-seems like a kayak paddle would be much more effective, at least in a moderately-sized canoe. Anyway, the Hobie yak paddle interfered with neither my port-mounted outrigger, nor my starboard-mounted RAM rod-holder.
Here is a pic of my test basin-my "backyard" pond. Lots of thick vegetation, so it was difficult to get a good run with the Mirage drive (although it worked fine in the open water). The outrigger and rod-holder both worked great.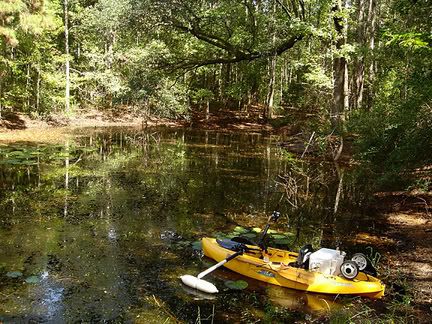 Here is a closer view of the rigged Sport. I was not sure how well a single outrigger would work, but it seemed to be fine. I mounted it on the port side because it is the side to which I normally turn to get stuff from the ice chest. This allowed me to use a regular RAM rocket-launcher on the starboard side to hold my trolling, or other, rod.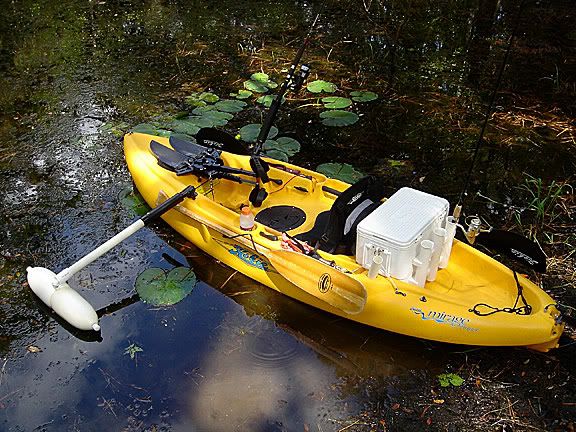 Here is a closer view of the installed RAM mount outrigger. This uses the 5 x 11 inch lobster pot buoy. I posted earlier on how you can build these yourself.
http://www.hobiecat.com/community/viewtopic.php?t=1548
These outriggers work beautifully, are easy to install and remove for transport and storage, fairly inexpensive, nicely streamlined, and give you a certain piece of mind about flipping. That is not to say that you can't flip with an outrigger installed, but if the hand-screw is tightened down, and you use reasonable care, you should be fine.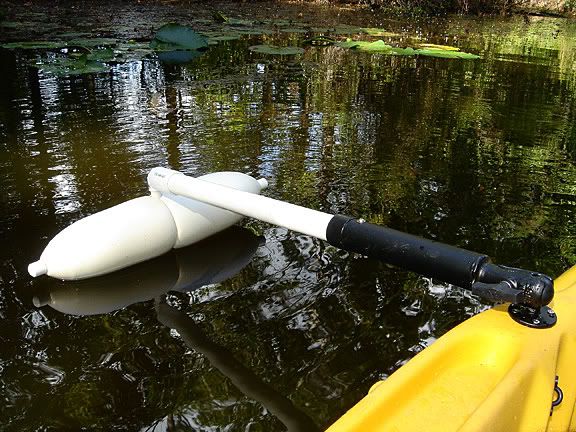 That having been said, I'm not sure I would want to use an outrigger when kayak surfing, or launching or landing thru the surf. I have not tried this yet, since there is little to no surf in my part of the Gulf of Mexico, and all my launch sites are in a bay or enclosed estuary anyway. However, I have always wanted to give kayak surfing a try, but I would want to try it without the outrigger installed. Seems like if you got slightly sideways in some moderate Laguna, Corona, or Newport SoCal surf (where I grew up), and the yak flipped, it would certainly be possible for the outrigger and the RAM ball mount to be torn off completely. That would be very uncool, and, in addition, I doubt if the Hobie warranty would cover that little number!
All in all, the Sport seems to be as riggable, and as good a fishing, sailing, or cruising platform for a moderate to smaller-sized individual (under 6-feet and/or under 200 lbs) as the OB is for larger folks. This, as I understand it, is the main reason Hobie developed the Sport in the first place. For sailing the Sport (something I have yet to try), I plan to use both outriggers just as I did with my OB. Should make for a pretty stable sailing platform as well.
P.S. QUOTE:"That having been said, I'm not sure I would want to use an outrigger when kayak surfing, or launching or landing thru the surf."
Well, I did try exactly that during GAFFE I while launching the Sport thru only 1-2 foot surf at Dania on the open Florida Atlantic coast. Even that puny surf knocked the lobster pot buoys right off the PVC arm that was inserted in the RAM rocket launcher rod-holder. Turns out the PVC cement was the problem, and there was a clean separation right where I had attached the buoys to the PVC arm. No damage done--I just put the lobster pot buoy section in the stern behind my ice chest and they rode there for the 4-5 hours I was out fishing in the open Atlantic. Plus, surprisingly, they survived intact my stern-first return thru the 4-5 foot surf after the surf had steadily built up all day at Dania. That was the equivalent of doing a surf return thru about 8-9 foot surf in a 16 foot yak. I don't plan to try that surfing number again any time soon, at least not in a 9 foot yak! But--it was fun!