I needed to make up a new leashing system for the Mirage drive in my (wife's) new Sport. The one in my OB (and earlier in the Sport) was just an old camera leash that I had cobbled together with a new SS split ring. No big ting, but I thought I might as well post the details, in case others are interested in leash making. I had an earlier post on this when I got a little fancy using old cell phone cords.
http://www.hobiecat.com/community/viewtopic.php?t=2088
All you really need is some nylon parachute cord, matches, and some minimal hardware (the hardware can usually be found at Lowe's, Home Depot or West Marine). In this pic, we have from left to right: (1) HD 3/16� SS anchor (bow) shackle; (2) completed leash requiring about 36� of paracord, a SS carabiner (called a Spring Link at HD, 2 _ inches long by _ inch), and a swivel eye, boat snap hook. (3) SeaFit Zinc-plated copper sleeves (or ferrules) from West Marine, sizes 5/32 on left and 1/8 inch on right. I used the 1/8 inch sleeve on the leash at left, since I like to use the smallest sleeve that will work to ensure a nice tight crimp. (4) SS carabiner (or Spring Link from HD, 2.5 x 1/4 inch). (5) Bottom left 36� of white paracord-works fine, but will show the grime after time; matches to seal the ends of the nylon paracord; and a nickel-plated boat snap hook (hard to find these in SS) from HD, Lowe's or West Marine.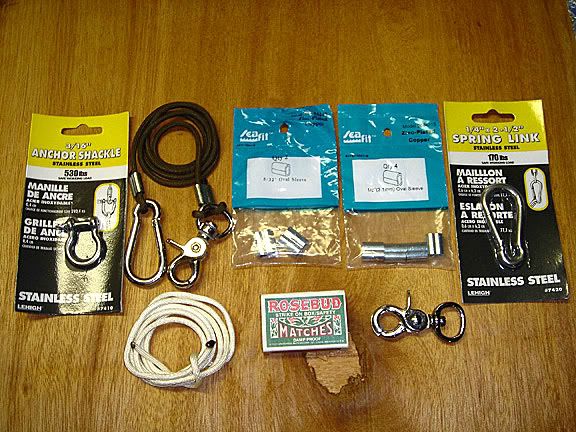 I used a small bench vise to crimp the sleeves, once on each half, and once again on each full side. You can buy a crimping or swaging tool to do this, but they cost big bucks and a vise works just as well. If you have trouble getting the paracord to fit the sleeve, you may want to cut off the heat-sealed (melted) end at an angle first. Then thread, or work it thru the sleeve, before applying a match to heat-seal the end. Sometimes moistening the cut end helps to taper it so you can get it into the sleeve.
This pic shows the leash snap hook attached to a bow shackle that is attached to one of the Mirage drive adjusting holes (one nearest to seat should work for most adults, since it is unlikely you will use that hole for the Mirage drive adjustment itself). I used to just attach the snap hook to the Mirage drive adjusting hole directly, but it is not a "clean" attachment. I was afraid the weight of the drive might pull the hook right off the drive in an emergency. There are other places on the Mirage drive that will work also, as attachment points. In fact, I have seen where some folks actually drill a hole thru the solid base of the Mirage drive for leash attachment. But I prefer not to drill holes in the drive itself, except as a last resort. Whatever works for you should be fine, so long as it does not interfere with the motion of the pedals, or insertion/removal of the drive in the well.
Finally-the completed setup: the stock Hobie eye strap on the port side is a good place to attach the end of the leash. I replaced mine with SS, but the stock nylon one should be fine. I also added a new West Marine 4-inch cleat on the port side, and that could also be used as an attachment point. I plan to use this cleat mainly as my anchor attachment point, however.
A 32-36-inch leash is just about right to give you enough length to put the Mirage drive up on the foredeck when not in use. The bow bungees on the Outback were especially handy for this, since they secured the drive to keep it from sliding back into the cockpit when not in use, as in launching or landing. Seems like a smaller bow bungee setup could be added to the Sport at little, or no, additional expense. There is little enough room in the Sport cockpit for an adult as it is, so not having to fight the Mirage drive sliding around, and possibly getting in the way of feet, fishing gear, or whatever, would be a big help.