Just got back from a winter yak-fishing trip down the East Cost of Florida and into the Everglades with some KayakFishingStuff.com buddies. I came up with the name of "GAFFE" for our trip-the "Georgia-Florida Fishing Excursion," but there was also another significance to the name for the KFS people. We arranged to meet other KFS.com folks in each local area who served as our guides. Most of us knew each other only online, so it was quite an experience to spend 5 days yak fishing with folks you had never met in person before! But they were all a great bunch, and we are already planning, and hearing from others who might want to join up with us next time.
I drove to JAX on 16 Dec. where I met up with bnznet and his wife LB from Brunswick, GA. They loaded my Hobie Sport on their trailer, and off we went south to Melbourne for some afternoon/evening fishing in the Indian River with our KFS guide there, BigPompano.
1. Here is bnznet's home-rigged utility trailer that can handle four kayaks. The seats, rods, light sticks, poling sticks, paddles, etc. are carried flat on the deck of the trailer.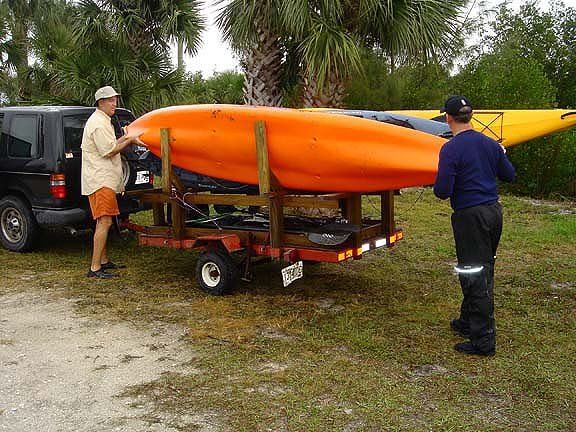 2. BigPompano took us to his "secret" snook spot on the Indian River at Melbourne), with the launch site only a block or two from his home.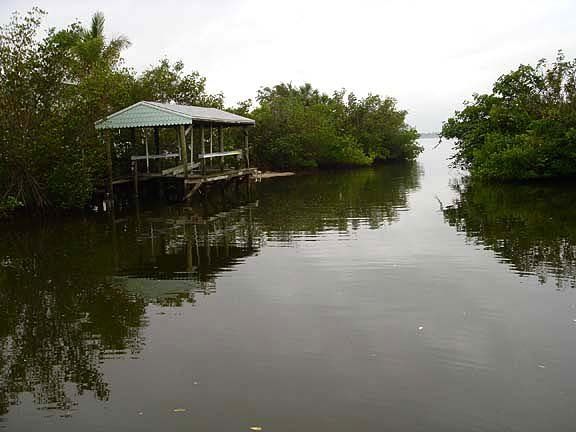 3. Caught my first snook just around the corner from here.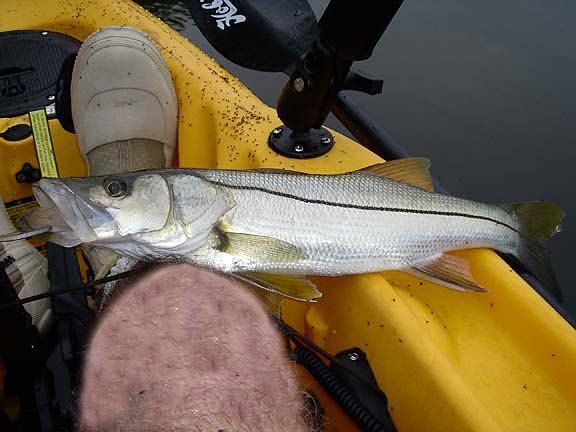 4. On Day 2, we went to Sebastian Inlet State Park, another diverse area. You can do just about any type of fishing known to humankind there, and the Park is open 24/7. Thus, the fishing pressure there seemed to be significant, and we were limited to just a few cats. My Sport is in the foreground and LB and her Tarpon 120 are in the background.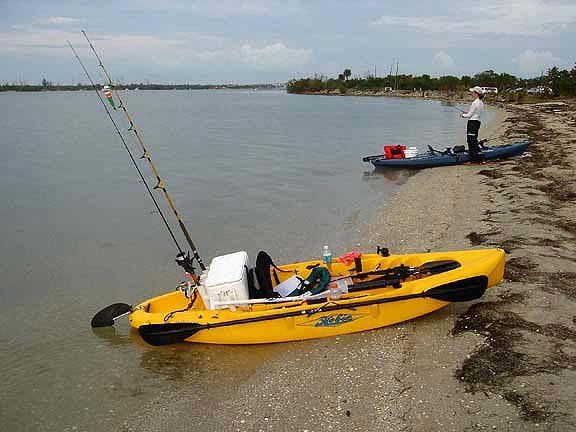 Here is bnz in his Tarpon 160 prowling the mangroves.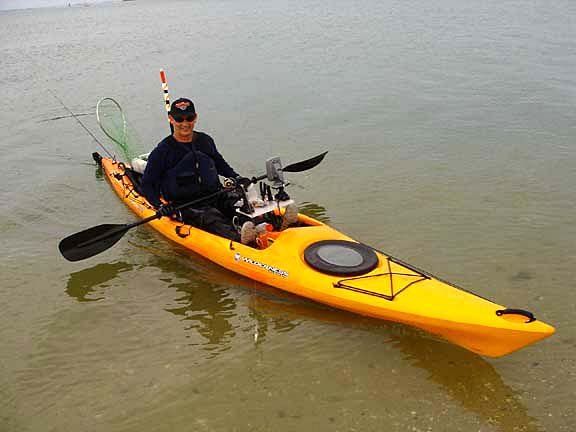 5. Because the fishing was a bit slow that day, I tried sneaking up on a pod of 4-5 dolphin that was busting bait around the Inlet.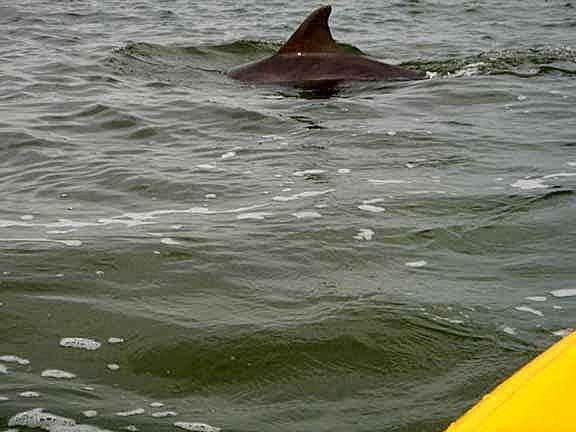 6. The dolphins were so busy getting after the bait school, they pretty well ignored me, and were busting bait within 10 feet of my position where I was sitting just watching them and trying to get some pics.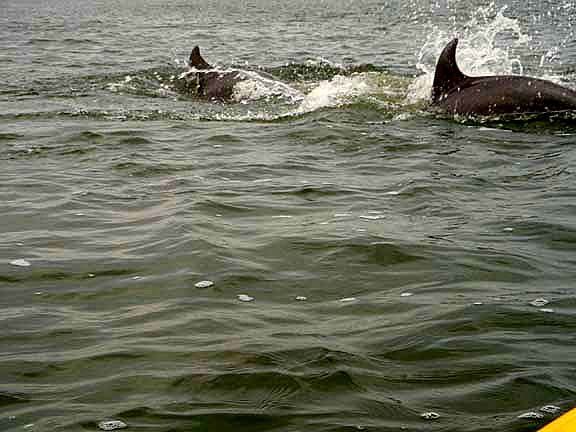 7. From there we headed down to Homestead to meet LunaSea, our Everglades guy on Day 3, Sunday, 18 Dec. We happened to hit Flamingo in Everglades National Park on the first day that the Park was open after Katrina and Wilma, but the access to Joe Kemp Key, Bradley Key, and Snake Bight were still blocked, so we backtracked to West Lake. Here is the West Lake launch site right at sunrise.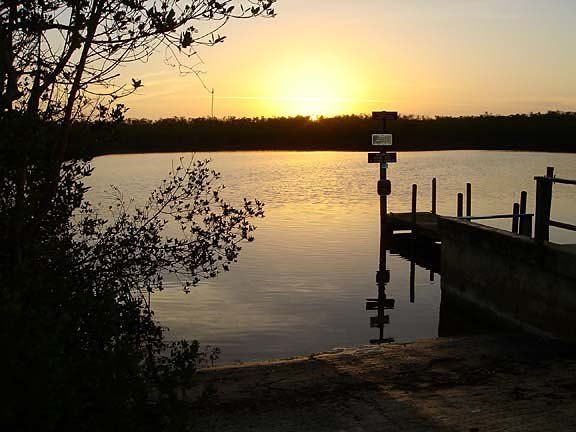 8. We had the place pretty much to ourselves, so we were able to get rigged right on the launch ramp itself.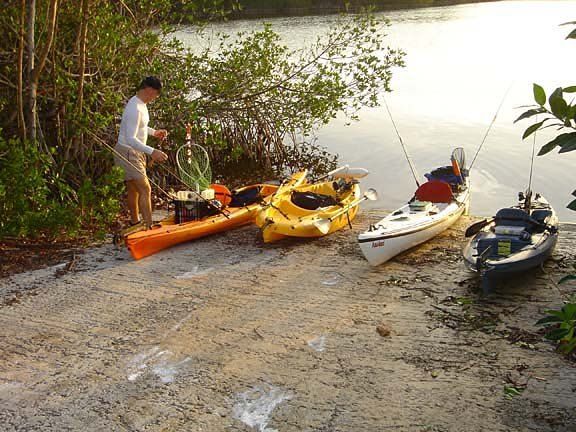 Here is LunaSea in his South African fiberglass Kaskazi Dorado that has been the source of much interest by the U.S. yaking community.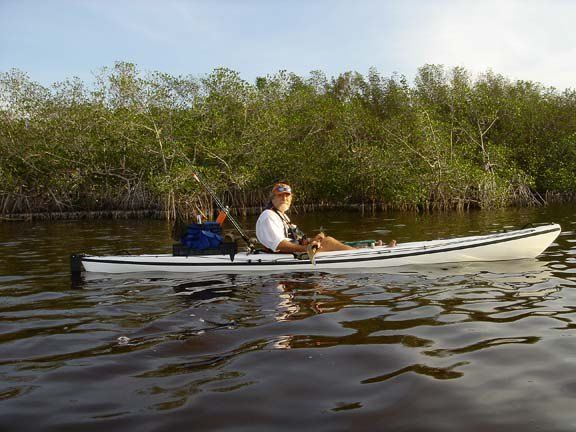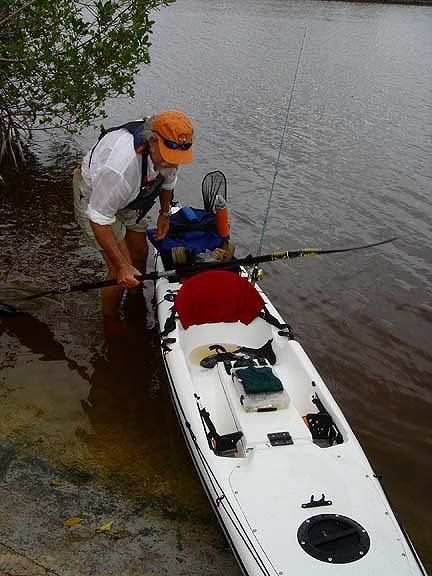 9. West Lake is a large saltwater lake about 3.5 miles long by 1 mile wide, and is completely surrounded by red mangroves.
10.Some of our crew headed on over to Long Lake, that connects to West Lake, where sheepshead, and reds were the order of the day. Long Lake actually connects with Florida Bay (by a rather tortuous route), whereas West Lake does not. Here is bnz with some of the catch.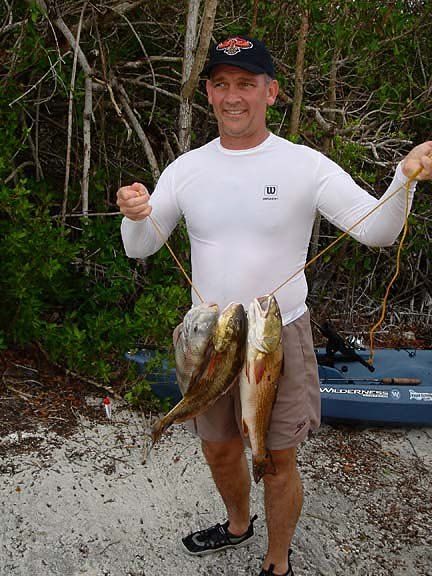 10.Day 4 dawned overcast and kind of dreary-just the way I like it for South Florida open water fishing. We then headed from Homestead where we had stayed the night before, up to Dania and John Lloyd State Recreation area. It was here that we met up with lconn4 (Louis), a legendary S. Florida yak-fisher for his forays 5-10 miles out into the Gulf Stream for sailfish and marlin, as well as for huge tarpon and sharks closer inshore. Louis was going to introduce us to our first ever surf launch and return off the beach at John Lloyd that is just south of Port Everglades, home to some of the world's largest cruise ships. Now the launch thru 1-2 foot surf was obviously no biggie, but the return about 5 hours later was another matter entirely. Here is our flotilla ready to roll with yours truly on Tsunami watch.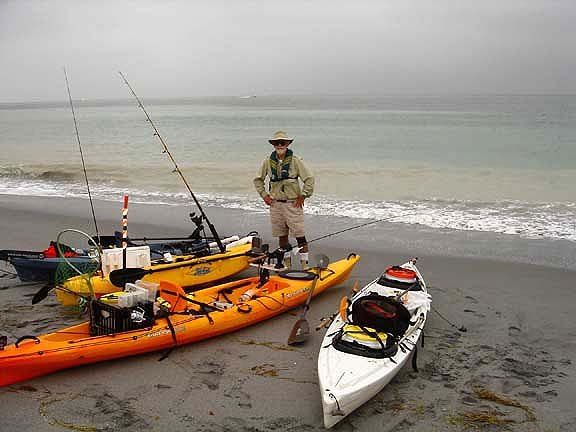 11.The edge of the reef is about a mile out in the Atlantic at John Lloyd, and was a blast to troll over and along the reef edge. We caught some 3-4 foot sharks, grouper, cats, and moray eels(!), but had a number of cutoffs, as well. Although we had only 1-2 foot surf launching, it was 4-5 feet for our return. Louis said the best way to handle the return was come in stern first, so bnz and I both did that. But bnz had a Tarpon 160, and a 16-foot yak in 4-foot surf is sort of comparable to a 9-foot yak in 7-foot surf. Although bnz and I both made it in without incident by backing down, it was still a bit hairy in the much shorter Sport. Don't think I'll play that game again unless I have my Outback with me, or, better yet, an Adventure! Here are a few pics of some of our typical catches.
Here's a 30-inch long moray eel that towed me about a hundred feet along the reef edge before I was able to bring it up. I knew these things were strong, but not that strong!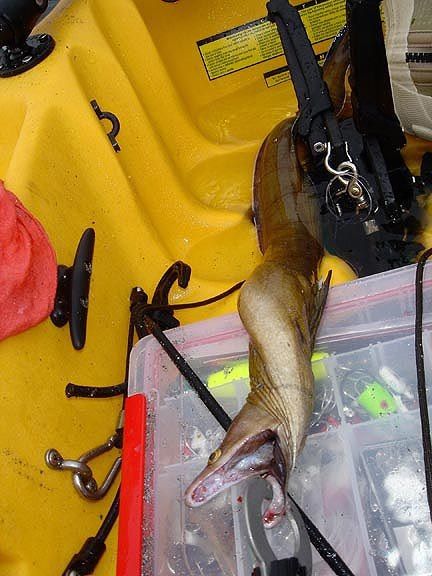 We also caught several sharks over the reef. Here is a 3.5-foot white-tip with kind of unusual markings, compared with the other white-tips I have seen in the S. Pacific and Indian Oceans. Instead of making long, straight runs like other sharks I have caught, this baby insisted on making continuous, rapid, clockwise circles around my yak. This might have been a problem on a longer, non-Mirage drive yak where the line might foul on the bow, paddle, or rudder assembly. However, I simply put the rudder over to hard starboard and began pedaling as fast as I could to stay up with the shark's circles. This worked very nicely, and I finally managed to get the shark alongside for a pic or two with no fouling or cutoff problems.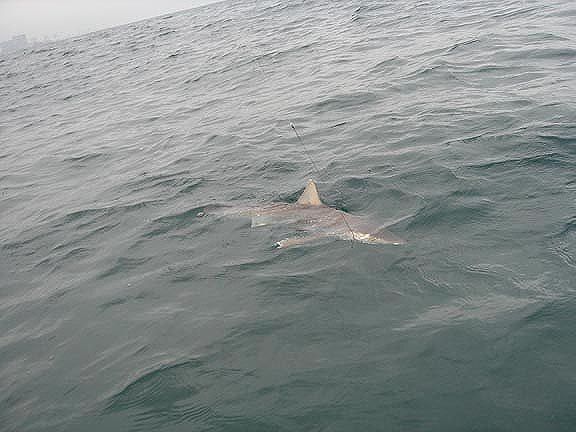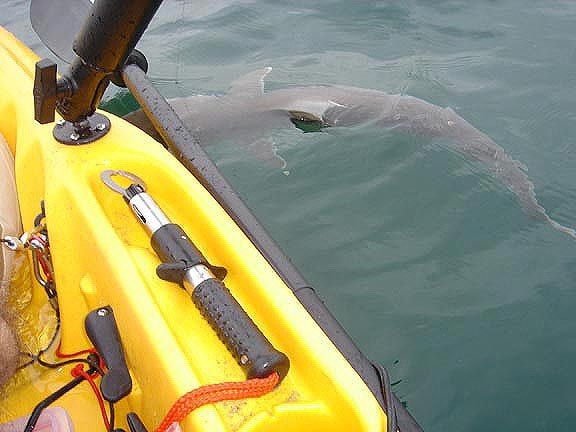 12. On our fifth day, we spent the morning in Homestead to visit LunaSea again, and then took off for the Northern climes of JAX. Loaded my Sport back on my roof rack, and off I went to Tally, while bnz and LB headed straight up I-95 to Brunswick. What a blast! We plan another trip in the not too distant future, but will probably spend more time offshore in the Atlantic around Dania and Port Everglades for the next go-around. Nothing like that offshore yak fishing about a mile or two out in the open Atlantic for excitement!
Here is the logo that I created to commemorate the trip with all the guilty inscribed thereon.