For those of you without a sail loft, a leather or canvas repair facility, or who just prefer to DIY, the Speedy Stitcher Sewing Awl makes a great, inexpensive gift or tool to add to your arsenal.
http://www.speedystitcher.com/main.html
Works great for repairing kayak seat straps, strap hardware, tool pouches, baseball gloves, shoes, backpacks, tents, any kind of heavy canvas or leather goods, as well as Nylon webbing. It has been made by Stewart Manufacturing for nearly 100 years now, and is still available from such suppliers as REI, Cabelas, Eastern Mountain Sports, and Campmor for as little as $6.99. This price from Campmor includes the Speedy Stitcher, a straight needle, a curved needle, and a spool of coarse waxed thread. I have found the fine waxed nylon thread to also be useful, and purchased a spare spool of that, plus some additional needles separately. When I got my kit many years ago from L.L. Bean, it also included a zippered leather carrying pouch (seen below). The carpenter's awl (seen at far right) comes in handy for enlarging the hole the needle is to pass through. I have been known to break a needle or two when trying to force the issue!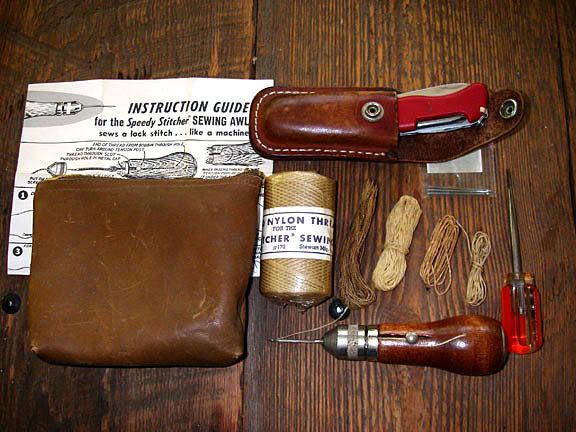 My latest project was to repair the carry pouch for my Victorinox Swiss Army lockback. I believe it is called the Adventure model—I like it because it has just the essentials, but no extra junk that I don't use, and that makes it pretty light weight. I tried to find a new pouch when the original thread deteriorated, but I could not find the correct size, so I decided to just re-sew this one with the fine waxed nylon thread using a lock stitch.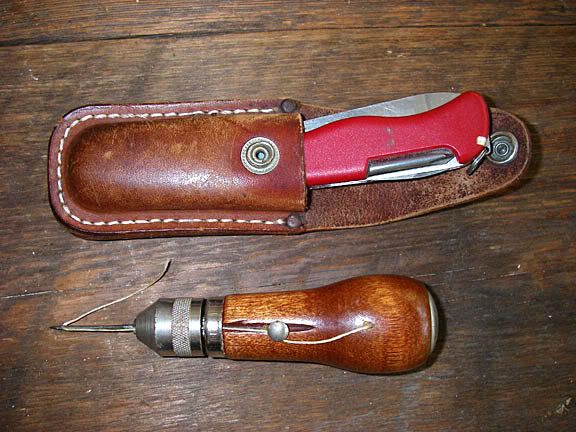 As you can see here, the Speedy Stitcher does a pretty clean job. It does take some practice to get a nice tight knot, but no big ting.
Finally, its nice to be able to support a long-time American manufacturer of a unique, quality product for a reasonable price!