I appreciate the input srm. I might be over thinking all this I know - just better to think of all the options and choosing the best one before jumping in at the first one you think of. Everyone hates that feeling of stepping back looking at the finished job and then hearing a voice over your shoulder saying "You should have just..."!
You are spot on as to the reason for the terrible corrosion. Here's a picture of the other chain plate where you can see how the previous owner installed the carpet right over the plate. I was planning on doing as you say leaving a good inch clear around the plates once I've relocated them.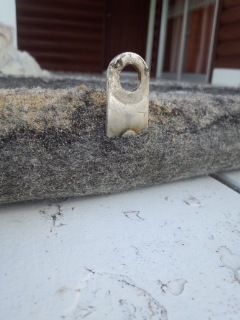 I like the idea of flipping the bars so there is maximum distance between the corroded area and the new location. Though If I can get the pipe idea to work maybe that would be a stronger fix because the pipe will run behind the damaged area strengthening it there. The aluminium pipes I have to hand are about 50 cm long. They are just very slightly larger diameter than the side bars but I managed to press them down a tiny amount to make them very slightly oval. They fit almost perfectly to the profile of the side bars and they are held in position nicely which should simplify the job when I come to drilling/riveting. I will stop the pipe from moving along inside the sidebar while I drill with some old wooden curtain rails inserted at both ends! (also lying around in the scrap pile "see honey I knew that pile of crap would be useful!")
Bottom line it's a 30 year old boat that was given to me, had massive issues (holes in hulls, delaminated decks) that I got back in the water and have had an absolute blast on (check the picture in my sig. the ocean here is stunning). At some point I can see the hulls folding up around me like a cheap deck chair...until then!
edited to add: just thought of a third option - combine the two ideas - flip the bars and reattach chain plate to fresh area AND reinforce the previously corroded area with the aluminium pipe similar to your idea of wrapping some Al plate around...mmm. Food for thought.